Angela's Autistic Art
is creating paintings
Select a membership level
2 5x7 folded cards
Every month I'll send you a new set of two 5X7 folded cards, with my original art on the front. Envelopes and seal envelope stickers included.
5 pack of 5X7 folded cards
Every month you will get a new 5 pack of 5X7 folded cards, with my original art on the front. Envelopes and envelope seal stickers included. The cards are made from original spray paint paintings done by me.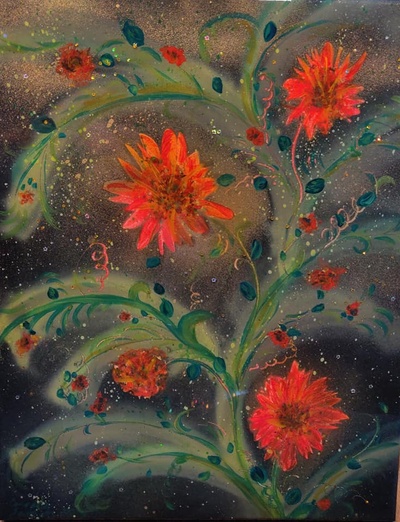 A different 8X10 poster print ea. month
Every month you will get a different 8X10 poster print, made from my original spray paint paintings. Size of poster prints fit most 8X10 frames. A perfect gift for most occasions, or keep for yourself. 
About Angela's Autistic Art
I'm Angela Talton, who owns Angela's Autistic Art. I was born in Issaquah, Washington, a lifelong local artist whom is ready to make my art public.
Having always loved art, it was not until I was diagnosed with Autism that my passion really came alive. My art is where I work through my fears, anxieties, disassociation, and pain. It made life real again- finding purpose. As well as allowing me to find myself and to reconnect with my family & friends.
No matter how challenging times are, I would like my art to represent every person who fights the unseen battles of the body and mind. I know that many days it does not feel possible to conquer the challenge which nobody can see. But we can overcome by challenging the stigmas of what our peers label us. Autism, ADD/ADHD, Anxieties, Depression, PTSD, mood disorder, Bi-Polar and many more- you are not alone, and you are not "crazy" just because you cannot just "snap-out-of-it."
Through my art, I express unconditional love I have for the people in this world. I believe in the goodness of people, and the strength inside each and every one of us. I encourage you all to dig deep inside, find what makes you happy and pursue it to no end! I believe in you because if I can overcome and learn to love myself, so can you.
Love, blessings and light, Angela Talton


*Angela Talton is an autistic artist creating beautiful, high quality, detailed spray paint art. By becoming a patron you can help Angela support herself and her love for art. Please feel free to private message her or email her if you'd like to purchase a painting or would like to commission one to order.
Recent posts by Angela's Autistic Art