Anna Fox Ryan
is creating paintings & videos on power dynamics in relationships
Select a membership level
Patreon Page Access
You're in! 
You want to see what this is all about. Maybe you're just warming up and testing the waters or just getting involved. 
Thanks!
What you get:
Patreon members only page for original articles on topics of psychology (communication and relationships), creativity and consciousness development. 
Monthly 60-90 Minute Online Workshop
You follow your instincts. 
You have a sense that this might be right for you and you want to jump in and experience the shift in yourself and your relationships. You have curiosities, and an eagerness to learn and try new things. You know the old adage, when the student is ready  the teacher will appear. And you may have even been asking the Creator for a little help recently. We're all both teachers and students, and your instincts are exactly that.
Thank you for listening.

What you get:

Patreon members only page. Access to  Anna's articles. 
Personal invitation to my monthly webinar featured on or near the 15th of the month with themes varying between the topics of psychology, creativity and consciousness development. Webinars range between 60-90 minutes and include a review of the recent video subjects, opportunities for attendees to have a personal experience workshopped with Anna, and a Q&A session. 
Monthly Videos & Webinars
You're committed.
Learning is a sport for you. You wield curiosity like a hungry ninja wields chopsticks. It is the tool by which you nourish yourself. You want to have a fun as you develop your EQ and relational intel. You're also excited about boosting your creativity. What would a creative enhancement look like? Feel like? Where did that ninja come from? (and what is she eating?) You're eager to find out! Just remember, slow and steady. This kind of personal growth  is a marathon, not a sprint. I see you there, tortoise.
Thank you for your dedication. And thank you for asking.

What you get:

Monthly educational  videos to help you strengthen your emotional and relational intelligence.  These fun and easy to understand video useful for you, your relationships, and if you have kiddos in your world you can use these videos to teach them too! 

Plus... +++
Patreon members only page. Access to  Anna's articles. 
Personal invitation to my monthly webinar featured on or near the 15th of the month with themes varying between the topics of psychology, creativity and consciousness development. Webinars range between 60-90 minutes and include a review of the recent video post, opportunities for attendees to have a personal experience workshopped with Anna, and a Q&A session. 
About Anna Fox Ryan
Howdy!
Thanks for meeting me here on Patreon!
What is Patreon?

Each month we both give and we both receive. 
Patreon let's you offer a recurring monthly investment in projects that are interesting, inspiring and useful to you. You give in the amount of your choosing (see reward tiers to the right -> ) and in return you receive access to various levels of awesome knowledge, tools and experiences to upgrade your creativity and your emotional and relational intelligence.  #reciprocity (This work is amazing. Really. If it weren't then I wouldn't waste my time or yours with it.)
You can explore and join different reward tiers in column to the right. >>>>>
Whatever amount you choose to invest in yourself, whether it be $5/month or $1000/month (haha, a girl can dream), you are supporting your personal growth, your relationships, your creations, and me (thank you!) in my art and my ongoing research. Lucky you, I share highlights from my research here!
What can you receive?

It depends on the reward tier you choose. Options include:
Emotional intelligence education videos.
Relational intelligence education videos.
Tools you can use with your kids or students to teach them how to be self aware and emotionally empowered people. 
Tools you can use to strengthen your relationships as an adult (even if you're just pretending to be one).
High resolution downloads of Dynamic ID images which can be used to identify dynamics and used as visual meditations. 
Live & interactive webinars including teachings, workshop and Q&As. 
Plus more to come :)
Some of the subjects I'll be covering include:
Power plays in relationships such as hierarchies & equality, manipulation & motivation and more. 
Specific relationship dynamics like co-dependency, narcissism, honesty, abuse, and more. 
Individual dynamics such as trigger & stress responses, energy movement in emotional states, self-talk, anxiety, and others. 
Communication including intent, delivery, impact, resonance, vulnerability, integrity and more. 
Creation Mapping - OH MY GOODNESS -  ALL OF IT!! From inspiration to fulfillment or creation to the release, even the points that block us in between. I'll cover it all in some form. 

Who is this for?
Humans with feelings (#allthefeels).
Humans who know other humans (#relationships).
Parents (For you, your kids, and your sanity. See my video on how to teach these subjects to kiddos.)
Teachers (For you, your students. and your sanity.  See the same video I just mentioned above.)
Creatives (what if I told you there were more to your creative super powers?)
Non-creatives (Yes, you're also creative and you have no excuse to pretend you live in a box. Huff and puff and blow those walls down!)
In other words. This is designed for You. (Bill Murray agrees.)
When you've had your fill...
If at any point you decide you want to adjust to a new reward tier or cancel your gift you are free to do so without any restrictions or fees. This is yours as long as it is useful, interesting and valuable to you. 
Who am I and what prepared me to offer you this? 
Art
: I've been an artist my entire life and a professional fine artist for over a decade. I have my BFA from Savannah College of Art & Design in illustration and painting. (Fun fact: Illustration is communication arts and visual story telling. Makes sense, right?) A few career highlights include exhibiting in Portugal, New York, Provincetown Art Museum and many other galleries in the US. My work was showcased my Neiman Marcus in 2013 and found its way into some incredible private collections that year. I've also attended the Barnes Artist Residency in Italy, CoSM with Alex Grey, and most recently the Arthub artist Residency in Arizona.
Consciousness development work
: Since 2010 I've studied consciousness development. I studied and experienced astral projection at the Monroe Institute, and studied, experienced and practiced shamanic energy medicine with the Four Winds Society and Alberto Villoldo Ph.D.. Ceremony work in Peru in both the jungle and the mountains of Cusco deepened the healing and transformative journey.  I owned
Pacha Healing
, my own energy medicine practice in which I worked one-on-one with clients. From 2014-2018 I lead and co-lead an international women's group focusing on Divine Feminine leadership practices. I've taken Authentic Relating communication courses to study clear inner and outer communication practices. All this has been paired with various types of studies in the chakras, meridians, Jungian psychology and archetypes. I pair this with personal studies in biology and physics because it's all connected. 
This all rests on a unique foundation
.
Psychology
: When I was thirteen I was recruited by the University of Virginia Graduate Psychology Department to take part in an ongoing study about the relationships of kid's lives. The study is called the Kliff/Vida project. For the past 21 years I've been self-assessing my relationships at a graduate level, answering hundreds of questions every 4-6 months about different aspects of my relationships and how influence has changed.
This experience is a bedrock of my curiosity because it trained me to ask specific and deep questions. It also exposed me to underlying behavioral motivators and influences that I might now have been aware of until much later in life if at all. The study also revealed, through the types of questions I was asked, the types of dysfunction that occur in households unlike mine. This provided a big picture view of the traumas we are working to heal from as a culture. A subject I've continued to explore in recent years.
Through all of this, I have treated my personal life as a workshop, a living experiment which I have documented through paint. Synthesizing my studies through images. 

Why do I want to share this with you?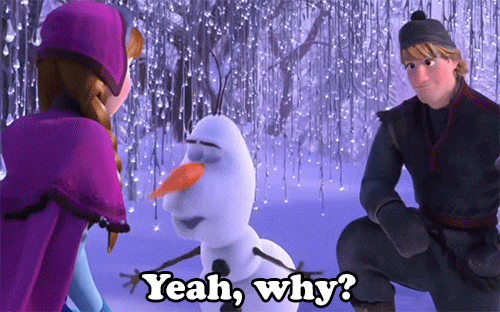 (Sorry. I
love
Frozen. I mean, who doesn't?) ... Anyway!
This is what I've observed in my classes and client work so far:

As I share my
images, teachings on emotional intelligence and relational intelligence I help people accept and understand themselves as they are with an understanding of their potential and ability for change if they choose it. We create a vision, a plan and a bond of honesty and authenticity. 
This allows them to be
happy in their relationship with themselves and go on to create nourishing and fulfilling communication and engagement in their relationships with all aspects of their lives and others
. (#score!)
I've watched it happen. It doesn't mean life is suddenly perfect. It means you're in the game with your eyes wide open, lights on, and an eye for Creative engagement. 
As I share my original teachings on my creativity courses I help people to
embrace their desires, potential, and their full ability to bring their vision to life
. I've watched people use these practices and perspectives to comfortably create businesses, performances, art, careers, health, relationships and life transitions in ways that seem effortless (because they've done the internal work).  (#doublescore!)
Basically, this work turns change into a game, like a dynamic puzzle that gives you clues and guidance as you work through solving it. Pretty cool, right? 


Here are a few examples from real life stories:

I've seen from my clients use these images to make their chosen transformations happen quickly and more permanently.
Sandra
was a dancer who wouldn't even get out of her seat when she first came to me. Now she's choreographing, teaching and her once chronic anxiety has taken a back seat to her personal drive. I worked with Sandra to navigate a life transition and find the right pacing as she got back into her creative movement. 
Victoria
was a newly wed feeling stuck in the transition between the roles of maiden and womanhood/wife. Now she's flowing with the changes or her new role and energy. I worked with Victoria during her transition, providing a few maps and simple practices that have her celebrating each new phase with curiosity and confidence. 
What does your monthly gift support?
Aside from sparing the world of my horrendous waitressing skills, your gift will support: 
Full time creation of these works
Turning them into full curriculum ...
E-Courses...
and books — all dedicated to teaching emotions and creativity in a fun, easy and beautiful way. 
Materials for studio and exhibitions.
Expenses for speaking and teaching events.
Continuation of my consciousness development studies and research.
Why am I on Patreon?
Sustainable service and shared growth. 

There is a LOT of work that goes into both my psychology/spiritual practices and the visual documentation that results from my paintings. Sharing this work is personal but it's important because I'm addressing universal issues that my clients and students continually affirm to be useful and interesting. 
I appreciate that Patreon creates a safe container for me to share with those of you who demonstrate your support for me and my work. Patreon let's me be in direct connection with you, hear from you with ease, and it allows my work to be sustainable. Like I said. I'm a horrrrrible waitress. 
Your Role
You're an investor, a recipient, and an advisor. You are an accountability partner, and most importantly you are a co-creator in this experience. This is a space for you to engage. Ask questions. Ask for the videos or writings you want or even need. Ask about interpretations of the themes or patterns you are noticing in your life. Ask your questions about creativity, art technique, or about transforming through an artistic practice. Join live discussions. Get involved. Collaborate with me on events like workshops, speaking events, school visits, or perhaps something totally different and amazing that I haven't even thought of yet. Share you ideas. Help me to understand what will be most valuable to you and your communities. Here, you can choose to be as visible or as invisible as you would like. But I dare you to let yourself be seen. 
Change is Certain


Creation = Change + Intention
Change is inevitable, and I embrace it! It's part of what I teach in my creativity courses. 
This page will change as I produce more work, as my curiosities devour what I'm chewing on now and move on to the next course.
This page will change as I learn more about you and hear your requests.
Our Patreon experience is a living and breathing (because we're living and breathing and it's us), and we are creating it together (See. Told you. Us.). This is our shared experience, and it can look any way we'd like it to. I just ask that you bear with me as we discover what works and what doesn't work and endeavor to co-create the right flow. (Disclaimer. I'm human and I can't please everyone. But you seem lucky ;)
A Request
I am stepping out of my comfort zone to welcome you into what has been a very private and sacred practice of mine. I invite words of kindness and support, including constructive support. As in my life, I welcome caring connection and believe that as we all show up to support one another all will be served. 
Share the Love
If you like this page and the work I do — Please share it! 
By sharing this page you will
inform, empower and inspire the people you love most
which hopefully means it will
enhance your experiences in relationship with them
.
The more patrons we have the more I can dedicate myself to this work, create more, and share more for us all.
Not to mention, knowing that you dig this is encouraging as heck! 
Thank you
Your support and connection motivates me tremendously. Knowing that you are a
Yes!
to my creations makes me feel alive, seen, and it reminds me every day why I do this work, (even on the tiresome days when I have my own personal rain cloud overhead. We all have 'em.).
Your support here allows me to live free, breathe my inspiration into art, and to breathe myself to life.
I hope what I offer you will inspire you to do the same. 
Thank you — from every creative cell in my body.