Antariksh
is creating Music and Videos
Select a membership level
TRIBE
WELCOME TO OUR TRIBE

Here's what you get
Early Demo versions of upcoming songs

Behind The Scenes stuff - pictures, videos, lame jokes
EARLY BIRD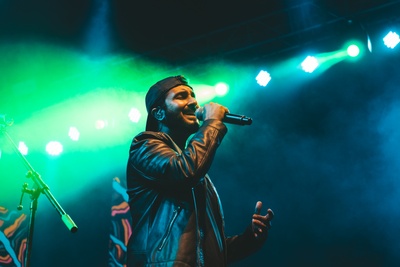 HELLO THERE EARLY BIRD!

You get an access to all the things in the previous tier plus
Free Downloads of new music as it comes out

Early access to songs, tickets and updates before they're released to public

Exclusive writings, updates, studio and tour diaries etc
MUSIC BUFF
WE KNOW YOU'RE A MUSIC BUFF

You get an access to all the benefits in the previous tiers plus
Thank you and mention of your name at the end of every new music video

VIP Tickets at live events in your city

WAV/FLAC downloads of all new music

Free Merchandise - T-shirt, stickers, etc

Free Download of Khoj, Digital Booklet, Wav Files of all
About
Hello there!
We're Antariksh - an Indie Rock act from New Delhi, India and I'm Varun Rajput, composer and frontman of the group. In 2012, I quit my corporate career to pursue my dream of becoming a full-time musician and formed Antariksh. Over the last 8 years, I've worked with multiple promoters, distributors, played over 700 concerts across the world, released a bunch of original music, survived a bunch of slumps and line-up changes, and recently set-up Antariksh Music Studios. As a band, we've had the opportunity to play to tens of thousands of people and most importantly, connect with fans who have always buoyed up my courage and shown to me that this was the right choice for me.
As we're expecting to witness a substantially changed and evolved new world post the Covid-19 episode, what's already been challenging, making a living as a musician is expected to get even more tricky. With live concerts (our primary revenue source) getting stalled for a good long time coupled with streaming overtaking album sales and platforms like Youtube becoming less reliable with monetization, as an artist, we strongly feel our revenue sources need to evolve with time as well and platforms like Patreon can support us and make it sustainable for us to continue creating high quality music and videos for you all.
Having spent over 15 years learning, composing, recording, producing music and playing live concerts -
Here's what all our work includes:
- Composing
- Recording & engineering
- Performing in studio and at concerts
- Mixing (this is by far the most time consuming and expensive part)
- Mastering
- Rehearsing as a band
- Practicing to become better at our individual crafts (instruments)
- Promoting, brand building and marketing our music
- All managerial, clerical & financial stuff
- And of course regularly buying and upgrading our gear and studio space
To pursue music as a career - that's an insane amount of work! And as a leader and sole investor of the band, it gets way more complex. Sometimes, finishing a song from start to end can often take over 100 hours & that's not including the promotion & managerial stuff. Prior to forming Antariksh, I pursued an engineering degree, a mobile games tech start-up, worked as a management consultant for a few years and used to only make music in free time. I tried balancing the double life for a while but it didn't work out - it was hard to find time to record my songs, let alone produce them to the level of quality our audiences now enjoy. So, doing this full time has always felt like the right thing to do. And, of course - our music has purpose only because YOU LISTEN!
So when you become a patron, you're offering monetary support in order to let us keep making music you enjoy :) And in order to continue creating and recording high-quality new music, it needs to continue to be our full time jobs. I hope you'll find it valuable to contribute to our musical journey, and we will deliver the best we can :)
What rewards do I get for contributing?
The music and videos itself will be biggest rewards here. There will also be early access to in-progress songs/artwork/demo mixes/behind the scenes prose etc. We will also be sending across merchandise to our patrons, do a few exclusive live streams and online concerts. You will also be able to ask us questions, give feedback & stuff like that :)
We don't believe in putting any exclusive songs behind a paywall and we want every fan to be able to hear every song we put out regardless of their financial situation. Our goal here is to create high quality, polished tunes and that is what you'll be supporting. In case that's enough for you to want to contribute then awesome! If not, that's totally cool as well.
NOTE: [reward tiers are not concrete and may change slightly based on fan feedback]
Thank you to everyone who chips in - you guys have always been super supportive of me. So thanks for believing in me and letting us do our dream job :)
FAQ -

Wait, so how do I support you?

You can support us and our creative endeavors by becoming a patron right here on this page! Read below to learn about the nitty gritty details or find contact information if you have additional questions.
Is it ok if I don't want anything but to support you?
Absolutely! You can be as involved as you want. I welcome those who wish to remain silent supporters as well as those who want to be active members of the community and, of course, everyone in between! Regardless of how much or little you participate, I sincerely appreciate your support!
Can I still support you, irrespective of where I live?
Yes, of course! Everything on Patreon is shown in US dollars, but you can actually pay with any currency and it will be converted automatically.
What if I can't afford to support you any more, can I stop donating?

Absolutely, you can cancel or adjust your pledge amount for any reason at any time.
What if I want to support you with an individual amount of money that doesn't match any of your reward tiers?
If you'd like to do that, you can simply write in whatever amount looks good to you during the check out process and you will receive all the rewards from the tier closest to the one surpassed by your individual pledge.
When will I receive my rewards?
Rewards will fulfilled in the first week of every calendar month. You will get the reward that corresponds to your current support level
Still have questions?

Feel free to send me an email at
[email protected]
and I will do my best to help you out!
By becoming a patron, you'll instantly unlock access to 3 exclusive posts
By becoming a patron, you'll instantly unlock access to 3 exclusive posts
Recent posts by Antariksh
How it works
Get started in 2 minutes