Anuhea
is creating music, videos, podcasts, merch, joy, smiles .... etc ;)
Select a membership level
Get exclusive patron-only merch
Gold⭐️Star AnuJammers
"You can sit with me"! Mahalo for being a part of the AnuJammers Patreon 'Ohana. For five bucks a month, you'll instantly get access to all my previous posts, and a monthly newsletter created for only my truest AnuJammers here on Patreon.  Plus you'll be showing support to this thankful music making mama.
Exclusive patron-only posts and newsletter

Blessings and Good Vibes❤️💛💚
"Just Keep Jamming" Podcast Backstage!
I'm SOOOOO excited to start something fresh here on this new platform, where I can let loose and really be myself.  My previous live stream series "Keeping it Real While Maintaining the Aloha" will continue on through this new and improved podcast I'm calling, "Just Keep Jamming".

Every week I'll record and release a new podcast episode that will be available on all platforms (Spotify, Google Podcasts, Apple Podcasts, etc) I'll talk about topics ranging from mental health, Hawai'i life, music, pop culture, I might talk story with a guest, give some inspiring quotes, embarrassing stories, books we've read, movies we've watched, or just talk about feelings.  No rules, just keeping it 💯

By subscribing to this tier, you'll not only have access to every single "Just Keep Jamming" podcast I make, you'll also be invited to join me in the "Backstage Zoom Room" JUST for my Patreon peeps! You'll hang with me a little right before I start recording my podcast, so you can see my process, share in my nerves and excitement, and maybe even give me some requests or words of encouragement haha.  (I'll usually film them on Tuesday afternoons 6pm HST).

Mahalo for the support!!!

Live-stream Access - "Just Keep Jamming"

Exclusive patron-only posts and newsletter

Blessings and Good Vibes❤️💛💚
Unplugged Jam Sesh 🎶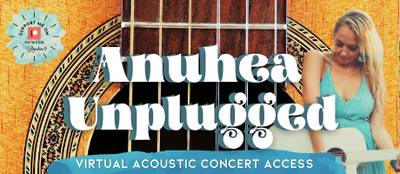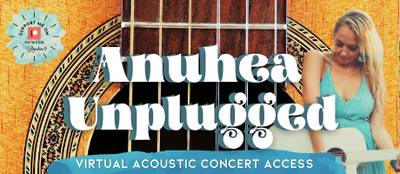 Your ticket to a VIRTUAL raw acoustic concert from here in Hawai'i. Getting back to my roots, just me and my guitar, nature, and music. I NEED to do this, for myself...for you... its musubi for the soul.  This is an opportunity to hear some really unique versions of your favorite songs, and even some new stuff I'll be trying out with you for the first time.

Every month I'll plan a night like this.  Approx 30 mins of music. Join me live, or stream the video later.

You can help me decide which songs you want me to perform that month, and I'll totally offer dedication requests to everyone in the party.  This will be exclusive for Patreon peeps only.


You'll also get VIP behind the scenes access to my new podcast/livestream "Just Keep Jamming", a discount code for my merch, access to all my previous Patreon posts & newsletter, and blessings and good vibes :)

Tickets to my monthly Unplugged Jam Sesh🎶

Live-stream Access - "Just Keep Jamming"

Exclusive patron-only posts and newsletter

Blessings and Good Vibes❤️💛💚
About Anuhea
Aloha everyone, its me, Anuhea!
I'm so excited to take this NEW journey here on Patreon! Here I will have the ability to be more raw with all aspects of my artistry. I can stay connected to
my true authentic self
and also to stay connected to
YOU
, my coolest and sweetest AnuJammers.  With this transparency, I hope to inspire and empower you, knowing always that you're never alone. 
Like so many of us, this past year hit me hard. I found myself lost, and pretty much had a mental breakdown. I had to reassess my lifestyle, reconnect to my life purpose, and decided to submerge myself FULLY into my art again. My life's purpose is to INSPIRE. I will do everything I can to nurture that purpose, and give back all that I can spare.
The support from my fans has been incredible over the past 12+ years.  I want to deepen that relationship here on THIS platform, Patreon.  I'll be sharing exclusive content that you can subscribe to: Packages that I've created with special thought and care.
Some of the things in my tiers include new 
music, videos, blogs, behind the scenes podcast access, new merchandise, art, direct communication in Zoom rooms, deep convos, shout out videos
, and more.  You can choose what aspect of my artistry you want me to share with you by subscribing to the "Tier" of your choice.
Your support helps me pay my bills and continue creating music independently. I will be transparent through my life's journey in motherhood, being a new wife, my mental health, sobriety, navigating my raw emotions, sharing my thoughts and opinions, and really reconnecting to my true authentic self again.
Ive done SOOOO much soul searching lately, and I'm so inspired right now. We all 
have to protect our inner light! 
In the past I've made the mistake of giving too much of my energy to people who don't appreciate it. Just wasting it, and it was sucking the life out of me!  I won't make that mistake anymore. By staying connected to the people who appreciate my art the most (YOU!), I will protect that light, and will be able to let it shine brighter. I hope to inspire YOU to do the same!
Let's go on this journey together!! Just keep jamming!
Thank you for your support and your aloha!
Anuhea
When I reach this earnings goal, I'll be able to record and release my newest song, "Follow Your Bliss"

2 of 3
Become a patron to
Unlock 34 exclusive posts
Get discounts to an online store
Connect via private message
How it works
Get started in 2 minutes