Anvil Digital Forge
is creating digital miniatures and conversion parts for tabletop wargaming!
Select a membership level
Sphere-Link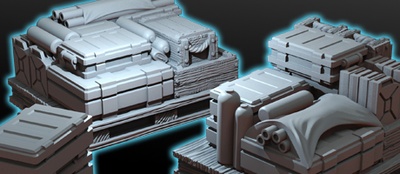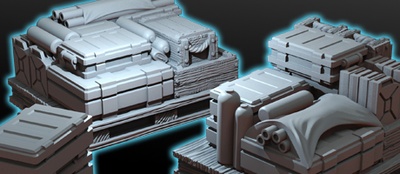 Help us expanded our range of sci-fi miniatures!
Immediate access to "The Armoury" scatter terrain set of digital stl downloads.
Each months easy-print scatter elements/terrain pack of digital stl's.
See WIP concept art and sculpts before they are made public.
Give us your feedback in Discord discussion, Polls, and live Q&A's.
Includes Discord benefits
Vanguard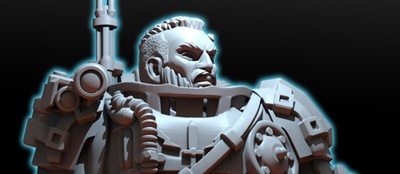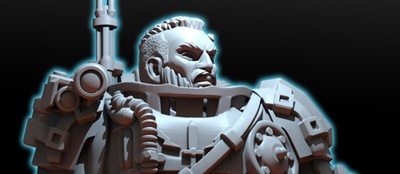 Support the work of our design team and get a FULL SET of brand new sci-fi miniatures and conversion parts each month you are subscribed as
digital stl downloads
for home printing! 
Immediate access to the full Welcome Pack - Five high-quality character miniatures + 'The Armoury' scatter terrain elements.
That month's themed set of 8-12 high quality sci-fi miniatures, including multiple optional and alternative components!
A typical month will include both infantry and character models for the month's theme, separate conversion parts, and some additional larger models which may be miniatures or scatter terrain/upgrade parts.
See WIP concept art and sculpts before they are made public.
Give us your feedback in Discord discussion, Polls, and live Q&A's.
40% discount on previous month's full bundles through the Anvil Industry website!
Includes Discord benefits
About Anvil Digital Forge
Anvil Industry is a well-established designer of high-quality resin sci-fi miniatures, with ten years experience in the wargaming industry.
We create figures that look great in a render, but are also easy to print, build and paint and look great on the tabletop, ready for battle in your favourite sci-fi wargame!
In exchange for your support on Patreon, you can get early access to our latest designs as home printable STL files! (Personal, non-commercial use only, see our 
End User Licence Agreement
 at the bottom!).
As well as new digital miniatures, conversion parts and terrain each month, we invite you to participate in our design process! We will be sharing exclusive content for your feedback before our designs are made public.
Vanguard level patrons will also receive a
40% discount
on previous Patreon bundles sold through our webstore!

We hope you will join us o
n this exciting new adventure!
Your Questions Answered:
What kind of Miniatures can I expect?
We primarily design sci-fi miniatures, often with a semi-historical theme, and this will continue in our Patreon. You can get a good idea of our sculpting style and range by looking at our range of resin products at
www.anvilindustry.co.uk
.
We will be using the Patreon to design a wider range of miniatures (vs our core resin range) so you can expect miniatures and components suitable for a huge range of sci-fi game systems and themes, including near-future/post-apocalyptic, cyberpunk, alternative history, Gothic, classic "70's Ray Gun", Robots, Aliens, and more!
Most months releases will have a strong unifying theme, but some months will feature a bit more variety. We will be using Polls to see which potential projects our Patrons are most excited about.
Are the miniatures modular/multi-part?
Yes! A huge advantage of our project is that wherever possible, we will be making the miniatures multi-part and modular. This gives you plenty of pose options.
You can also mix and match many components between different months releases to come up with creative new miniatures. The longer you support our project - the more compatible components you will have in your digital collection!
A further bonus is that our digital miniatures use the same modular joint system as our extensive range of hundreds of resin products - giving you even more options and mix and match 3D printed components with our high-quality resin products.
I don't have access to a 3D printer. When can I get a physical version of "X" STL file?
We know there will be a huge demand for physical versions of our new designs. We really appreciate having such a supportive community behind us!
During the ongoing Coronavirus Lockdown, we are running our studio with a skeleton staff. This means at the moment we are unfortunately unable to release any new physical miniatures.
We will be working hard over the coming months to work out how we can release physical copies, and we hope to let Patrons have early and/or discounted access depending on the logistics
.
Our company faces a lot of uncertainty at the moment, and we cannot guarantee we will be able to release physical copies, or how long it will take.
Note that your personal licence lasts indefinitely! By supporting our Patreon now, you can collect digital designs you like for use at any point in the future. 3D printers are becoming more affordable and user friendly and this trend is likely to continue!
Will you release a Digital STL version of existing resin product "X"?
For now, we are only releasing new designs as STL's. It is likely that in the future we will offer a wider range of existing products in STL format, but we have not yet made a decision on how or when. 
Where can I find more information about 3D printing?
There are lots of resources out there already, but we will additionally be putting up some pages of information about 3D printing, specifically focusing on miniatures, with guidance on the various options for getting printed copies of our licenced designs. We will also have a discussion group on our Discord specifically for 3D printing, and our team will be on hand to answer any questions you have!
Got any further questions? Send an email to
[email protected]
 and we will be happy to help!
ANVIL DIGITAL FORGE END USER LICENCE AGREEMENT
Please read carefully the terms of this end user license agreement ("agreement"), which constitutes a binding agreement between you and Anvil Industry Ltd ("We" "Our").
Anvil Industry, 68A Cobden Rd, London, E11 3PE, United Kingdom.
UK Company Number: 07792100
By downloading or using any of the licensed STL files ("digital assets") made available, you acknowledge that you have fully read, understand, and agree to be bound by this Agreement:
You must be aged over 18 to download or use Anvil Industry digital assets.
All digital assets made available for download are Copyright, and are property of Anvil Industry Ltd.
Anvil Industry grants you an unlimited, non-exclusive, non-transferable licence to use digital assets as follows:

You are permitted to download, store and use digital assets which are made available during a month in which your patron subscription is active, to produce 3D prints for your own personal, non-commercial use.
You are permitted to modify the digital assets (for example rescaling, altering proportions, editing in CAD software) however any modified asset remains entirely our property,and subject to the terms of this agreement.
You are permitted to purchase 3D prints of the digital assets from a third party 3D printing service, so long as the prints are strictly for your personal use.

You agree not to sell 3D prints of our digital assets.
You agree not to gift, sell, rent, share or otherwise distribute our digital assets.
You agree not to use our digital assets in any commercial enterprise or project.
You agree that your use of our digital assets is entirely at your own risk, and they are supplied "as is" without Warranty of any kind. You agree that to the maximum extent permitted by law, we are not liable for any electronic or physical corruption/damage caused by your use of the digital assets.
Your licence lasts indefinitely unless terminated.
You agree that we can terminate your licence at any time if you are found to be in breach of any of the terms of the agreement.
We strongly advise you make a backup of all of your digital assets, Anvil Industry is not obliged to provide replacements for lost files, but may do so at our discretion for an admin fee of £10.
We want all our patrons to enjoy using our digital miniatures for personal use! But we do need to set some limits to prevent people exploiting our work.

If you are not sure if your intended use of our files is ok, please ask us in the Discord Channel or send us an email, and we will be happy to clarify!
FREE Wasteland Bounty Hunter for all Patrons when we hit 600 Patrons!
We are still working out the details, but we hope to offer a series of Bounty Hunter miniatures as the Patreon grows, so you are rewarded for your help in promoting the project!
3 of 3
Become a patron to
Unlock 33 exclusive posts
Connect via private message
Recent posts by Anvil Digital Forge
How it works
Get started in 2 minutes