aois21 media
is creating podcasts, books, and video series
Select a membership level
You're officially a patron and will receive one very thankful virtual hug. Also, you'll have access to my patron-only feed for blog posts and picture updates along the way.
Every month, I'll have a Patreon-live chat with all of you awesome $3+ patrons, plus all previous rewards.
You'll receive access to an unlisted bonus podcast for your ears only, plus all previous rewards.
About aois21 media
We have a robust and growing media network that is going beyond the limits of many of the services that we work with. Eight podcast series, two video series, a literary magazine, and more to come, with some support.
Publish Me! comes out once a month and is our flagship podcast. It is a process series, as we meet monthly with an author who is writing and publishing his first novel, sharing first hand experiences from the viewpoint of the author and the publisher.
Passion on the Page is a poetry podcast that we release every three weeks. It combine new poetry by our Creatives and guest poets, with poems that have inspired our authors and staff. Each poem is followed by a commentary discussing their inspiration behind the work.
Our only weekly podcast features literary news organized by day from new releases to publishing, book store, awards, and library news. Also includes a look at the New York Times bestseller list. Currently has a sponsorship set up on Fiverr for 30/45 second ads.
A monthly podcast discussing topics in sexuality and drug use, hosted by Aylin Vega, author of "Dating" as told by the Modern Whore, and her friend Drusilla Vincent. Two Girls, One Joint picks up where previous podcast Sexed, Vexed, Perplexed left off.
The World's Only Podcast with Ian Roberts and Joshua Silberman is a news commentary series. At the beginning of each month, the hosts review the news and choose four or five topics to discuss, giving their own unique and thoughtful opinions and insight into the topics. Topics range from politics, to technology, to movies, to sports.
Tales From The Old New Land is a monthly podcast series featuring a musical performance and an original story brought to you from the mind and mouth of A.C. Charlap. Steeped in Jewish culture and his Baltimore upbringing, each tale takes us further into the mind of the reclusive Mr. Charlap and the world he sees before him. Available on the second Saturday of each month.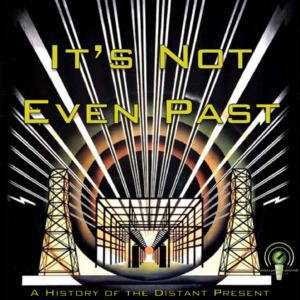 It's Not Even Past: A History of the Distant Present is a history podcast looking at the world we currently live in, built in the mode of Dan Carlin's Hardcore History, but without the extended run time. The news today is troubling, and though much of it seems to come out of nowhere, there is actually a mostly logical course that has carried us to the headlines of today. Evan Tucker knows the story behind the headlines and wants to help you understand that many of these stories have been a long time coming.
I Stand with Host Michael B. Judkins features interesting and creative people from different backgrounds. Some interviews will be available in video on YouTube in the near future. "I stand-as tall as the willow tree, slender, arched and overbearing." recognizing everyday amazing individuals celebrating their passions, creativity and knowledge of chosen industries, professions, and social justice causes to increase togetherness in today's society.
All of these series are part of the aois21 podcast network, one of three media properties we manage. The other two being our YouTube channel which features two monthly series: Creative Speaking, an author interview series featuring out authors discussing the stories behind their books. ask aois21 on the 21st, a live webcast we do each month on YouTube and Periscope where our Publisher, Keith F. Shovlin, takes questions on writing, editing, marketing, and publishing of books.
The third jewel of our media crown is out literary magazine, the aois21 annual. Released each October 1st, the first and second editions were funded through successful Kickstarter campaigns. As an cloud-based company, we have shifted gears and the annual will now only be available as an eZine done in iBooks Author, fully optimized with audio and video.
At aois21, out primary goal is finding great stories and sharing them with the world. We have decided to grow our media holdings in order to amplify that message, but it can't be done without support. We are a small independent media company based out of Mount Vernon, VA. We have no office, operating entirely in the cloud, and all of our staff are part timers, growing their experience with us while working in differing fields. We are singularly focused on supporting our Creatives, and we believe that you can help us do that.
Friend of the aois21 podcast network. Pledge at this amount and you will be thanked on several aois21 podcasts.
1 of 1
Become a patron to
Connect via private message
Recent posts by aois21 media
How it works
Get started in 2 minutes