Applied Ion Systems
open source electric propulsion systems
Select a membership level
Propulsion Enthusiast


A starting level tier for any enthusiast to contribute to advanced electric propulsion development! Your support helps drive R&D of ultra-low-cost open-source satellite thrusters! For your support, you receive:
AIS Logo - Breaking Boundaries Sticker Pack (One-Time)
AIS Logo - Breaking Boundaries Holographic Sticker (One-Time)
Name on the AIS Sponsors Page
Pre-Release Announcements, Data, and Designs
The Flame Trench Nanosat Developers Discord Chat Access
Includes Discord benefits
Vacuum Hacker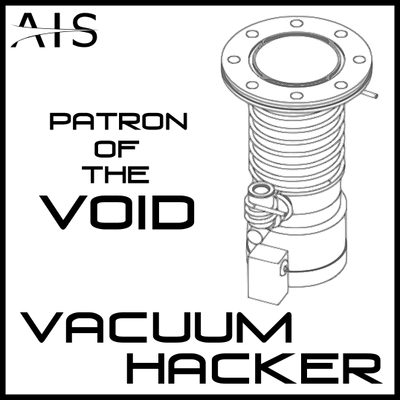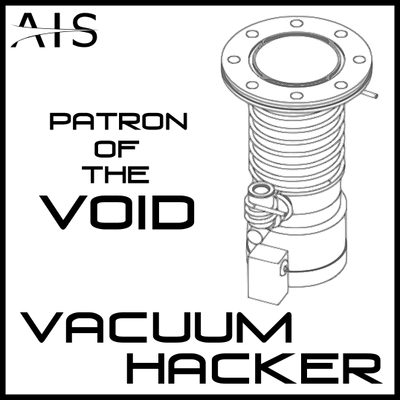 Diving into the vacuum is where the journey for electric propulsion truly begins! As a Vacuum Hacker, you start on the serious quest to develop advanced electric propulsion. For your fantastic help and generosity, you will receive:
AIS Vacuum Hacker - Patron of the Void Sticker Pack (One-Time)
AIS Logo - Breaking Boundaries Sticker Pack (One-Time)
AIS Logo - Breaking Boundaries Holographic Sticker (One-Time)
Name on the AIS Sponsors Page
Pre-Release Announcements, Data, and Designs
The Flame Trench Nanosat Developers Discord Chat Access
Includes Discord benefits
Plasma Pioneer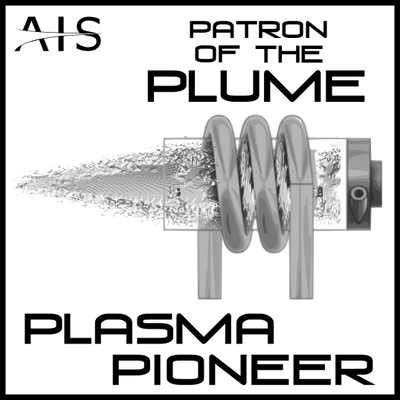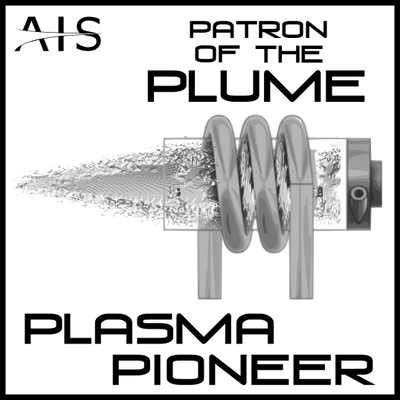 As a Plasma Pioneer, you are really helping push open source propulsion to new heights! As a token of appreciation for your amazing support and contribution, you will receive:
AIS Plasma Pioneer - Patron of the Plume Sticker Pack (One-Time)
AIS Logo - Breaking Boundaries Sticker Pack (One-Time)
AIS Logo - Breaking Boundaries Holographic Sticker (One-Time)
Name on the AIS Sponsors Page
Pre-Release Announcements, Data, and Designs
The Flame Trench Nanosat Developers Discord Chat Access
Includes Discord benefits
About Applied Ion Systems
Welcome to the Applied Ion Systems Patreon!

Welcome to the Applied Ion Systems Patreon page! Join me on a journey to change the landscape of advanced propulsion, ion, and plasma systems, and break barriers to make these complex systems more accessible and affordable for all!

What is Applied Ion Systems? 

Applied Ion Systems initially started out of a personal hobbyist effort to share projects involving plasma systems, particle beams, and and high vacuum projects. Later, as I began to expand my efforts and meet awesome makers around the world, I began focusing my efforts on open source electric propulsion for small satellites, such as PocketQubes and CubeSats. Eventually, this effort evolved into the world's first and only open-source home-based electric propulsion program, working on cutting edge plasma and ion thrusters for small satellites on a hobbyist level budget. My main objective was to provide intensive engineering resources, data, and system designs for the community to help lower the barriers of entry into the field, and allow enthusiasts to follow along the journey of creating and testing these advanced systems, with the ultimate goal of developing low-cost, easy-to-use, fully integrated space-qualified thrusters.

With several open source thrusters now on their way to space, and having shared my work on the global stage, being invited to speak at events such as the Open Source CubeSat Workshop, it was clear that in order to further expand my R&D efforts, I needed to bring this hobby to the next level. As of December 2019, Applied Ion Systems became an official LLC, marking the start of possibly the most radical and unconventional electric propulsion company out there - the first and only fully open source, and (now hopefully!) crowdfunded electric propulsion company, specifically for the enthusiast and low budget small-sat community!

What Makes Applied Ion Systems Different?

With the continually decreasing costs of both launch services as well as small satellite platforms, space technologies have become increasingly more accessible to small start-ups, educators, students, and enthusiasts. With the onset of CubeSats, and more recently the explosive growth of the PocketQube community, more people are gaining access the exciting field of satellite and space technology.

Despite these incredible advances and continually decreasing barriers, there are still a few key technologies that remain inaccessible and prohibitively expensive for small satellite developers and enthusiasts. Of all the subsystems that go into a satellite, propulsion remains out of reach for almost all small satellite developers and groups, due to its prohibitive cost and high complexity. While there are numerous and many continually emerging companies developing propulsion solutions for small satellites, the approach is the same - million dollar government contracts, and companies that come out of exclusive research programs, often taking 10-15 years to develop even just a working system for initial testing in space. While these companies aim to change the landscape with their respective technology, the cost and ultimate accessibility is still prohibitive for most micro-sat groups - there is just no market incentive to provide propulsion for the lowest funded groups of satellite developers, despite the fact that they make up a large portion of micro-satellite efforts. With people entering the micro-sat scene with PocketQubes, there is increasing interest to extend mission capabilities of these tiny satellites. As of now, there are no propulsion systems out there specifically for PocketQubes, and almost no work in literature for this class of satellite.

Applied Ion Systems is tackling the field in a very unique way. First, the systems and work done here is open source. This is not only radical in the field of electric propulsion, but completely unheard of. Electric propulsion technology in particular is highly guarded, and while it is a very old field dating back decades to the earliest parts of the space race, no company or academic effort has made the jump to open-source propulsion development.

Applied Ion Systems also takes pride in a strong DIY maker-based approach. My background and initial drive with Applied Ion Systems was originally, and still is, fundamentally rooted in the maker community. Because of this approach, there are several key advantages in development over traditional academic or high-tech company approaches. Applied Ion Systems has more flexibility than any other electric propulsion effort to tackle these technologies. Development is not limited by a single thesis breakthrough or critical technology - I work to tackle all forms of electric propulsion, and open source designs for each for the community one at a time!

Finally, I take great pride in very active engagement with the hobbyist and maker community. Through my efforts with Applied Ion Sytems, I have found several niche areas such as high vacuum engineering, plasma systems, electric propulsion, particle beam physics, and pulsed power that I can contribute back to the community, and help share my knowledge and resources to promote growth and interest in these areas at the amateur level. Because of my open approach and willingness to share and work with the community, this opens up significant collaboration opportunities with other micro-sat developers and enthusiasts around the world, offering the potential to launch and test in space far faster than conventional, while providing ultra-low cost ion and plasma propulsion to these groups. In this case, everyone wins!

Why Contribute?

If you are a fan of space tech and DIY maker sciences, and want to help contribute to the further democratization of space and making electric propulsion truly more accessible, consider contributing to this unique effort! The information I provide and publish is accessible to anyone who is interested. Contribute as much or as little as you want - any little bit helps go a long way! While I may not be able to provide standard consumable content like traditional Patreon efforts, I hope to continue to advance and pioneer the field with a unique approach. Ultimately your decision to contribute will be for the sake of helping the field advance and breaking down walls in electric propulsion. It is the ultimate underdog effort, radically diverging from the standard approach in academia and industry for the field!

In addition, not only will your contribution directly support this propulsion effort, it will give you a chance to literally directly contribute to thruster systems that will be tested in space!

Advanced space tech and electric propulsion systems CAN be innovated in an open source, low-cost, maker approach, even from home!

What Are Contributions Used For?

Anything and everything to advance open-source electric propulsion further! Up until now, everything has been purely out-of-pocket, forcing me to learn to be incredibly resourceful in my builds. Almost everything is designed and built from scratch from the ground up in order to save as much cost as possible - high vacuum equipment, supporting infrastructure, diagnostics, tools, and of course the most important part, plasma and ion thrusters! While I have been able to spearhead the field with this radical approach, and make several breakthroughs on low-cost, open source miniaturized propulsion, it is still financially straining to continue this advanced R&D long term on my own. I provide all of my resources, data, and information freely to the enthusiast community, but I need help now to keep pushing the boundaries and providing exciting new breakthroughs at this level.

A Little About Me

I am currently an electrical engineer working full time at a particle physics facility. In my free time, I pursue electric propulsion R&D at home. I have an intense passion and dedications towards hands-on learning and making, and my desire to build complex systems and improve upon the current state-of-the-art at home with limited resources ultimately helped contribute to the start of this effort. In my pursuits, I have found often times that the lack of transparency or access to resources can be incredibly frusterating for someone looking to dive into these advanced topics, and have made it my goal to provide educational and advanced engineering resources for anyone, and engage the community and mentor other hobyisyts, enthusiasts, and students on their own quest in these areas.
$743.21 of $1,000
per month
This is where advanced propulsion really gets serious! At the $1000 and above level, I can afford to develop complete propulsion solutions and prototypes very rapidly, as well as significantly upgrade testing infrastructure to further advance R&D for these thrusters. Because of my approach, I can mobilize testing and development far fast than conventional approaches, with significantly less funding. Compared to standard electric propulsion companies, this is still pocket change in the industry! Let's show just how powerful the maker approach can be, and push boundaries of advanced technology together!
4 of 4
Become a patron to
Unlock 20 exclusive posts
Connect via private message
Recent posts by Applied Ion Systems