April Hunter - Storyteller, Cosplayer, Author, Model, Artist & Pro Wrestler
is creating soul baring essays, kickass cosplay, and some sexy stuff!
Select a membership level
You Are Awesome
You know how someone tells you you're part of their "inner circle"? That's kind of what's happening here. After pledging, you'll become part of my inner circle and I'll send you sneak peeks and rely on you for feedback or suggestions.
Super Hero Tier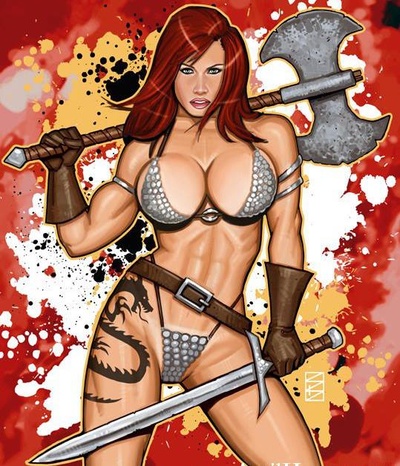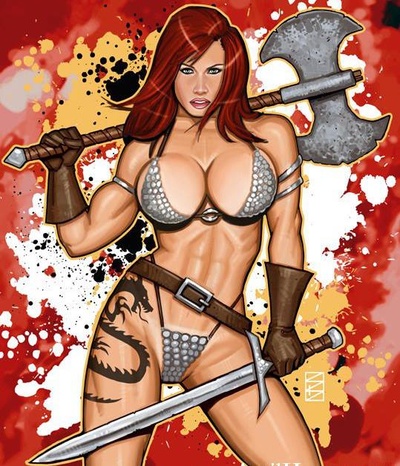 YOU'RE KIND OF A HEROIC PERSON. Pledging $10 or more a month puts you in hero territory. We all have a handful of monthly $10 costs, and we seriously appreciate you carving out one of yours for me.
It's Gettin' Pretty Serious
$25
I DON'T KNOW WHO YOU ARE, BUT I HAVE FEELINGS FOR YOU. After a year at this level, you'll have single-handedly covered full week of expenses. Legit.
Due to my intense gratitude, I shall be sending you exclusive cool stuff for as long as you stay on.  (Rewards will be sent on the 3rd or 4th of each month via email.) 
About April Hunter - Storyteller, Cosplayer, Author, Model, Artist & Pro Wrestler
Hi. Hola. Salud!
Do you like a good story? If so, I've got shloads (shit loads)! When I post my galleries, videos, cosplay posts, daily life blogs, and wrestling, Patrons get the BTS stories that go along with the posts - no holds barred. What happened that day, how it really was, who I worked with and what I think of them...all of it.
Who am I? Hopefully, you know, but if not, I'm a model, author, pro wrestler and an all-around nerd with boobs. I just graduated from Full Sail University where I earned my degree in Creative Writing for Entertainment. I've been writing since I could hold a pencil...doing photography and painting since my teens, but modeling (from Playboy to comic books) and pro wrestling (WCW, AAA, ROH) have always been better at paying the bills. I've been touring and doing that for AGES. It's a beautiful thing that here on Patreon, I can combine all my loves and give you the best of all worlds!
You'll see a LOT of the cosplay, wrestling, comic book and fitness stuff here. A LOT.*NOTE:
Rewards are sent out after the first week of each month.
If you don't receive them, something either went wrong with your billing or email, so contact me.
*ALSO NOTE: You do not have to pledge ANYTHING to be a Patron. It's great if you do and I absolutely appreciate it, but I love that you're here either way. 
I am thankful for my Patrons.  Many don't realize we are real people, who work hard, go to school and do the best we can when it comes to making our beds and doing our laundry.
Creating and writing also takes time away from things that pay the bills.
So, I'm very grateful for Patronage because it truly helps.
That said, one day I woke up one day and decided to chase the REAL dream. I enrolled back in school and started to write as a way of life instead of just randomly when the inspiration hit. I struggle with fiction but love essay writing. However, I get lucky with publishing fiction more often. I have another blog at
AprilHunterBlog.com
where you can read more.
Additionally, I paint, make soy candles, soap, bath bombs (
AprilsScentSations
on Etsy & FB) dabble in photography and I'm a professional cosplayer, fitness, comic book and pinup model. 
I think creativity feeds creativity,  so as long as you are creating, you keep finding inspiration, even if it's not your main field. 
I hope having this page will push me to finish projects, since "sharing is caring" and NOT being a starving student/artist would be really nice!
My goal is to use this as constant content creation motivation. (Say that fast. Go on...I'll wait.) I need that proverbial "gun to my head", so maybe YOU and this page will help provide it. :)
I'm new to this page and still learning. Right now, I'm posting a lot exclusive and retro cosplay, glamour, wrestling, writing and behind-the-scenes content for patrons only.
Yeah. THAT stuff. The good stuff.   

The more patrons I get, the more I post!

The more those Patrons request, the most I post.

See how it works? Ask and ye shall receive. 


When I reach a LOT of  Patrons, I'll write and release a free book for those who have signed up of one of my more private memoirs.
I've been there & done that in the entertainment business, so...I have some stories.  ;) 
1 of 1
Become a patron to
Unlock 406 exclusive posts
Connect via private message
Recent posts by April Hunter - Storyteller, Cosplayer, Author, Model, Artist & Pro Wrestler
How it works
Get started in 2 minutes