Charlie Mount and Jeff G. Rack
is creating Fantastical Shows for Arcane Theatreworks
Select a membership level
Martian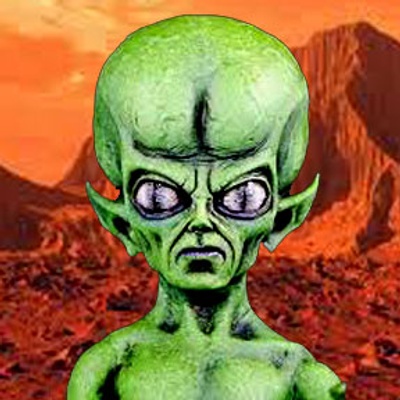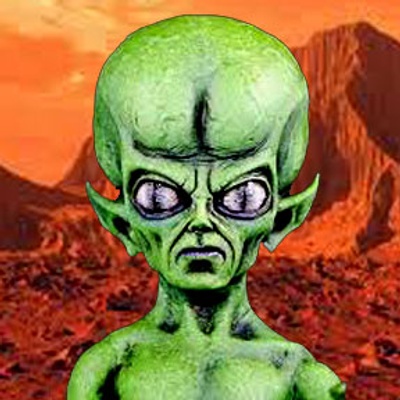 Photos, Videos, Show Tickets, Invites to Special Events and News,
Celestial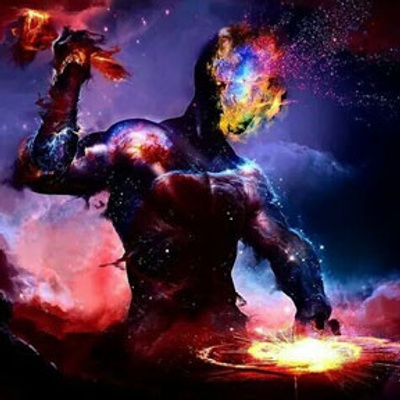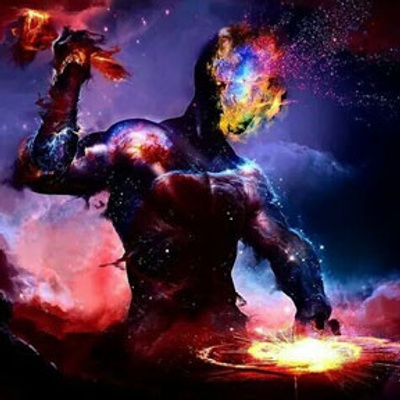 Celestials Craft Creation!
Photos, Videos, Show Tickets, Invites to Special Events and News, Honorable Mention on Web Site and in Programs, and whatever else we can think of.
About Charlie Mount and Jeff G. Rack
ARCANE THEATRE WORKS WANTS YOU TO BE

PART OF OUR STORY
Do you love magic, science-fiction, gothic horror, fantasy, mysteries, etc? So do we! We are storytellers in the mold of Bradbury, Serling, Verne, Poe, and Lovecraft producing electrifying evenings of theatre full of magic, outre' themes, bold writing and exciting visuals that thrill and elevate the public.
The cast of "Martians - An Evening With Ray Bradbury" written and produced by Charlie Mount and Jeff G. Rack, directed by Jeff G. Rack, with Charlie Mount as Ray Bradbury, Whitefire Theatre, 2018. (Photo: Richard Johnson)
Over the last 20+ years Jeff G. Rack and I have created some of Los Angeles' best reviewed and award-winning theatrical productions. Now we're forming our own company, Arcane Theatreworks, dedicated to fantastical theatre productions that move the mind, heart and soul – and we would love to have your support! We have already staged our premiere original critically acclaimed play
"Martians - An Evening With Ray Bradbury"
in Los Angeles in 2018 and the first of our
"Rod Serling's Stories from the Zone"
shows featuring live stage presentations of Rod Serling scripted "Twilight Zone" episodes. We're about to launch our first podcast series Theatre of the Mind (featuring our first story "The Mysterious Card"). And we have big plans for the future! Come along for the ride!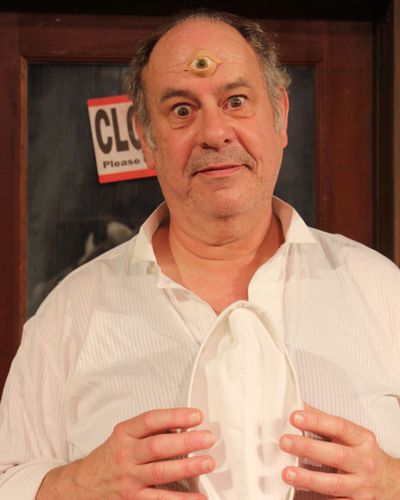 We'd love YOU to be a part of our future projects!
Aside from plays we are also looking to produce original story podcasts,magic shows, eBooks, cool merch, and more! Support us and you'll get invites to dress rehearsals, advance photos and production updates, invites to events, tickets, and any other damned cool things we can think of!

As a Patron you'll get some cool stuff, but we'd also like your input and participation!

We'll be asking our Patrons for things like story titles, character names, helping out in events, etc. We want to INVOLVE you --- if you'd like to be involved. We want you to become part of our story.
Dustin Hess in "The Spirits of Walpurgisnacht", written and directed by Charlie Mount, produced and designed by Jeff G. Rack, Wicked Lit 2014, Unbound Productions. (Photo: Daniel Kitayama, used by courtesy of Unbound Productions.)

WE'RE IN THIS FOR THE ART

We love telling grand stories and presenting them with amazing stagecraft -- but it all costs money. Sets, theatre rentals, costumes, publicity, designers -- and we always pay our actors! We want our audiences to walk away transformed, moved, knocked out of their socks! Your patronage can help do that!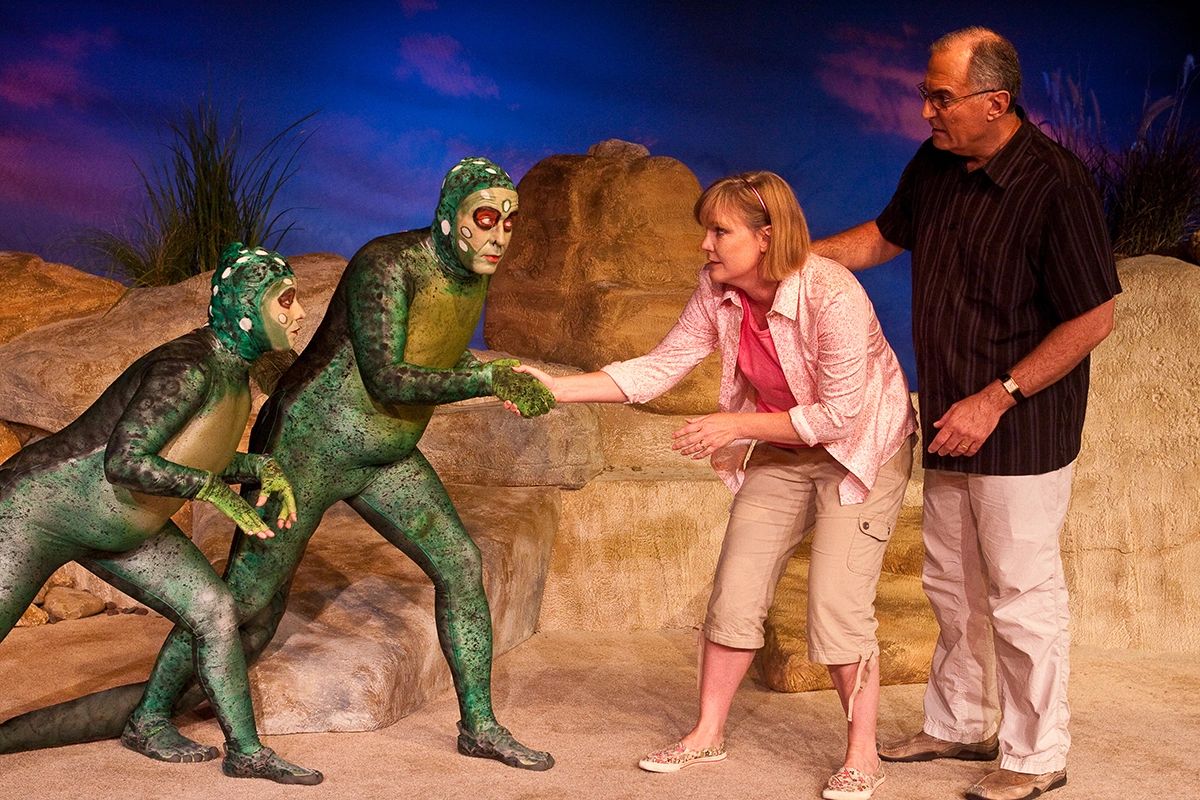 Kristin Wiegand, Paul Gunning, Arden Teresa Lewis and Alan Shack in "Seascape" by Edward Albee, produced and directed by Charlie Mount, set design by Jeff G. Rack, Chestnuts Theatre, Theatre West 2011. (Photo by Thomas Mikusz)
WHO ARE WE?
Jeff Rack and I met in 2005. I had just created the Chestnuts Theatre program at Theatre West (in LA) and was planning to stage the West Coast Premiere of Rod Serling's
Requiem For A Heavyweight
. I had already met with Rod's wife Carol Serling and chosen a fantastic director Howard Storm (who had directed episodes of
All In the Family, Mork and Mindy, Laverne and Shirley
and had appeared as a comic in Woody Allen's
Broadway Danny Rose,
and was a great boxing aficionado) and we needed a great set designer. The great director Stu Berg, a member of our theatre company, recommended a brilliant man named Jeff Rack with whom he had worked with many times. Jeff came in and blew us away with his amazing design for the show which incorporated some 14 different environments on one stage (
Requiem
had originally been written as a TV play).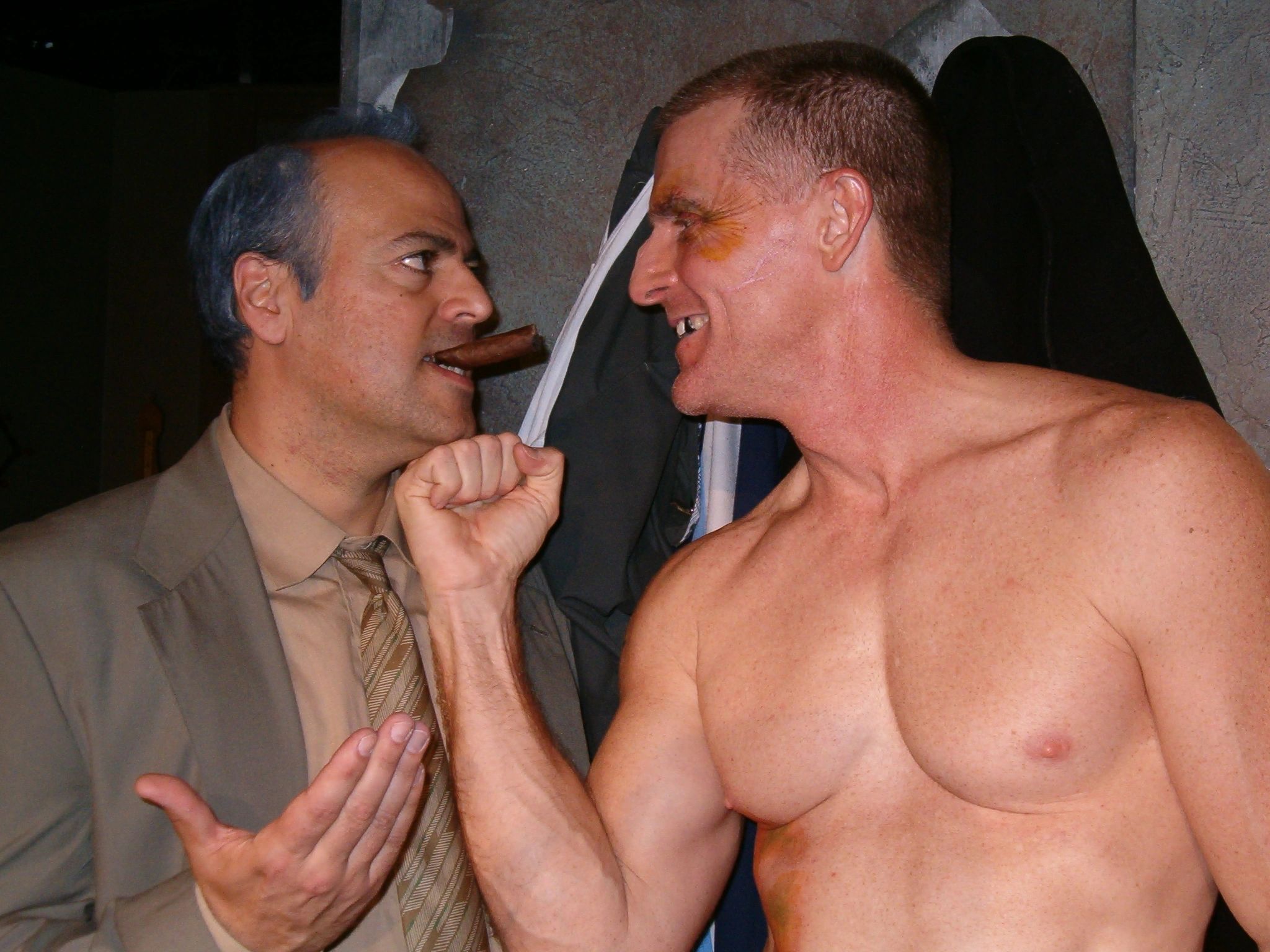 George Tovar and Michael Harrity in "Requiem for a Heavyweight" directed by Howard Storm. Produced by Charlie Mount, set designed by Jeff G. Rack. Chestnuts Theatre, Theatre West 2005.
The show was a great success and Jeff and I continued to work together for many years with various companies including Theatre West, Theatre40, Wicked Lit, The Whitefire Theatre, etc. working on shows like
The Lion in Winter, Seascape, The Spirits of Walpurgisnacht
and more. We always found ourselves on the same page creatively and our shows were always first class productions, whether we were writing, producing, directing, designing or acting. We had a shared love of theater, but also for sci-fi, fantasy, magic, adventure novels, etc. And we looked for projects in those realms.
Then in 2003 I met Ray Bradbury. He and his director Charles Rome Smith cast me in a production of
The October Country.
I was to play a younger version of Ray in one of the evening's plays based on his short story "The Banshee". Ray would alway greet me the same way, "Hello, young Ray!" which delighted me. Ray was a literary hero of mine from childhood and it was a thrill to not only meet him but play him on stage! Many of Ray's friends and colleagues came to the show and remarked on how well I had captured Ray's essence on stage, and an idea began to form...
In 2007 I produced Ray's play "Falling Upward" with Pat Harrington, Jr. in the lead, a lovely Irish play and I think Ray's best stage work. Jeff came aboard and created a marvelous Irish pub set and the production was a great success. I got to know Ray a little better by this time and would sometimes visit him at his house and talk theatre and books. His office was littered with toy robots and monster models and all kinds of strange objects he kept around for inspiration. It was like being inside Ray's mind exposed, and I conceived and idea for a play that would begin in Ray's office and expand outward to Mars! I presented Ray with an early draft of the play, which incorporated three of his Martian stories ("The Blue Bottle", "Night Call, Collect" and "The Messiah") and he loved the concept and told me to continue working on it. I was pleased since at this point in his life Ray was not letting anyone adapt his work anymore, having been so disappointed in the past.
Eventually I brought Jeff on board. I knew he loved Bradbury's writing and would bring his own distinctive and brilliant creativity to the project. Jeff suggested many important changes to the work. We eventually added a fourth story ("The Strawberry Window") and inserted more of Ray as a character into the play and we began workshopping.
Unfortunately Ray passed away before he could see the finished project, our first Arcane Theatreworks project
"Martians - An Evening With Ray Bradbury"
which we opened in September 2018 at The Whitefire Theatre (LA) to fantastic reviews. And our new partnership had begun! We decided to dedicate Arcane to the kind of fantastical story-telling we both loved.
For our next project we decided to partner with Theatre 40 in Beverly Hills to present two Twilight Zone episodes (having secured the rights from Rod's family) in our very successful production of
"Rod Serling's Stories from the Zone"
.
Coming up with have plans for an eerie dramatic podcast series called "Dark City", more presentation of "Rod Serling's Stories From the Zone", more original plays, magic shows, and more.
But we need financial help. We're looking for dedicated partners like you on Patreon!
WHAT YOU GET
In return for becoming a Patron we will be offering all sorts of things -- one time it might be a video of me teaching you a card trick, or tickets to one of our upcoming shows, or original design artwork, or rehearsal photos -- and more! We want to bring you into our world!
Thank you, my friends, for taking the time to consider supporting our art!
Onward and Upward!

~ Charlie Mount
(If you'd like to know more about us our respective bios are below. And check out all the great photos of our past productions on our
Arcane Theatreworks web site
.)
THE FUTURE
Jeff and I hope to bring more Twilight Zone episodes to life on stage very soon. We're also planning to present my (currently unfinished) Edwardian mystery novel The Clairvoyant Murders (Sherlock Holmes meets Houdini!), more original plays (we have an idea for an evening smarmily titled "Thomas Edison and Nikola Tesla Stuck In An Elevator Together" and a series of eBooks around the theme of "The Lost Tales of HG Welles"), and perhaps some magic and burlesque evenings. We're also looking to create some original radio-drama podcasts -- and more! We have a ton of ideas and you could help us realize them!


_______________________________
BIOS

JEFF G. RACK
Co-Artistic Director, Arcane Theatreworks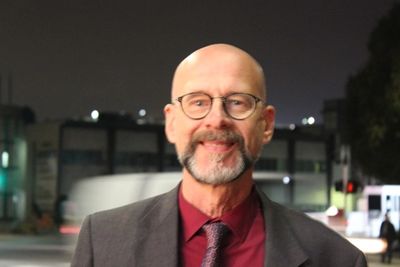 Jeff has worked in many different areas of the film and entertainment industry over the last twenty-five years, but whether he's writing, designing, or directing, Jeff approaches all his work as a storyteller. As an Art Director for films and commercials, and as an EFX artist, Jeff's work can be seen in many films, including: Armageddon, Con-Air, Flubber, Mighty Joe Young, Kundun, and Tim Burton's Planet of the Apes. Probably best known to Los Angeles theater patrons for his award-winning set designs, Jeff has designed and built over 150 productions from Santa Barbara to Edinburgh, Scotland, and recently received an L.A. Weekly Award for his work on Frank Zappa's Joe's Garage. Jeff is also one of the Artistic Directors and Producers of Unbound Productions. It's very successful flagship production, Wicked Lit, takes classic horror literature and presents it theatrically in alternative venues. This years sold out run was performed within and on the grounds of the Mountain View Mausoleum and Cemetery in Altadena, Ca. Shows he has adapted and directed for Unbound include: H. P. Lovecraft's The Unnamable, and The Lurking Fear, Sleepy Hollow, The Dead Smile, The Yellow Wallpaper, Dracula's Guest and Robert E. Howard's Pigeons From Hell. Jeff also directed a very unique production of Dr. Jekyll and Mr. Hyde, which used the very effective theatrical device of having four actors (3 men and 1 woman) portray the elusive and metaphysical Mr. Hyde. Other shows Jeff has directed are PEN, and The Mystery Plays. He was thrilled to direct two of Rod Serling's original Twilight Zone episodes for Theatre West in Hollywood, which are still talked about and even received high praise from Carol Serling. Jeff was also a finalist in The 2008 Rod Serling Short Feature Scriptwriting Competition with his entry, No Totos.
CHARLIE MOUNT
Co-Artistic Director, Arcane Theatreworks


Charlie served as the Artistic Director for the critically acclaimed Chestnuts Theatre Program at Theatre West where he produced the LA Premier of Requiem for a Heavyweight, and The Lion in Winter with Jim Beaver, as well as directing Betty Garrett in Waiting in the Wings and earning an Ovation nomination for his staging of Waiting For Lefty. Charlie directed Beau Bridges in the original production of Acting - The First Six Lessons, his own plays The Leather Apron Club, The Spirits of Walpurgisnacht and Against The Wall, co-produced with Ray Bradbury and his Pandemonium Theatre a production of Falling Upward with Pat Harrington, Jim Beaver's play Verdigris and Lee Meriwether in The Women of Spoon River. Other plays written by Charlie include Trumpets and Table-Tippingproduced at Theatre 40 in Beverly Hills and The Junto at The Road Theatre. Originally from New York Charlie Mount developed his comedy/magic act at Manhattan's famed Magic Towne House and became a regular at the world famous Comedy Cellar working with other newcomers like Jon Stewart, Ray Romano, Dennis Miller Colin Quinn and Chris Rock and was featured on the TV special Magic's Greatest Illusions re-creating Houdini's famous East Indian Needle Mystery. Charlie is a member of Hollywood's famed Magic Castle.
Once we reach $750 per month we can produce another fully staged and gorgeously designed MainStage show like "Martians - An Evening With Ray Bradbury". 
1 of 1
Become a patron to
Connect via private message
Recent posts by Charlie Mount and Jeff G. Rack
How it works
Get started in 2 minutes