E!
is creating COMICS! Radiocasts! & Tons of other $#@!
Select a membership level
Liberating!
Right on! Thank you for the love! 
I've always felt that every dollar makes a difference--and clearly you want to help me achieve my goals! Thank you so much!
Now that you're officially a contributing supporter of what I'm doin', you'll get notifications of Exclusive Content I'm offering here, through Patreon! Woot!
~E!
Refreshing! - Unlock Sanders Comics!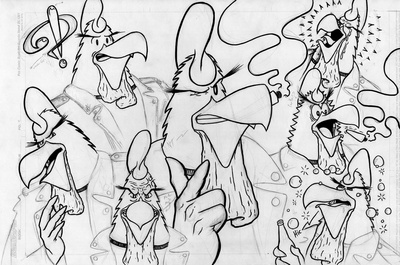 Sweet! You just gave me the rocket sauce I need to succeed! YOU ROCK!
You are awesome! I'm glad you like what I'm doing and want to help me make more! 
UNLOCK:
Library of existing SANDERS comics, with brand new comics coming soon! Also, you'll get notifications of Patreon exclusive posts, just for supporters! Cheers! 
~E!
Satisfying!
Cheers! You just bought me lunch! Thanks for feeding the machine!
Seriously, that is a very generous way to show your support--I can't thank you enough! What I will do, though, is send you a sticker from my collection of printed works, SO you can sport your support!

UNLOCK:
Library of existing ROAD TRIP and SANDERS comics, with brand new comics coming soon! You now have access to all my existing, primary comics, plus you'll still get notifications of exclusive content posted here! Cheers!
~E!
About

Welcome, One and All!

If you don't
already
know me, the quick story is that--
like many of you
--I dream of a better world. I believe in a day when humanity will wake up to its
true
potential and genuinely rise to face the many challenges we've collectively made for ourselves...
...and I
trust
that one-day we will
actually
learn to love and live alongside each other in peace.
These and other visions drove me to find a way to communicate that sense, from the
heart
...to connect with people on a truly meaningful level and to see what I could do to help that future emerge. I was inspired by all those artists, philosophers and dreamers who have come before me with a similar instinct.
Drawing
on that inspiration eventually led me to several,
intensely
creative years, where I produced a pile of artwork and stories that got me really walking down that road...and thus,
Archetypal Images
was born!


Here's a short excerpt of my work that actually narrates this a bit...



My instinct, since those early days, has been all about...
(The rest of this book is
free to read online!)
Ok. So, if you're still getting familiar with my work, hopefully this gives you a real taste of what I'm all about...and the passion I bring to it. There's nothing I want more than to make the best work,
in this spirit
, and to bring it to you.
So here's the deal...
The "start" to Archetypal Images was nearly 20 years ago...and I've done a lot of things since then...but I also got lost in a lot of confusing twists and turns that life threw at me.

Things nuked out!
I moved around...got stuck in a dead-end job, and my capacity to create became little more than a trickle, for years. I've never lost the vision nor the drive to create...just the time and energy to really, effectively produce (
and promote!
) at my
true potential.
In the past, I tossed my work up on my website for free...and eventually printed it in limited runs...went around to expensive venues with lots of other headaches involved, and was usually lucky to break even.
(yes, that would be
Ryan Claytor
of
Elephant Eater Comics
bein' a goof, behind me!)


But let's face it--that's a latter-20th century model being applied to the 21st century.
I'm
finally
seeing a better way to both produce and deliver content, thanks (in-part) to this-here Patreon thing.
While I've been MIA this last decade, crowdfunding has matured as a legitimate means for fans to support different creators. It's no longer the strange and almost
taboo
thing it once was. Combine
that
with the fact that my personal situation has
finally
come 'round to provide me with enough fuel to get this ball seriously rolling again...
...and it means that I
now
find myself poised to humbly reach out to you...
to ask for your support
in getting this enterprise back on track and
moving at warp speed!
So, here's my "current," Spring 2019 elevator pitch:

At the moment I'm working on building a
proper storefront
where you can
finally
grab
finished
work--
printed on demand
--as
well as some serious swag!
It should be up in a few weeks.
With that in mind, I have a fair amount of completed comic art that is not,
per sē, ready
for sitting on a bookshelf...but it
can
be gotten to you online...with new work following
right behind it!
The idea being, that the sooner that happens the sooner it
can
be on someone's shelf, if they so desire.
So here's what I'm thinkin'...
...while some of my work will remain
freely
available, Patreon can serve as a sort of...
subscription service
for getting my core content out digitally, while simultaneously
allowing
people to give
more
, in order to gain access to
special perks
which I'll be providing...
and/or
to help me achieve my goals, in general.

So how does it work?!

Glad you asked! It's freaking easy as all get-out!
This video does a good job of explaining it
...but simply put,
for as little as $1 a month
you can show your support for what I'm working on.
Allow me to elaborate...
First off, If you're on mobile, my
site-goals
are listed at the bottom of the page...otherwise, just look to the left to see what I'm
currently
aiming at
.
Every time I hit one of those goals, I'll be able to get you more and more content.
That said, if you recognize the value in the work that I'm doing and you see how easy this platform makes it to show your support,
all you gotta' decide is, how involved do you wanna' be?
If you're on a desktop browser, look to the right and you'll see the various tiers I've dreamt up. By joining up, you'll be providing me with the fuel I need to get more work out faster, not to mention
you will literally
be compensating me for my work,
automatically
.


And it's simple!
You only have to sign up once, and the Patreon system will process your donation every month, without you doing another thing. You'll get notified when I make any posts, you'll unlock exclusive content
and
you'll know that
YOU(!) are helping get it out there!
Theoretically speaking, with enough support, I could be producing full books in no-time! I live a very frugal life...I don't need much to get by, given
some
standards out there. If you can chip in
at or above
the basic tiers and help me achieve my goals, I'll be pumping out brand new comic content
by summer!
Together, we will make great and wondrous things!
If you like what you see and/or hear, I hope you will opt to be part of what I'm up to! Again, with the right support I could be running at full-steam in no time...
...and when I hit 777 miles per hour...yer' gonna' see some serious $#@!
Cheers!
~E!
P.S. -
My latest creative offering is
(What Is) The SuperMAD! Mxyz?!™ Radiocast!
This is a
philosophical
, music-driven, radio/talk show that is actually an Adventure Story, following the Cosmic, Hero's Journey of SUPERMAN &
Mike Allred's
MADMAN! The story is actually broken into three sections, so if you haven't heard it yet, I will recommend starting with
episode 6
--it's the best jumping on point for new or returning listeners!
You can find links to my other free content on my website.

Also, here's an older vid of me at a convention, where I take a moment to expound a bit more on my philosophy behind my artwork:
[My buddy, Elliot Szirtes, intrepid reporter behind the camera! (and loaner of the bad-ass microphone used in The Super-MAD! Mxyz Rock 'n' Roll Radiocast recording studio!)]
What I'm currently aiming for:
10 patrons (and/or $100--whichever comes first!)
for Patrons to share what I'm up to with friends!

When we get there...
...I'll owe ya' a surprise! 😉😎

What I'm workin' on:

Archiving my library of comic content online
Ongoing website improvements
Launching a proper web-store
Fall 2019 to Present

Season of obstacles and personal accomplishments; creative stuff had to take a back seat for a bit. Check the posts for details.


Summer 2019
Refurbishing of Sanders comics in prep for web
Personal life took on surprise challenges, halting progress
Spring 2019

MASSIVE improvements to entire Archetypal Images' online platform
Refurbishing of SPARKY...etc...
Readying for relaunch (so-to speak)!
Applied for a grant!
Started building web-store!
Taking/applying social media marketing course!


a range of marketing and promotion!
producing videos!!!

I'm racing to improve my digital infrastructure to better deliver you the goods! My aim is to be offering new content, constantly...so the more support I get, the more artwork you get!

Any support you can spare will make a difference!
THANK YOU!!!

If there's something I'm not offering that you would like to see, let me know what it is!

Cheers!
~ E!



To get a better sense for what-all I'm workin' on, visit www.archetypalimages.com!

1 of 1
By becoming a patron, you'll instantly unlock access to 3 exclusive posts
By becoming a patron, you'll instantly unlock access to 3 exclusive posts
How it works
Get started in 2 minutes