Art of Mike
is creating 3d models for tabletop gaming
Select a membership level
Private
Limited (4 remaining)
Thanks!
Every little thing counts and is highly appreciated.
 Join my community of patrons and help support my art.
Get early access to free models.
Lieutenant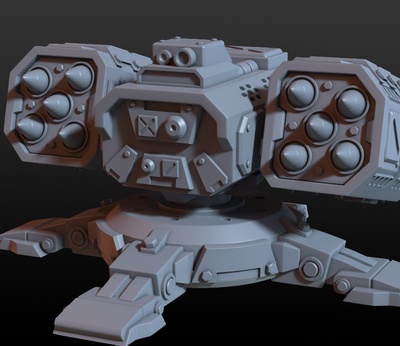 Thanks a lot!
You will receive all benefits from the first tier plus the following:
Ability to participate in polls each month where you can vote on
what models will be included in the next release.( Polls will start as soon as we reached 60 patrons)
You will get access to set of models I release every month.
Mercenary
Muchas Gracias !
You will have the same abilities as with the Captain tier except the printing and selling of models.
About
Hi, my name is Michael Acosta.
I'm a digital artist with a passion for collectible statues and tabletop miniatures for 3d printing. Most of my models are sci-fi themed concepts.
As an artist, I've always wanted to create 3d models of my own concept and design. Through Patreon, I can now do what I have always wanted to do and earn support from my patrons as well as interact with them and get suggestions.
What can I expect?
As soon as you become a patron for the lieutenant and above tiers, you will have access to the
ARMORY
which contains several models as a starter pack for you to enjoy.
Each month, I will release new 3d models in STL format and as soon as your payment gets through you will have access to folders (dependent on your tier level) which contains the release sets for the month.
You can also get free models each month from the
FOOTLOCKER
.( accessible to all tiers)
You will also get to participate in polls on what models will be on next release and join my community of patrons and help support me with what I do.
Folder categoriesARMORY -
Folder containing the starter pack models.
FOOTLOCKER -
Folder containing free models and is also accessible to all tier levels.
RUCKSACK -
Folder containing the monthly release set for Lieutenant tier level only.
CLASSIFIED FILES -
Folder containing all the monthly released model set including the ones in the Rucksack folder except for the free ones. This folder is for the Mercenary and Captain tiers only.
How do I get the files?
Every month, I will post download links where you can get the files after payments have gone through. Download links will be active until the end of each month so please get your files as soon as possible. Once the download links have expired, you will no longer have access to the files. However, previous months' releases will be available in my
Gumroad
page for individual purchase.
https://gumroad.com/artofmike
.
Discounts
are available for patrons.
Download links
for your tier can be found in the
Featured tags
on the side of the page.
https://www.patreon.com/art_of_mike/posts?tag=download%20links
Download links for the starter pack found in the
ARMORY
will always be active and is accessible as long as you are a patron.
Billing details:
As soon as you sign up to be a patron, you will be charged for the amount of your chosen tier and then after, you will be billed at the beginning of each month.
Additional tier information:
With the exception of Captain Tier, all 3d files are for personal and non commercial use only. Only the Captain Tier patrons are allowed to sell prints of my 3d models for as long as they are patrons. However, mass production moulds/ casts are not permitted.Redistribution of 3d files are not allowed.
And last but not the least,

THANK YOU SO MUCH!
My sincerest appreciation goes to you all who support my work. It means a lot to me that you consider sharing with me a part of your hard earned money. I hope that you will stay with me through this adventure and enjoy the experience.Cheers!!
We will start having monthly polls upon reaching 60 patrons
1 of 1
By becoming a patron, you'll instantly unlock access to 66 exclusive posts
By becoming a patron, you'll instantly unlock access to 66 exclusive posts
Recent posts by Art of Mike