Art Against Agony
is creating Music & Videos
Select a membership level
Get all music
Get all future music releases for free
and digital music of all past releases for free!

At this moment, this includes a vinyl copy of 'Reincarnation Suite' sent to you.

Get all merch
You get all benefits of the lower tiers!

+ Get ALL merch items for free!
(everything which we have now, and everything we will release in the future, at this moment, this option includes a Tshirt)

+ Get access to our database of online lessons & guitar tabs!

Get free access to concerts
Limited (18 of 20 remaining)
You get all benefits of the lower tiers!

+ You get free access to ALL HEADLINE Art Against Agony concerts! (We will try to find ways to sneak you in for non-headline-shows, too!)

+ You will be mentioned in the 'Thank you' section of every future physical AAA music release!

LIMITED SLOTS to 20 Patreons max.

About Art Against Agony
Hello fellow art lovers,
2021 sees the release of our new EP 'Reincarnation Suite' - jump in and support us on Patreon to secure yourself a free vinyl copy or a free digital download (MP3, WAV)!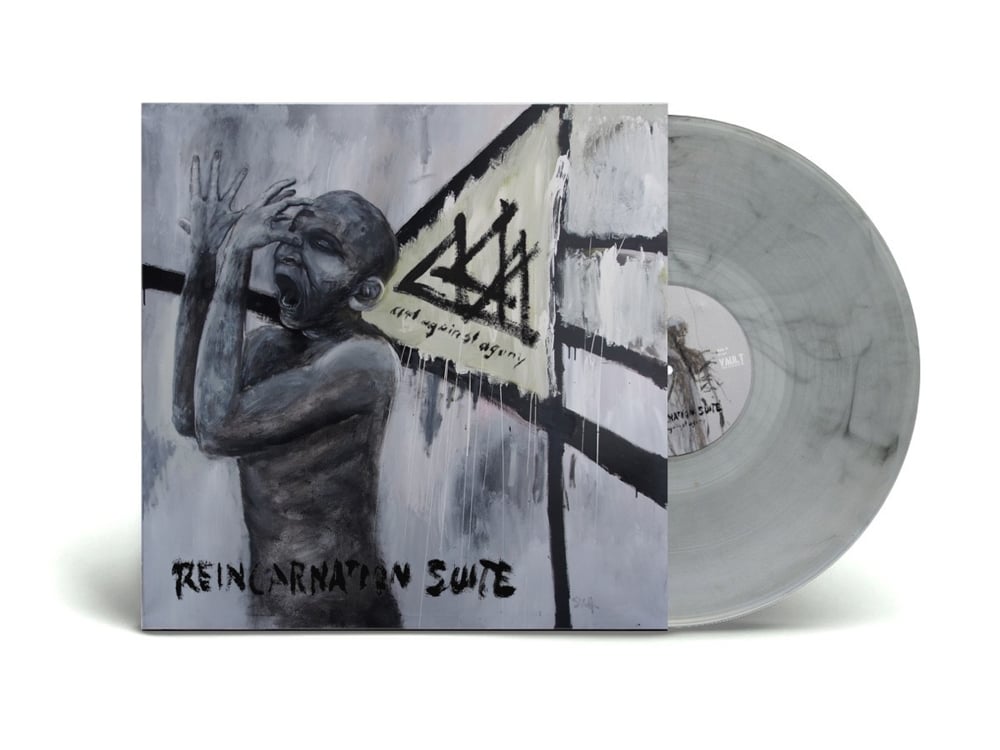 Bands and musicians of our times see themselves facing the dilemma of a rapid economic decline within the music industry and oversaturation of music releases in all genres, while costs for production, promotion and touring for all musicians have remained the same.
Everybody knows that CD sales and downloads don't make any money these days; big names in the contemporary progressive music scene keep stating that just their band alone doesn't earn them a living [Misha Mansoor, Periphery; Ben Weinman, Dillinger Escape Plan], thus it has always been common sense also for Art Against Agony that any music track, any video, any photograph and any touring effort needs to be financed by ourselves only.
We are incredibly thankful for every handshake, every gratious compliment and admiring smile that we have come across touring the world and playing our music in front of hordes of progressive metalheads and jazz afficionados.
It has given our existence a wonderful purpose to spread our ideas of anonymity and human identity around the world from Siberia to Brazil and all countries in between.
However, we have no kind of agency and no sponsoring label behind us (Vault Records is our own label).
This has of course kept our artistic endeavours genuine and fruitful so far!
Yet, as we have become more and more established in the progressive music scene since 2014, we see our future efforts requiring each member of the project to spend less time working for the project - and instead working in additional jobs in order to keep the engine running: To raise money for equipment, promotion, touring, and of course music production!
Some facts about money & money production:
Everything around the Shiva album in 2018 has cost us some 20000€ in production & marketing:
-6000€ Promotion (hiring a good promotion agency to get featured in magazines, interviews etc.)
-5000€ Video production 
-3000€ Rehearsal room (12 months rent)
-2500€ Pressing CDs and printing Tshirts 
-1500€ Costs for external photographers, graphic artists, guest artists on albums
-1000€ Band logistics (gas, car rental, touring visa, accomodation, food on tour)
-500€ Equipment (strings, pedals, sticks, picks, drumheads etc.)
We've paid 100% of that money ourselves upfront.
We are glad that we can produce all music ourselves in our studio and don't need to book a studio and hire a sound engineer for days and weeks - otherwise we would'nt be able to afford writing and producing music after all.
Patreon is our attempt to re-gain a little bit of our time by giving you the opportunitiy to support us directly and unbureaucratically. Your contribution will also pay back immediately: You will get everything of what we do: Music, Merch, Concerts.
Plus, we will throw in some exclusive extras for our supporters from time to time!
Your monthly support will literally buy us time that we can invest straight into new art against agony material - and regardless if you are a die hard fan or merely acquainted with our project, we are incredibly humbled by any range of contribution, because after all you are the reason why there still is art against agony.
Thank you.
General info about payment:

Monthly payment pending 1st of each month.
Payment possible with Credit Card or Paypal.
You can cancel your patronage at any time you want, there are no deadlines or a minimum amount of time that you have to pledge (except if you want to have a custom painted mask, which will require a minimum 6-month patronship).

As soon as we reach 25 patrons, we will pick a random patron for an exclusive acoustic home concert!

1 of 1
By becoming a patron, you'll instantly unlock access to 41 exclusive posts
By becoming a patron, you'll instantly unlock access to 41 exclusive posts
Recent posts by Art Against Agony
How it works
Get started in 2 minutes