Lorien Eck
is creating mixed media art and online mixed media art tutorials for you!
Select a membership level
Sparkle!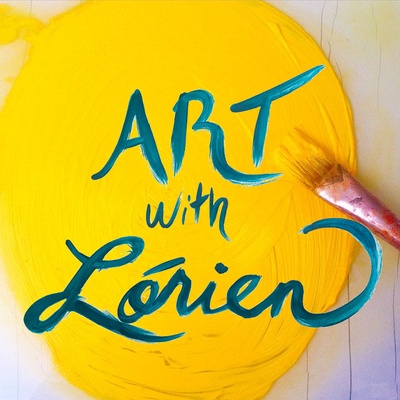 Recognition- Be Seen as an Art Matron/Patron!

★ I will personally acknowledge and Thank YOU in the credits (and the description) in 1 or more of my newly produced  Art with Lórien videos offered on my platforms.


Thank you!

Super Star!
You receive:
★ All of the above plus:
★ Premium Digital Wallpaper/Desktop/Screensaver Fine Art Pack: Choose your favorite painting image!
You select your favorite premium fine art image that can be used for your Desktop Wallpaper and/or Screensaver. (Instructions will be provided to create a Screensaver for PC or Mac.)
Most fine art images shown in Lórien Eck's Collections are available (excludes Soul Cosmology™ commissions). You will receive your artwork image/s in an email. File size will be approximately 2560 x 1440 pixels for each image.
These digital images are not licensed for printing, sharing, or reproduction of any kind. All copyrights retained by Lórien Eck Art & Design.
Visit :
 Lórien Eck Art & Design Shop

★ 10% off all items from my Etsy Shop.
Thank you!
Super Star!
You receive:  

★ All of the above plus:

★ More views of works-in-progress, unseen art, plans for future classes and books, and shots/video tour of my studio that I don't share anywhere else- all delivered on my YouTube channel.

★ 20% off all items from my Etsy Shop.

Thank you!



About
Creativity is the play of the Soul. ~ Lórien
Hello! My name is Lórien Eck. I am an artist and have been creating at least since I was three years old! And I am an award-winning educator who has taught visual arts in the Los Angeles public schools and internationally for over 11 years! I am here on Patreon because this will give an opportunity to those who appreciate my artwork and creative style of teaching art to acquire artwork whilst supporting arts education for all!
A bit about my background, I was born in Los Angeles and raised in Laguna Niguel, California. I graduated from San Francisco State University (B.A. Studio Art), St. Lawrence University, New York (M.Ed.), Otis College of Art and Design, and CSU International Programs in Florence, Italy. I maintain a California State Teaching Credential and National Board Certification in Art, Adolescence to Young Adults. Now, more about where I am at now and why I am here seeking support. I was guided to move towards following my dreams to be a full-time artist and teaching artist for all who are passionate about unleashing the creative artist within and reclaim their own Divine inner artist!
In March 2016, I launched my Official YouTube channel called "Art with Lorien" where I create and produce informative, inspirational and easy to follow NEW art making videos! I have a small team of two, myself and my partner who does the camerawork, as well as a webmistress who is my technical wiz keeping my website current.
My personal mission in life is to balance, heal, harmonize and beautify, bringing about these ideals through my original artwork and awakening the Divine inner artist in all! My passion and purpose is to inspire and support people in making transitions in consciousness. I offer this through both my spiritually textured abstract paintings and through helping people reclaim their inner artist, educating through the creative process both with groups and individuals on my "Art with Lórien" channel.
Through my Art with Lórien YouTube channel, my aim is to inspire, encourage, educate and support my audience in building their art practice and to feel good through creative self-expression! I strongly believe that everyone is an artist, that anyone can learn to make art! If you were ever told you cannot draw or paint or heard any other limiting words that have stopped you from being creative artistically, I encourage you to reclaim your Divine inner artist now. It is never too late. ALL ages, genders and levels are welcome!!! I am inspired to keep the arts alive and thriving!
I will be using my Patrons' support to keep creating for my two primary artistic endeavors:
1. to provide interesting, inspiring content and 'create culture' through my "Art with Lórien" art tutorials and to continue to offer it for free on multiple platforms (YouTube, Facebook, Instagram)
2. to continue my art studio practice where I create original, uplifting and textured abstract paintings, small batch textiles and wearable art and more- with a focus on upcycled materials.
Art has the power to heal. ~ Lórien
For more information about my background, education and teaching experience, click here!
More About Lórien
Art with Lorien YouTube Channel

Creativity is the play of the Soul. ~ Lórien

Hello! I am a professional artist and award-winning educator Lórien Eck. I have taught visual arts in the Los Angeles public schools for over 15 years and stepped away to follow my dream to be a full-time artist and teaching artist for all who are passionate about unleashing the creative artist within and reclaim their own Divine inner artist!

In March 2016, I launched my Official YouTube channel called "Art with Lorien" where I create and produce informative, inspirational and easy to follow NEW art making videos each week!  For two months, I did NOT have Ads on my YouTube channel and was very happy about that choice. 

My reason for not allowing Ads on my channel was to keep my content FREE and pure, easy to access to the art tutorials without distractions.  My Vision is to maintain an Ad-free YouTube channel!  Will you support my vision?

A little bit about me:

My personal mission in life is to balance, heal, harmonize and beautify, bringing about these ideals through my original artwork and awakening the Divine inner artist in all!  Through this "Art with Lórien" YouTube channel, my aim to inspire, encourage, inform and support YOU, my audience in building your art practice and to feel good through creative self-expression! I strongly believe that everyone is an artist, that anyone can learn to make art! If you were ever told you cannot draw or paint or heard any other limiting words that have stopped you from being creative artistically, I encourage you to reclaim your Divine inner artist now. It is never too late. ALL ages, genders and levels are welcome!!! I am inspired to keep the arts alive!

My Story In My Own Words - Interview in VoyageLA Magazine

My goals for my Art with Lórien YouTube channel are as follows:

Continue to produce and share "In the Studio" tutorial videos. 
The "In the Studio" series focuses on the basics and more in the artistic creative process, behind the scenes. We will explore and play with these fundamental layers as well as build/refresh skills, increase knowledge and develop confidence in art making in a variety of mixed media.

Continue to produce/publish:
Art with Lórien In the Studio Series

Continue to produce/publish Tools of the Trade tutorial videos:
Art with Lórien Tools of the Trade


Continue to produce/publish Foundations tutorial videos:
Art with Lórien Foundation Series

Art has the power to heal. ~ Lórien

Please feel free to visit my website to learn more about my mission, my artwork and my creative vision.  www.LorienEck.com
Awaken Your Heart, Nourish Your Spirit™

1 of 3
Recent posts by Lorien Eck