Panthera Arven
is creating Comics and Stories
Select a membership level
The Skelewoof Squad
Spooky scary sweet support!
See Patreon-exclusive sketches!
Requested by Patrons and not posted anywhere else, they are sure to put a smile on your face!
See Pose references and WIPs
Of upcoming paintings!
Once a month, you get to ask anything you want to any of my characters, and they will answer! Your question also has a chance to be turned into a sketch/vignette!
Not quite what you're looking for?
Click the "Show More Levels" button below to see all available tiers! 
˅ ˅ ˅ ˅ ˅ ˅
Includes Discord benefits
The Zebracal Zone
Stealthily crossing Abbey Road.
View completed comic pages early
A full week before they are released anywhere else!
Special thanks on my printed work
If you're a Patron when I'm getting a book or comic printed, I will mention your name(*) in the thank you section of the book!
*I will mention your Patreon name, feel free to contact me if you'd rather I used a different name!
All previous tier rewards!
Not quite what you're looking for?
Click the "Show More Levels" button below to see all available tiers! ˅ ˅ ˅ ˅ ˅ ˅ 
Includes Discord benefits
The Servalion Society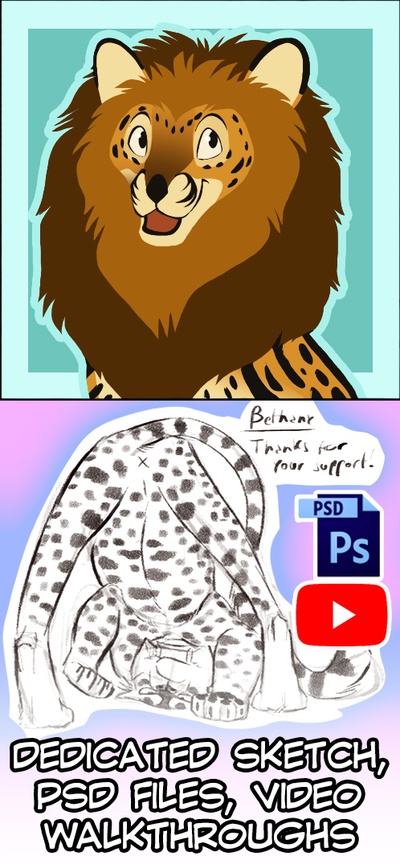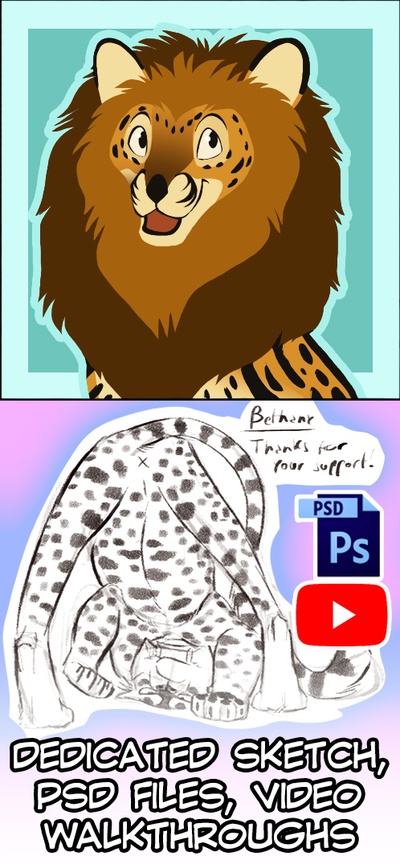 Fresh kings of Bes Air.
Character sketch dedicated to you!
Each month, you get to pick one of my characters and I will draw it. I will also write your name and a thank you message next to the sketch!
Access to monthly walkthrough videos
Of my finished paintings. The videos will be Unlisted on Youtube and only accessible to Patrons! In the videos, I explain the steps that I took to create the painting.
Of my finished paintings. Get an in-depth look at how I create art!
All previous tier rewards!
Not quite what you're looking for?
Click the "Show More Levels" button below to see all available tiers! ˅ ˅ ˅ ˅ ˅ ˅ 
Includes Discord benefits
About Panthera Arven
Waiting on a reward?
Check out its progression on TRELLO! https://trello.com/b/O3fg6l35/arvens-art-workflow
Hey everyone!
My name is Maura Pompili, but you may know me better by my pseudonym, 
Panthera Arven
,  or by my DeviantART name, 
ARVEN92.
I've been a self-taught comic artist since 2008, carrying on with my projects, which are currently three:
Chakra, Battle of the Titans, a webcomic
Africa, a webcomic
Azarian Stories, a series of written and illustrated novels
All three are available for reading online, for free, and will always be!
During all these years, I've been able to learn a lot and continue my stories, not to mention, I've been able to meet hundreds of people who honestly appreciate what I do and are always available to offer support and advice. And for that alone, I thank you!
Why Patreon?

The first time I posted a comic page on DeviantART back in 2008, I felt like the happiest girl on Earth. I didn't really know what I was doing, and the comic didn't have as many readers back in the day, but from that instant, I knew that
this was exactly what I wanted to do for a career
. Each comic page is immensely gratifying for me, and to know that there are people out there who are gratified by my work in the same way feels simply too good to pass up. I was lucky enough to have gathered a number of readers from all over the world, and their support is exactly what keeps me going today.
Now, very rightly, you wonder: "Why do you need a Patreon then?" 
The answer is very simple.
As much as I love making comics, there has been a point in time in which I had to make a choice for my future. Choosing the right University study field is never easy. My first thought was, of course, to go to Art Academy. But sadly, I live in a country which, despite its iconic artistic background, is currently engaged in a seemingly never-ending fundraising, and looks down on any job that doesn't involve business companies. Freelance creators have a very,
very
hard time here, especially young ones.
That's why I opted for Pharmacy at University. It was my "backup plan", and I have to say I thoroughly enjoyed studying it. However, no matter what I did or how many hours I committed myself to this new course, I just couldn't stop drawing. I've been in the School of Pharmacy for five years, and I've produced more comic pages during this period than ever in my entire life. And what's worse, is that I was never able to consider it a hobby, or a part-time activity. It was, to all intents and purposes, a second job, and I just couldn't stand the fact that it was "second", because I knew I enjoyed it way more than the "first". Time and time again I've been thinking of changing course and doing what I really love doing. But I couldn't.
The final straw came during my journey to Nottingham, UK, between July and October 2015. My University sent me there in order for me to work in a pharmacy lab and write my thesis.
Now, if this was super exciting at first, as time passed, I've also had some awful experiences and underwent mild depression and emotional breakdown. I told myself over and over that this wasn't what I wanted to do for the rest of my life, and this mere thought made my stomach twist.
Now, with graduation behind me, it's time to look for a job. Not an ordinary job, mind you: what I really, really want to do is to keep up with my projects, to make a job out of my art.
And this is exactly where you guys can help, and make a difference in my life.
What, when and how

By supporting me on Patreon,
you are giving me the chance of working on my comics full time
. This is not only my goal here on this site, but my goal in life, too. You're probably sick of hearing it already, but I love drawing comics, and to be able to make them full time would be a dream come true, and the best dream ever!
And working full time means more frequent updates! What I aim to is to bring you
both my comics once a week
. And in the meantime, I would shower you with tons of content and personalized rewards for your awesome and constant support, every month.
As the support increases, I will be able to bring even more content to Patreon, finally print my
Africa
comic, and why not, do a couple more things that have been in the back of my mind for a while, and that I've finally decided to make public ;)
You choose the amount of money to donate, and I will do all the rest.
And if the goal is reached, you will know that you made the life of one person complete.
If the goal is reached, you will know what it feels like to be a guardian angel. <3
Also, you will provide Rothwer with his daily dose of apples. Which is equally gratifying. <3
$3,260.87 of $4,000
per month
Azarian Stories comic?


Can we make it? Can we really make it? *fangirl squeal* *ç*
No, seriously. Your commitment needs to be praised. How?
Why, in the way that I know best! With a third comic!
13 of 13
Become a patron to
Unlock 1,255 exclusive posts
Connect via private message
Recent posts by Panthera Arven
How it works
Get started in 2 minutes