Ashly Lovett
is creating illustrations
Select a membership level
Pledge $2 or more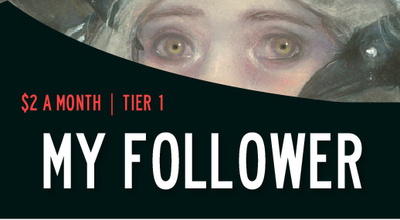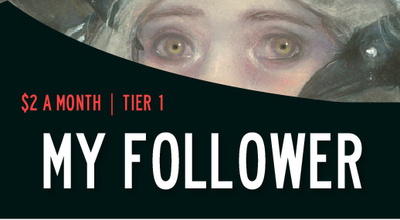 Your Are First
You're the first to see everything! 
Be involved with my creative process. 
See my sketches, design notes, and have access to special sales. 

Monthly Wallpaper
Get a new mobile background release each month

Desktop Background
A welcome gift of 5 desktop wallpaper!
$5 and up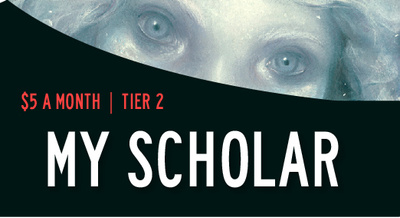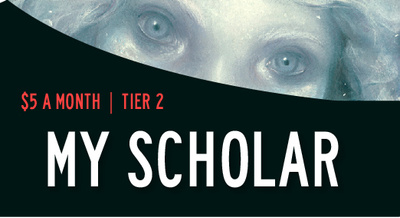 Thank You
A tier to give a little extra each month. In exchange you get exclusive tutorials.

The Archive
Access to 20+ tutorial and demo videos. 
Plus a PDF outlining my art materials and studio setup. 

+ All Rewards from Tier 1

Lovett Bank
Lovett Bank
Lovett Bank allows you to pledge $10 or more a month. You can then use those pledged funds to purchase items from my public online store, in-person at conventions, or from the exclusive Patreon Secret Shop. Pledge whatever amount suits your budget
Perks of the Patreon Secret Shop:
- Patron only prints
- Archived prints
- First dibs on originals
- First dibs on sale items
- New items added periodically
- Discount shipping credit once you reach $50 in your Lovett Bank that can be used in my online store too.
- Private Commissions. This is a nice feature where you can basically make installments towards a commission.

+ All Rewards from Tier 1
About Ashly Lovett


Coming to Kickstarter 2021. 
The process has begun as of Aug 2020 exclusively here in Patreon. 

The Book of Fairy Tales
is a collection of stories gathered by the fairies. Tales feature the most famous and infamous fairy tale creatures and their interactions with humans. Each will be accompanied by full color illustrations done in chalk pastel. Stories will include
The 7 Ravens, Snow-white and Rose-red, Jorinda and Jorindel, The Water of Life, Prince Darling, Cinderella
, and many others.
The process for this book has begun as of Aug 2020
. The book is schedule to release late 2021 on Kickstarter. More information will unfold as the book isbeing created. 
This will be a second installment to compliment my illustrated book of
The Little Mermaid
. It is my long term goal to create several book within the next 5 years for the enjoyment of my patrons and followers. A collection of books featuring beautiful illustrations of fairy tales, folklore, and mythology.
------
By joining my Patreon for as little as $2 a month you can help support the book and keep up with the whole process as it unfolds each month.
Patreon is a $2 monthly subscription where I post updates on all my non NDA artwork projects. Canceling is as easy as 3 clicks.


I am a freelance illustrator and gallery artist working traditionally with chalk pastels on paper. 
I've done licensed artwork for Jim Henson Company, Adult Swim, Netflix, Focus Features, Archie Comics, and Monty Python. Clients include FOX Searchlight/Disney, SEGA, Boom! Publishing,Titan Publishing, etc. I have been featured in Spectrum 22-27, Society of Illustrators of Los Angeles West 54, Imagine FX Magazine, Graphite Magazine, and a handful of other things. See a
full list here
. I exhibit in galleries from Los Angeles to New York.  
---------
FAQ

What is Patreon?
It is a platform for people to directly support my artwork for as little as $2 a month. Keep up with everything I'm working on instead of relying on social media. Anyone can pledge and subscribe to my monthly Patreon.
What do you offer?
You get to see exclusive content like process work, time-lapse videos, demos, and read good news that I
only
share with my patrons. There are different levels of pledges and it is broken up into a tier system with each having their own monthly pledge.
Is it easy to cancel my subscription?
Canceling is as easy as 3 clicks. 
-----
Sounds awesome! I submitted my pledge. When do I get my rewards?
Please allow 72 hours for payments to clear and for me to send you access to all digital rewards.

How will I get my reward?

Links to the digital rewards will be posted in the Creator's Feed along with any other information needed. I keep most of the rewards organized with tags. Physical rewards are shipped to the address you provide and any shipping fees are included in your pledge. So, please keep your mailing address updated. Thanks!
How much of my pledge is actually going to you?
10% of your pledge goes to Patreon and processing fees (paypal,stripe,etc.) So, I get roughly 90% of each pledge.
Can I set a limit to my monthly pledge?
You can set a monthly max, so you'll never go above your budget. 
Can I cancel my pledge?
Yes, any time in just 3 clicks. Everyone's payment renews on the day they pledged. (
Learn more here
).
Can I comment and share stuff too on your Patreon page?
All patrons have Patreon Feed access. In the Community section you can post fan art, get to know other patrons, and leave comments. I encourage it!
Do you take commissions?
Yes. I accept commissions whether you are a patron or not. First, refer to my portfolio at
AshlyLovett.com
to see what kind of work I do. I also suggest looking at my
EveryDayOriginal.com
gallery. Then, email me at
[email protected]
about your commission with as much information as you can.
Eh, I'm still confused. How can I contact you to ask more questions?
Feel free to email me at
[email protected]
Or use
Patreon's Help Center
for FAQ. 
Purchase Prints or Originals:
My Store
My Society 6
Portfolio Reviews: I'll hold a live portfolio review for up to 20 patrons. I'll also share my studio and do a FAQ page. 

Embellished Print Raffle: I'll hold a public free raffle for a 5x7 embellished print of your choosing. 

Special Sale: I'll hold a special sale where all patrons get free shipping, special discounts, and access to all my inventory out of the vault. 




3 of 3
By becoming a patron, you'll instantly unlock access to 487 exclusive posts
By becoming a patron, you'll instantly unlock access to 487 exclusive posts
Recent posts by Ashly Lovett
How it works
Get started in 2 minutes