Ask Kaylee Frye
is creating Comic Con-tent!
Select a membership level
Photo-Op/Autograph
Exclusive Patreon content
First to know about confirmed con & event appearances
(Optional) Social media shout-outs when you pledge
1 Day Pass
ALL $1 rewards and...
Access to patron exclusive Instagram which includes panel & unboxing livestreams
Livestreams of photo, video, and website editing.
Weekend Pass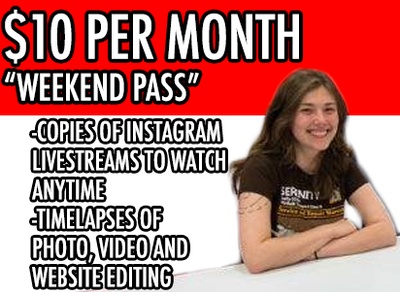 All $5 rewards +
Copies of panel livestreams
Timelapses of photo, video, website AND panel editing.
About
I started cosplaying Kaylee from Firefly in 2012 at the suggestion of friends and strangers alike. I loved it. By 2015 at 3 years and 17 conventions later, I amassed a ton of Firefly knowledge and thought I might as well try my hand at running a panel. I'd been to countless panels, but there was so much information that I still wanted to hear about. As they say, if you want something done, do it yourself. So I did. I presented "The Expanding Firefly 'Verse" at Wizard World Chicago Comic Con in 2015.
I've taken refined versions of that panel to Madison Comic Con and Rhode Island Comic Con and I hope to take it to more events in the future.
I started this Patreon intending to support the costumes I make, which is why I set a goal at the beginning of the year to make 12 new costumes in 2017. And then life happened and I didn't make a single one. But I did keep working on material for conventions. I developed five new panels (with another in the works) and submitted them to conventions around the country.
Originally, being a panelist was a way for me to make my (cosplay) hobby slightly less expensive but it's more than that now. Going to conventions costs money. And while several cosplayers tell you their funds will not go towards conventions, I'd like to do the opposite. I need funds to help me travel to events by bus, car, train, or plane. I need funds to buy food when I'm at conventions all day. Right now, I only attend events in cities where I live or have someone to stay with, but I'd like to have funds to stay at hotels for conventions that may require it. I'd love to ask conventions to help me out with stipends as an invited guest but until that happens I am asking you, the people who support my work, to consider supporting more than just my cosplay. I'm creating "Comic Con-tent," which includes my cosplay as well as the panels I create and the articles I write.
In return, patrons will get so many livestreams… plus tons of other behind the scenes action. Pledging just $1 a month gets you exclusive content, including being the first to know where I'm headed next. $5+ patrons will have access to unboxings and panels on instagram live as they happen, plus the ability to watch livestreams of me working on presentations, photos for etsy, and my website. $10+ patrons can watch panel livestreams at their leisure and as often as they like alongside access to time-lapses of the other livestreams. At $25, patrons get beta access whenever I add a new feature to my website plus monthly 1-on-1 cosplay help via google hangout. For $50, I will present any panel to you and your friends live via google-hangout, once a month for every month you support me at that level.
Patrons are charged monthly at the level they choose and can cancel or change levels at any time. Con season usually runs March through October but I work on panel materials and submissions year-round, so you'll still get access to awesome content even in months where I don't attend a convention. Once you pledge, you'll immediately have access to every patron-only post I have ever made.
I love all of my followers so those who are unable to support me financially will maintain access to the content I create, while my patrons simply get to see more behind the scenes action. I'm always open to adding new perks as interest allows. Thanks for checking out my patreon and I hope we get to hangout at a convention soon!
At this point, you're helping me get to more local cons, which means more blog posts for everyone, and more livestreams for anyone supporting at the $5+ level! This pays for bus fare & food for nearby cons.
1 of 5
By becoming a patron, you'll instantly unlock access to 47 exclusive posts
By becoming a patron, you'll instantly unlock access to 47 exclusive posts
Recent posts by Ask Kaylee Frye