Assembly Four 
is creating tools, education, and support for sex workers.
Access to security workshop run by Assembly Four - 6:30pm PTD UTC-7 2nd July
$5 or more per month

∙ 4 patrons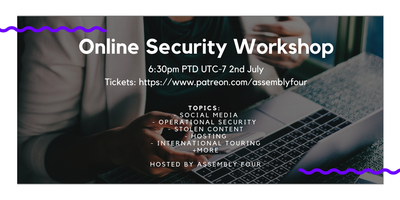 Time: 6:30pm PTD UTC-7 2nd July
Location: Online
This workshop is targeted at anyone who uses the web to do sex work. We are aiming to provide an accessible, easy to understand breakdown of the topics and the workshop structure allows some time for Q&A.
A few topics we'll be covering include:
- Stolen Content 
- Hosting security
- Secure browsing with VPNs, Tor, password security
- Controlling data sharing to protect your personal information
+ much more. 
Further information for workshop will be emailed to you after your pledge :)