ATAO Kennel
is creating adventure and going ONWARD towards Iditarod 2021.
Select a membership level
Get exclusive patron-only merch
The $1 Special!
For a limited time, sign up at the $1 level! Support ATAO & get general Buddy updates!

Best Buddy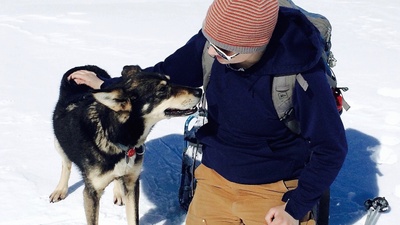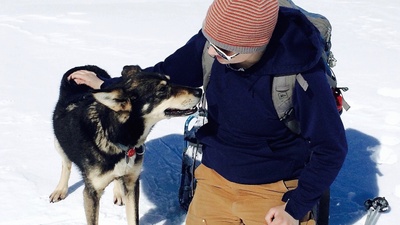 Everyone needs a friend!
Be a Buddy to an ATAO athlete of your choosing

You are listed as that dog's Buddy for as long as you are a patron
You and your Buddy are entered in our monthly drawing. If you win, your Buddy gets a treat and you get some cool swag!
Receive your Buddy's season trading card
Learn about the Buddy System here! (Or visit ataokennel.com/be-a-buddy)
These funds go towards equipment like harnesses, coats, and booties for the dogs!
Double Buddy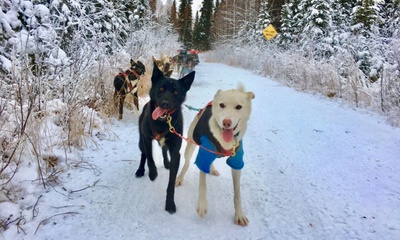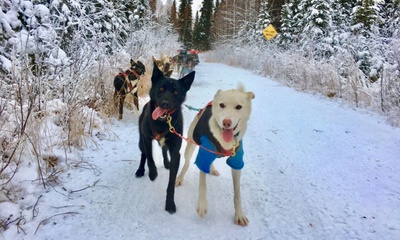 What's better than one Buddy? TWO!
Be a Buddy to TWO ATAO kennel athletes of your choosing!
Collect their trading cards each season
Entered into the monthly Buddy Bonanza drawing once for each Buddy
These funds go towards training costs, like straw for camping, harnesses, training booties, and sled equipment... Plus tasty snacks for the dogs!
About ATAO Kennel
I have wanted to mush in the Iditarod since I was seven years old.
I got my start mushing with Martin Buser (a four time Iditarod champion) when I was 15. He taught me all of the basics; I couldn't have had a better mentor. After my first year and my first race, I was hooked. I handled for various kennels from then on.
In 2014 I was able to adopt my first sled dog, Hooch. She is hands down, the best dog in the world. She's a great leader and an even better buddy. In 2016 she had a litter of pups including Ophelia, who became my second sled dog. Ophelia and Hooch and I spent the next winter in Minneapolis, but by March of that year, I realized we needed to go back to Alaska and follow our true calling. My partner Shawn and I moved to Fairbanks in July of 2017, and we started ATAO Kennel. We gathered up our little pack, including eight puppies and some more seasoned dogs.
Now, three years later, we're ready for the big goal: completing Iditarod in 2021. We have 18 dogs in training: Annie, Aurora, Belle, Cassidy, Egret, Emmy, Furiosa, Lincoln, Marnie, Max, Mungry, Nala, Ophelia, Rebel, Rey, Rogue, Sundance, and Zenyatta. You can learn about each of them
here
.
I started my kennel, ATAO, not just to run Iditarod. I started ATAO to form a pack, a team. And I started my kennel with a commitment to keep a small group, so that I could focus on each and every dog as much as they deserve. I may not win any big races, but I truly believe that with dedicated love and investment, each dog can bloom to her full potential. Maybe that's true for all of us.
Part of the mission of ATAO is also to promote healthy coping skills for those-- like me-- dealing with anxiety, depression, and other mental health issues. Being outside and being with the dogs keep me grounded and moving forward. It's not always easy. I want to prove you can absolutely accomplish your dreams even if you struggle with your mental health.
Besides being open and candid about my own struggles with mental health, I'm also forward with my queerness. I am a trans man in the process of medical and social transition.
I'm hoping to get to a goal of 300 patrons / month, which will help pay for day-to-day kennel costs, booties for the dogs for training and racing, healthy, high-calorie snacks, race entry fees, travel costs, and vet costs, as well as the extreme high-protein diet athletes of this caliber must have. The dogs deserve nothing less.
If we can reach the goal of 500 patrons / month, I'll be able to reduce my dependance on my "day job" and give even more focus to the dogs-- and to creating great content! Reaching that stretch goal would really make it possible for me to have an amazing rookie Iditarod season in 2021!
We believe that content should be accessible to all, so we've changed our Patreon model to reflect that. Our live video feeds, tracker feeds from training runs, expeditions, and races, in depth writing, and other cool content will be available here as public posts, viewable by all. Patrons will get the added benefit of picking out their very own Buddies. Read more on each tier to learn about that!
If you want to learn more about the kennel and the dogs, please visit ataokennel.com. You can find out there about becoming an individual sponsor for one of our amazing athletes or joining our
Be a Buddy program
to be entered in a monthly drawing (and to support your favorite four legged stars).
Thanks for following along. As we like to say--
Onward!


Will Troshynski - ATAO Kennel
Reaching 300 subscribers / month will allow me to continue giving the dogs the best year round, and to go the extra step of saving towards more big races. Perhaps down the line we may even be able to aim for exciting plans like running the Quest and the Iditarod in the same year, or attending one of the incredible rural Alaskan races like the Kobuk 440, or the Kuskokwim 300.
1 of 2
By becoming a patron, you'll instantly unlock access to 82 exclusive posts
By becoming a patron, you'll instantly unlock access to 82 exclusive posts
Recent posts by ATAO Kennel
How it works
Get started in 2 minutes