atelierMUSE
is creating comics and illustrations
Select a membership level
Corvette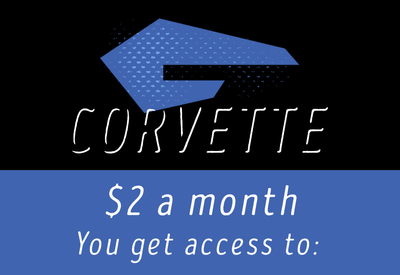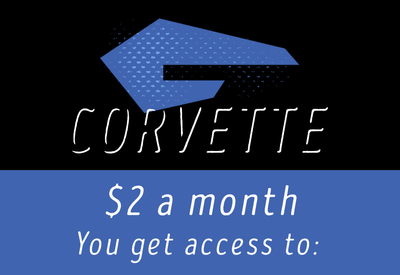 You get access to everything in the Sloop tier, but also all NSFW content in that category
Blockade Runner
You get access to:
All previous;
Medium resolution PNGs (150dpi, for your personal printing pleasure, not for commercial printing or redistribution) of the month's SFW illustration, three months before it goes public;  
Making SFW suggestions for the illust of the month
About atelierMUSE



Our Past Publications


Over the next few years, we have a variety of stories we want to tell across several different projects: 
Retrograde, is an adult comic (18+, 72 pages) about Rear Admiral Fabian Lusinies and Lieutenant Commander Niccy Runnar of the Exotellurian Navy. Two young upstarts within the force, they must work to prove their worth - not just to the military, but to themselves and each other.

Published by 
Slipshine
.
Patrons will receive the chapters on a six-month delay.
Exclusive to Slipshine and Patreon.
Hannover House, a short comic (PG, 12 pages) about a house-flipper and a property that's more trouble than it's worth. Coming late 2019.
MONUMENT, a collection of comics (PG, about 60 pages)
written by J.S. Fehler, which we first tackled experimentally in 2010, and now are excited to reboot all these years later. Coming 2020.
Star Crossing, several speculative romance short comics (G-18+) about life and love on a generational starship. Our first story will be Doppio, about a coffee-shop regular and their barista. Coming 2020.


The Runner (working title), a short comic (PG, about 24 pages) about a transporter who moves goods undetected through space on his cargo ship, and who is not remotely prepared for his new client. Coming 2020.


We also have one project on which we are part of a team; for this, we can offer
limited
sneak peeks:

Project Dragon (working title), a locked-room mystery visual novel, also written by J.S. Fehler, wherein we'll be handling a variety of visuals alongside lead artist Ana/HedgieArt.
While working on all of our many projects, a small sampling of behind-the-scenes thoughts and works-in-progress will be posted for
free
! However,
$10+
Patrons will get to see
all
of our behind-the-scenes thoughts/works-in-progress/pre-production notes/etc and gain
early access
to finished art/comic pages weeks before the general public.
On top of that, we also aim to put out at least
one SFW fanart illustration
and
one NSFW fanart illustration
 every month, along with some fanart sketches. These will be publicly released three months later. Our 
$1+
Patrons get access to sketches right away, and our 
$5+
Patrons get a
medium-resolution
digital copy of the SFW monthly illustration for personal printing, 
and
 they will be able to
suggest content
for these illusts of the month.
We will also make short
fancomic/doujinshi
from time to time, and
$5+
Patrons will get access to these works (both behind-the-scenes glimpses, and finished pages) before the public.
You can read about the different reward tiers for more information.
Important: Our content ranges from G-rated up to 18+ with explicit sexual content. We are very invested in sex positive works, especially when sexuality is explored as an integral part to a character and their relationships with others. This entails sex and sexuality explored across the many spectra of gender, sex, and sexual attraction.
If you are not 18+, please do not pledge to our Patreon. We will do our best to keep NSFW content properly tagged and cropped, but there will be a variety of sexual content, and it is your responsibility to view only what you are legally and comfortably prepared to view.
Suggestions for 18+ content will only be considered if they fall in line with the sort of adult content we already produce (sex positive, character/story driven, representative of many types of people, etc.) - if you're not sure, just ask~!

Also of note: suggestion tiers do not guarantee that your suggestion will be drawn. You can increase your odds by suggesting things we're familiar with or have previously shown we're comfortable drawing.

Before pledging to the Battleship and Mothership tiers, please let us know what you plan to request. If you change your mind to content different from the agreed proposal, we may not be able to draw it. After the first month, we will contact you ahead of time each month for your request. There will be no refunds.

All content is digital only, unless explicitly stated otherwise.


We'll stream our art and processes at least once a week on Twitch or Picarto.
1 of 7
By becoming a patron, you'll instantly unlock access to 61 exclusive posts
By becoming a patron, you'll instantly unlock access to 61 exclusive posts
Recent posts by atelierMUSE
How it works
Get started in 2 minutes