Atlanta Institute of Tantra and Divine Sexuality
is creating A Tantric Spiritual Community that centers Black Women & POC
Select a membership level
Get exclusive patron-only merch
Altar Builder
Help us build this community. Every $1 of support is a brick on this altar. You are a member at any level you can offer. You will receive a monthly Pleasure Matters Newsletter. Come to an event and receive your sticker!

(please note that during COVID - your sticker will be mailed to you after 4 months of membership IF you entered a mailing address)

Podcast Super Fan
Limited (6 remaining)
Supporter and Fan of the FIX YOUR SEX podcast (gift after 90 days)
Monthly newsletter
Early access to writings, videos and other expressions of sensual imagery
Ganesha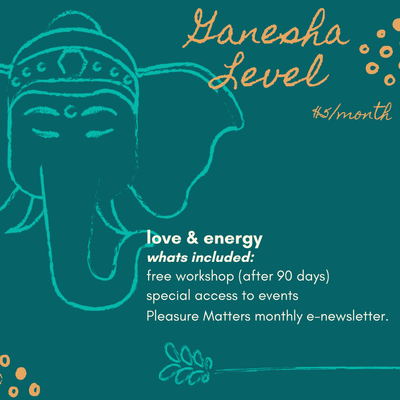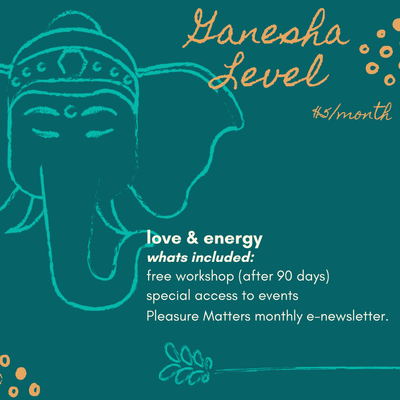 Remover of Obstacles: $5 might not seem like much, but these little donations allow us to pay for the overhead expenses. That's $60 a year after all and you become a card carrying member of this organization.
At this level you also receive
Monthly Throwback Webinar/Video class
Monthly newsletter
Early access to writings, videos and other expressions of sensual imagery
EFFECTIVE 7/1/2020: Buttons/Stickers are mailed after 4 months of membership during COVID if you added your mailing address. 
About Atlanta Institute of Tantra and Divine Sexuality
The Atlanta Institute of Tantra & Divine Sexuality is a registered "church" in the state of Georgia. Our mission is to bring the spiritual elements of Tantra and Sacred Sexuality to a larger community of Black Americans and other POC.

We are a member supported organization, with a fun podcast, classes every week, meditation/healing circles, sex coach certification and an annual festival, all offered in the heart of the CITY OF ATLANTA.

In March 2019, we made the decision to move our content to Patreon, so that we can keep in touch with our members and supporters through one simple platform instead of several. We will still keep our IG up as long as they do and our mailing list isn't going anywhere, but if you are interested in supporting with a membership, this is the new location.

**COVID UPDATES**
We have bene on Patreon for a little over a year now and some of you have been here supporting the institute for the entire time. I can't express enough gratitude but with your support we reached a milestone goal. Because of you, we have recorded 100 workshops, classes, events, and now webinars that have increased our access to pleasure.

We have paid for other teachers to come to present, teach and share with our community. We have grown the community to over 200 divine beings, with all genders represented.

We didn't know what 2020 would bring us, but now as I begin the first day of my second "stay at home" order, I know that the way will move about over the winter will look very different. With shorter days and longer, colder nights, I want to make sure I am holding the space we need in this changing time.

I can't and won't speculate on the future of the pandemic and the ways in which we will allow ourselves and/or be allowed to move in the dead of winter, but I am preparing to be exclusively online for the months that come. I am adding weekly check-ins, a book-club subscription box.
At $2500 per month, our essential overhead is covered and we can focus on streamlined programming, including weekly YouTube videos and meditations. 
2 of 2
By becoming a patron, you'll instantly unlock access to 475 exclusive posts
By becoming a patron, you'll instantly unlock access to 475 exclusive posts
Recent posts by Atlanta Institute of Tantra and Divine Sexuality
How it works
Get started in 2 minutes