Bogleech.com
is a website where cheesy Halloween decorations and intestinal parasites are reviewed the way more reasonable people might review movies or vintage wines or something. It's also the home of several hundred original monsters comprising the world of
Mortasheen
, as well as the creepy interactive adventure comic,
Awful Hospital: Seriously the Worst Ever
. Traditionally, the site has updated continuously throughout what I consider the three-month "Halloween Season" and mostly hibernated for the rest of the year, while I focused more on school and my attempts to glean some income from free-lance writing.
With the sudden success of Awful Hospital, it's become apparent that I'll be doing continuous work on it much longer than I originally predicted, and that maybe I should shift more focus to my own stuff instead of trying to write for other people's websites. You can help!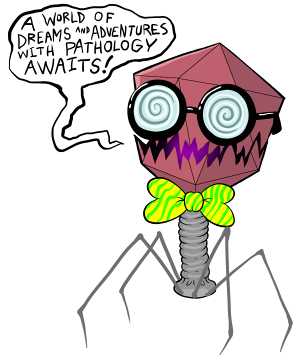 Work also quietly continues on realizing
Mortasheen
as a tabletop role-playing game. It's a world of ridiculous, nasty battle-monsters I've been expanding for more than ten years, with easily another few hundred monster concepts backed up in my notes and sketches, waiting to be drawn and colored. You can help with that, too!
So, if you want to, you can hire me to make my goofy stuff all year round and set aside other stuff that isn't that.
Infinity Halloweens.
OTHER PATREONS TO CHECK OUT:
Inhuman
- a beautiful hand-drawn science fiction series!
Keetah spacecat
- all kinds of art and commissions by a cat that is in space!
Fil Barlow
- one of my biggest inspirations as an artist has a patreon too!