A. W. Sommers
is creating art works
Select a membership level
Level I: Patron Of The Arts
You are a patron of the arts! I thank you, truly. I am extremely grateful for any amount.
Level II: Pen Pals
A new 4 x 6" signed postcard-print of a recent painting sent bi-monthly (on the even months). 
Patrons are the first to know when new work hits my Big Cartel shop.
Level III: Behind The Curtain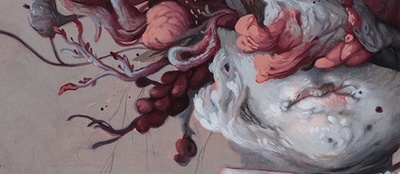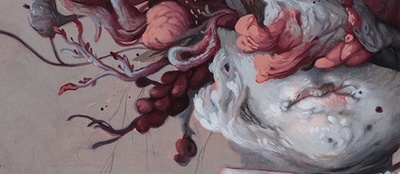 Access to the paywall Digest Posts-- the Real Meat of my work-practice, which only shows up now and then on my social media pages. You'll get detailed work-in-progress shots, gifs, and videos, full sketchbook pages, and peeks at my ongoing inspiration and thinking behind my work-- the sort of stuff I share only rarely in entirety on social media. Posts several times a week. I take requests!
15% off Big Cartel discount code
All the rewards (bi-monthly signed postcard print and first notification of new work in my shop) of lower levels. 
Occasional thank-you goodies in the mail.
About A. W. Sommers
Hi! I'm Allison Sommers, an art-worker based out of Brooklyn. I spend most of my waking life elbow-deep in some sort of making or another-- my primary practice is drawing- and painting-based, but I also make sculptures, assemblages, art books, and films.
"Spotted Dick," gouache with collage and mixed media on paper, 201.


A Peek At The Man Behind The Curtain 

I explore a lot about personhood and embodiment in my work, specifically as it relates to human-ness and animal-ness, and where those concepts overlap. What this translates to is that I like to explore the skeletal-human body in all its visceral glory, and love to paint dogs and dog-like creatures.
I work every day, rising early and bedding late, and incorporate a lot of rigorous study and practice into my art-working. The most important way I do this is through my sketchbooks. I consider it the most important work I do, both in the practice and use of new ideas and the production of scores of sketchbooks that are a chronicle of the pathways I've taken in my art practice. They're the only thing I keep in my fire safe-- they're absolutely the most important things I own.
The Digest Posts
Because those sketchbooks are so precious to me-- and, especially, because they're very much the externalization of my inner brain-workings, a peek at the man behind the curtain-- I've been sharing sketchbook pages mostly in fragments online in recent years, just sort of hinting at the larger whole. Because we have a little familiar kaffeeklatsch behind closed doors with Patrons, I share a lot more there, in the Digest Posts. 
I also try to share materials and work-in-progress shots and videos that drill down a little deeper at my craft and how I do what I do. I hope to share, much more specifically, the little building blocks that make up my paintings and drawings, from initial ideas to nuts-and-bolts working. I'm always open to suggestions, too, so if there's ever been something that anyone has wanted to know about how I work, I'd be happy to illuminate where I can.
Really, the Digest is where I have a more direct conversation with folks about what I'm up to, and how, than I do elsewhere online. Detail, illumination, and a peek at whatever I'm finishing before anyone else sees it!
Sketchbook spread, graphite and tape on paper, 2015.

Why patronage?

One of the reasons that I use the Patreon model is because it connects me more closely to interested art enthusiasts than regular social media can, and helps sustain longer-term, exciting projects I'm working on. Art-making can sometimes be a feast-or-famine game, and having tiny bits of support along the way help level off those valleys.
I think it's an important part of practicing art that you have the freedom to explore, experiment, and re-evaluate your work, and being only locked into a gallery/commodity system of selling work can be opposed to that, as it often reinforces doing the same kind of work, the stuff that sells, rather than the stuff that experiments, challenges, or explores. Having a consistent stream of support, no matter how small it is, helps artists such as myself keep part of their practice honest to that freedom.
"The Brunt of It", 60 x 22″ (diptych) gouache with mixed media, collage, and blood on paper.
Anyway, I hope that some of this resonates and that you might consider supporting me via Patreon. I'm extremely grateful to the ongoing support that I get from my Patrons-- it's absolutely no exaggeration to say that you're helping to keep the lights on and, more importantly, helping me experiment and push further and deeper than I could without your support. Thank you so, so, so very much.
"Items", 8 x 7 x 7″ (open dimensions) gouache on paper in antique first aid kit with found objects.
By becoming a patron, you'll instantly unlock access to 505 exclusive posts
By becoming a patron, you'll instantly unlock access to 505 exclusive posts
Recent posts by A. W. Sommers
How it works
Get started in 2 minutes