Kyttibat
is creating Bad Blood (comic and illustrations)
Select a membership level
Sketches and Concepts
Thank you so much for helping to support this project! :3
Sketches, concept work (both current and old cringey stuff from the early days), and other extras related to this projects' making.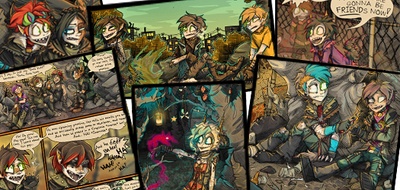 Early Viewing
All previous tier rewards.

See comic pages and any other illustrations as soon as they're finished.
WIPs
All previous tier rewards, including exclusive updates, early viewing, etc.
WIPs of comic pages and illustrations.
About Kyttibat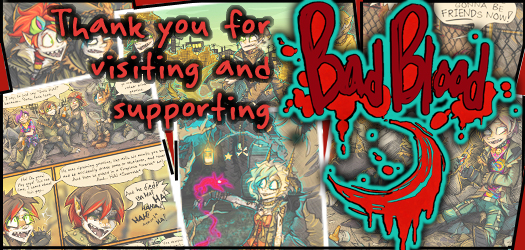 Hello!
I'm Kyttibat (aka OMGitsSomething) and Bad Blood is my comic project, which I have spent years developing and hope to turn into a regularly updated webcomic.

About "Bad Blood":
Bad Blood is a character driven long-form story, set in a disordered version of Earth inhabited with shapeshifters, mutants, along with normal humans, and supernatural aspects; focusing on the lives of various degenerate characters of this dystopian world.

This whole thing started off as a personal project back around 2005, with which I'd always wrestled with the idea of if I could ever bring myself to make it into something more. After about 10 years, I'd still never lost interest in the idea and had spent a ridiculous amount of time developing these characters/story/world from its earliest concept, and reworking them into something that I finally felt was worth trying to take seriously. I love the idea that pursuing this would mean creating something that others would appreciate and enjoy as well.
Why the Patreon page:
Working on this project requires a lot of energy and time. I currently rely on working in food service to get by financially, which leaves me only being able to work on Bad Blood in my spare time. That's where this Patreon page comes in. The more time I can afford to take away from working at my day job, the more time I'll have to work on Bad Blood. By donating, you're not only helping support the project, but you'll also get a behind the scenes view of what I'm working on.
I appreciate every bit of support you're willing to give. Knowing that people actually want this comic to be a thing, enough that they are willing to help support its making, really means a lot to me and is a huge motivation boost.
  
Kind of silly seeming and mostly just a personal motivational thing, but this amount would mean I was making as much as I make in a shift at my day job.



Goal reward TBA*
*I am open to suggestions!.*
1 of 4