Bakamoichigei
is creating Space Adventures, Random Acts of Makery, and more!
Select a membership level
It's dangerous to go alone...
Join a community of like-minded individuals and enjoy the wonders of space and my random acts of makery, knowing that you help make it all possible!
This Tier Includes:
Gain access to my community Discord.
'Patron' Discord status.
Includes Discord benefits
Support Class
Make sure everybody else knows that you help make it all possible, too!
 This Tier Includes: 
Gain access to my community Discord.
Elevated 'Supporter' Discord status. 
Be listed as a 'Supporter' in all of my videos, and at the beginning and end of my Twitch streams.
Includes Discord benefits
Beneficent!
The tier for the generous soul who can afford to help others' ideas become reality.
This Tier Includes:
Gain access to my community Discord.
Elevated 'Benefactor' Discord status.
Be listed as a 'Benefactor' in all of my videos, and at the beginning and end of my Twitch streams.
10% off at my Etsy shop.
Includes Discord benefits
About Bakamoichigei
EDIT 4/22/20: Unfortunately, the current global health crisis has brought my already sporadic activity to an almost complete standstill. For various reasons I still lack the infrastructure for regular video streaming, and now everything's gone all Hard Mode. Luckily(?) a year in, I still don't have any patrons to apologize to for this lack of activity, but just wanted to put this up front in case anyone actually reads this. Stay safe out there!

Who I Am and What The Heck I'm Doing
My name is John Pfeiffer—though I'm more commonly known on
the interweb tubes
by the pseudonym 'Bakamoichigei', which is a Japanese idiom roughly meaning "Even a fool has one talent."
I suffer from a particular
derangement of the mind
by which my head constantly fills up with ideas that, left unexpressed, cause me a not-insignificant amount of emotional turmoil.
Or, to sum it up so that it fits on a T-shirt:
I make things because I get sad if I don't.

The Drive to MAKE COOL THINGS
All joking aside, it
is
rather central to my existence; I like to make things, and I like to talk about making things... I want to share my creations as well as the knowledge and skills that make them possible... To that end, I aim to create large amounts of content; YouTube videos, Twitch Creative streams, and blog posts, all as a natural byproduct of documenting my work.
I want to teach more people—by demonstration—that we
are
living in some kind of
future space world
like they were promised by the shiny magazine covers of the 1950s and 60s...
Virtual reality, pocket computers, electric cars, commercial space programs...and of course, personal fabrication...desktop manufacturing. From idea, to computer screen, to reality...all in a matter of hours.
Jetpacks are dangerously impractical, and you would have crashed your flying car anyway.

Speaking of future space worlds...
A second passion of mine is space, and I want to offer viewers a window into a world so incredible that, even when shown first-hand, it often isn't believed...
Dangerously Elite Adventures in SPAAAAAACE!!!
I've taken to calling myself a 'professional imaginary spaceship pilot', owing to multiple thousands of hours in my '34th century alternate space-life'...which normal people call
Elite: Dangerous. On its face, it's just
'some computer game
'...but it is the fourth in a series which stretches back to
antiquity
1984, and it is a
1:1 scale simulation of our galaxy
. That's 400,000,000,000+ star systems, mostly unexplored.
I'll give you a moment to let that sink in, while you look at this picture below, which I took out in the
Pleiades cluster
. (Specifically, this is the 11th planet in the
Pleione system
.)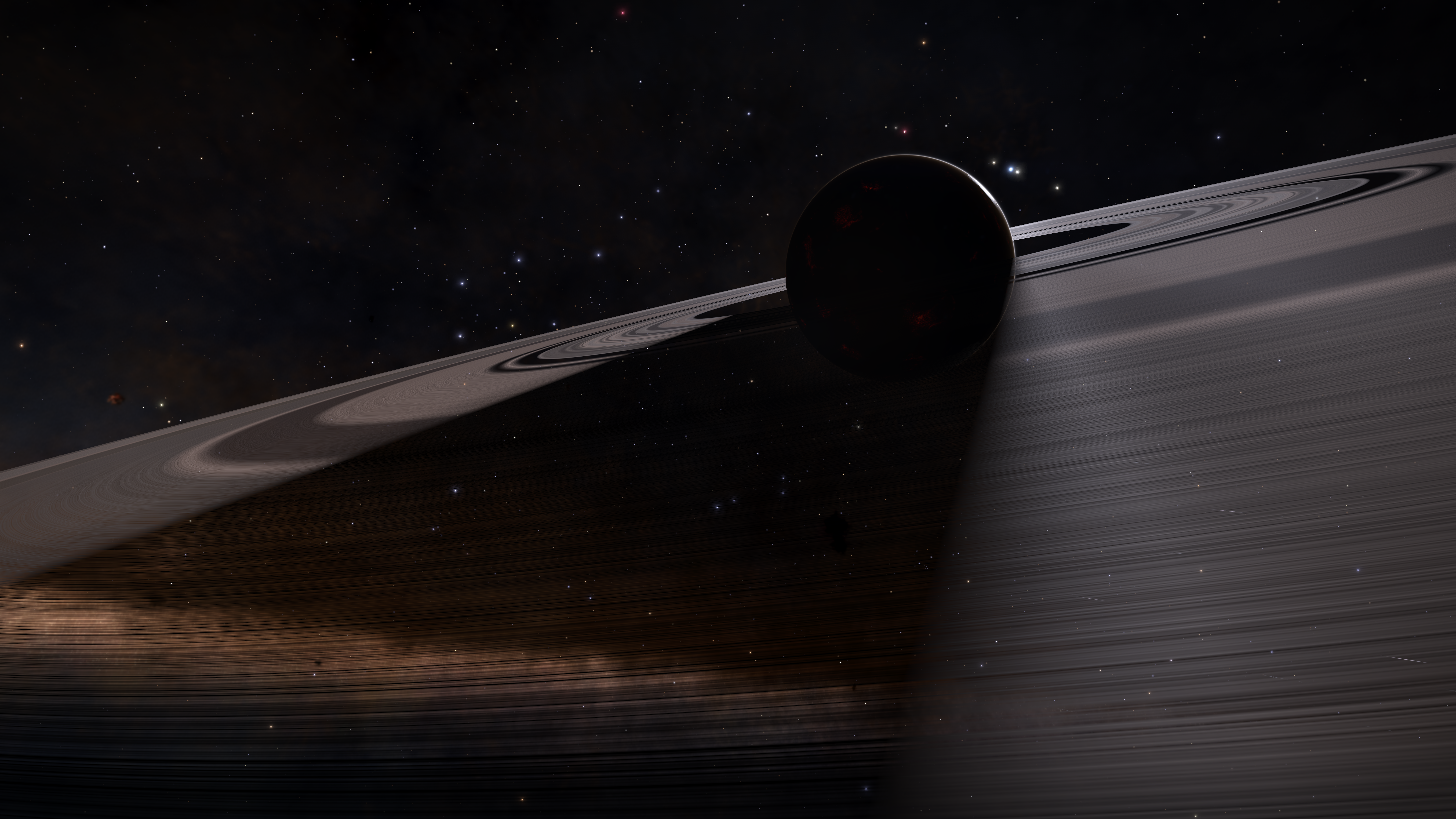 It's a world that I want to present in a way which currently no one else does... I don't want to merely stream gameplay, I want to turn the production values up to 11... Props, costumes, VFX... I basically want to produce a TV show, inside a video game...live. (Because I am apparently allergic to sensible goals.)
The Content
For right now the 'creative' content will deal primarily with 3D printing and electronics projects on the physical side, and 3D modeling and game development (Including VR) on the digital side. Though I hope to expand to include costume and prop making, metalworking, as well as various forms of digital art.
For gaming, besides at least 1-2 streams of
Elite: Dangerous
a week, I want to build up a regular schedule around streaming different categories of games. And a few recurring features such as streams of me playing high-activity VR games for exercise and a 'chill' stream where I play something which lets me relax and mostly interact with the stream chat.
My Commitment to the Viewer
I've got a head full of arcane knowledge and like to talk at length about...well...whatever, really. But I'm as keenly interested in what the viewers want to see as I am whatever my current project is. To that end, I'll take questions, suggestions, post polls...viewers will be able to influence the content.
Above all else, I want to be as engaging and entertaining as possible while maybe teaching a thing or two. I think Walt Disney said it best;
"I would rather entertain and hope that people learned something than educate people and hope they were entertained"


Frankly, the sheer amount of knowledge in my head far outstrips my ability to utilize it, and people often ask me about making or repairing things because they know I'll probably have the answers and will enjoy it as an exercise.

What I'm Offering
If you have any interest in learning about making things, watching others make things, space, or even just the hijinks of generally entertaining people, I'd like to think you'll find something to enjoy amongst the content I seek to create. If so, become a Patron, and join the community I'm building. In exchange for your contribution to keeping things running, you'll gain access to a lot of the behind-the-scenes workings, as well as early looks at projects, exclusive content, and other benefits.
The rewards as they are right now are rather minimalist, and that's because I wanted to start with what I know I can deliver. They are subject to change as my situation changes, and based on the suggestions of my Patrons.
Thanks for taking the time to read this!
The Tip Jar - An extra hundred dollars a month would be a weight off my shoulders when it comes to paying the bills.

Financial insecurity is the biggest obstacle to my creative endeavors. (And continued existence.)
1 of 3
Become a patron to
Connect via private message
Recent posts by Bakamoichigei
How it works
Get started in 2 minutes