Barnstone Studios
is creating education for artists, painters, and photographers.
Select a membership level
Tier 1
With your first donation, all patrons receive: 
Ongoing access to Patreon-exclusive videos, like tips from Barnstone Studios alumni, and a behind-the-scenes first look at Barnstone paintings hidden away for 50 years; restoring some of the works, and putting together an exhibit.
Our thanks on our Barnstone Studios website and Patreon pages.
Knowing you're part of a centuries-long legacy of supporting fine art.
Tier 2
For the price of a Latte Venti, you get everything in the preceding tier, plus
A 5% discount on ANY available Barnstone original painting or drawing, or gallery-quality print.  You can opt to make monthly payments through our new no-interest "Home is Where the ART Is" installment plan, taking up to a year to pay.  The art is delivered after your final payment.
A $5 Starbucks gift card so you can STILL get that Latte Venti!
The warm, happy glow of knowing that you're supporting Myron's legacy.
Tier 3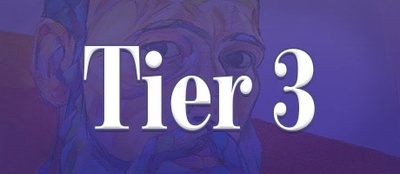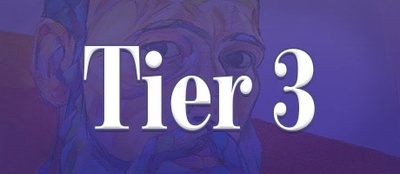 Everything in the preceding tiers, plus
A virtual tour of the new Barnstone Studios location in Thurmont, MD, with an in-depth look at some never-before-seen Barnstone original paintings and drawings.
Your name posted on a special "This exhibit funded by" listing to be displayed at all Barnstone gallery shows.
The unparalleled satisfaction of knowing you're enriching lives by supporting the growth of fine art. 
About Barnstone Studios
"Nothing in art is any more arbitrary than that which you would find in metric poetry or metric music or any other intellectual form.  Everything has a structure. Everything has a beginning, a middle, an end.  It has purpose, and it falls in a tradition." 
-- Myron Barnstone (1933-2016)  

Thank you for visiting the Barnstone Studios Patreon page!  You have an opportunity to join the likes of the Medici family, who supported Michelangelo, and the Sforzas, who commissioned works by Leonardo da Vinci.  Through the generosity of those patrons, the classical artists were able to create their enduring masterpieces.  Your support can help train the next generation of serious artists, and also assist in unveiling to the world more contemporary works of art that have been hidden away for half a century. Please allow me to explain. 


For 35 years, the late Myron Barnstone, my father, operated Barnstone Studios in Coplay, Pennsylvania.  Art students traveled from across the country, and around the world, to learn the precise geometric disciplines and critical thinking practiced by all artistic masters from ancient times.

Under his strict tutelage, Myron's classes began to understand and replicate the fundamental geometric design elements used by da Vinci, Michelangelo, Rubens, Picasso and so many others.  Students then developed their own unique artistic vision. Barnstone Studios alumni have works in private and gallery collections throughout the globe.  Many are full-time professional artists, architects, graphic illustrators, professors, authors, teachers, sculptors, animators, photographers, and film makers.

After my father's death at the age of 83 in 2016, I felt a responsibility to continue his legacy of teaching the fundamentals of classical drawing.  I also felt it was time to share his own work, which he kept locked away for 50 years so he didn't unduly influence his students' development.  In his earlier years, Myron himself was a wildly successful painter. An anti-war themed exhibit he staged in Paris in 1967, "the survivors," received international acclaim. 

Myron made the life-changing decision to switch from painting to teaching because he was so frustrated many contemporary art schools no longer taught the fundamental disciplines of drawing.  Most simply encouraged students to "do what felt good."  He felt that lack of formal instruction deprived art classes of the tools they required to draw well.  For students who wanted a solid background in art, but weren't able to travel to Pennsylvania to study with him, Myron recorded his entire curriculum. The courses offered in his series of DVD and video lectures, including assignments and critiques, represent the foundation classes taught to thousands of Barnstone students. 

As the new Director of Barnstone Studios, I am seeking patrons to help cover the costs of continuing Myron's legacy through the Barnstone Art Education project; restoring, exhibiting and selling selected pieces of his original work and gallery-quality prints, and covering the daily expenses of running the new Barnstone Studios in Thurmont, Maryland.

In return, as an honored member of the Barnstone Studios Patreon Community, you'll receive an immediate discount on any original Barnstone painting or drawing. You'll see the latest unveiled Barnstone pieces before they're made available to the public through our interest-free installment payment plan, "Home is Where the ART Is." Each week, you'll also get access to patreon-only videos, giving you a behind-the-scenes look at the art world. 

You'll learn the stories behind many of Myron's paintings.  Alumni will share practical drawing tips, and talk about how they've used the geometric design elements Myron taught in their own work.  You'll see how paintings are restored, and learn which particular products and brands are most highly recommended by Myron's students who are now professional artists.  Ever wonder how a gallery exhibit comes together?  You'll be able to see the step-by-step process, right up to the opening reception, and visitors' reactions to Myron's work.

Other incentives include postcards featuring one of Myron's paintings; your name posted at Barnstone gallery exhibits and in Barnstone Method workshop materials; access to Myron's classes; a critique of your work by a Barnstone Master Guide, and so many other gifts only available to Barnstone Studios patrons, based on your level of patronage.  

Please join us, and help make the world a more beautiful place.  And as Myron always said at the end of every class, "Be well."
When we reach our monthly goal of $3,000 with the help of our Patrons, Barnstone Studios will be able to cover our costs in three key areas:
The Barnstone Art Education Project 
Dedicated to continuing the Barnstone Method instruction Myron created through his recorded videos; in-person classes with Barnstone alumni; Barnstone essays, books and workbooks, currently in production, and partnering with schools to include the Barnstone Method in class curriculums.


Barnstone Preservation and Exhibit Expenses
Restoring, framing, and storing Myron's 500 original works, most of which have been hidden from public view for over half a century; transporting original works to schools and galleries; creating commemorative catalogues and informational videos for Barnstone exhibits; planning and pitching galleries on Barnstone exhibits; hosting gallery receptions.


General Barnstone Studio Expenses
Space rental, renovation and maintenance; collateral material; creating special videos; office equipment; staff; website; social media presence; advertising and marketing; publishing.

1 of 1
By becoming a patron, you'll instantly unlock access to 35 exclusive posts
By becoming a patron, you'll instantly unlock access to 35 exclusive posts
Recent posts by Barnstone Studios
How it works
Get started in 2 minutes