I'm so grateful for this opportunity for us to journey together into the creepy and hauntingly beautiful world of Zombie Coven, the first project I'll be exploring here on Patreon. Zombie Coven is a horror novel that I'm writing and illustrating.
Being a member of my Patreon brings you into the process and gives you advanced peeks at the art and story. You'll be privy to the twisted ideas that swirl around in my brain and get to enjoy them first hand as I birth the zombies and their wickedness into the world. I'll be making lotsa cool art and goodies for you to enjoy, leading up to a large format, illustrated novel, and a gallery show in Los Angeles. 
This collaboration between us is not only about Zombie Coven, but an ongoing exploration of my vision as a dark fantasy/horror artist and the worlds I love to create for art lovers like yourself. 

I've been a world renowned fantasy illustrator for over 30 years, with such prestigious clients as Magic: the Gathering, Dungeons & Dragons, World of Warcraft, Shadowrun, Universal Pictures, and many more. My art has been featured in card games, rpgs, video games, books, films, art annuals, cons, and galleries.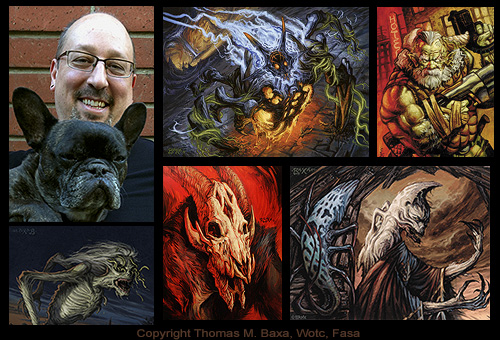 I've recently been developing my fiction and an expanding line of expressive personal art for publishing and exhibition. I've written many short stories, a screenplay, several art business books, and Blood Rituals: the Art of Tom Baxa. Zombie Coven is my first novel. (see "All things Baxa" below)

Patreon makes it easy for an art lover, like yourself, to become a Patron of the Arts by contributing directly to the artistic growth and creative output of an artist whose work you love.
You're part of the process and
empower the artist to create the type of work you love to see and own
. Making art takes time, and while in development, an artist is not getting paid. If he has to freelance, that's time away from his project, so you miss out on great content.
Think of Patreon in two ways:
1. It's a way for you to be a
Patron of the Arts and support an artist's creative output
, and
2.
You become a member of an exclusive club
, an insider with direct access to an artist's creative process and project development.
Patreon is similar to Kickstarter in that you're helping an artist bring his vision to fruition, except you're not just funding an item,
you are becoming a patron of an artist and his work
, contributing on a monthly basis. And, unlike Kickstarter, you become part of an "inner circle" community that can interact with the artist and each other.
As a part of the BaxaArt community you get lotsa perks (see my 
"Perks" POST
) like: behind the scenes peeks, first access to new art and fiction, and even input on the work. Each pledge tier offers rewards as a way for me to
say thanks by giving you a part of what you helped foster and create
. Support art you love with a small offering, or give more and get cooler and more personalized rewards.
You can always increase your level and pledge any amount you want, regardless of the tier price if you'd like to support my work at a value you're more excited about. I support artists here on Patreon as well.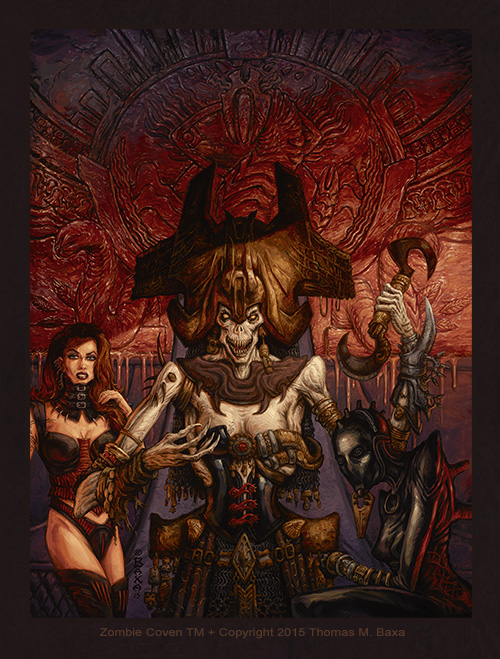 When Zack Jacek discovers that his ex-girlfriend, Nikki, has become a stripper, he descends into the seedy world of strip clubs and sex trafficking to pull her out. What he uncovers shakes him to the core.
Nikki and her hard-ass friend, Cherry, have taken refuge in an all female street cult called Razor's Edge, but Zack soon discovers that there is something much more insidious behind the group:
Zombies!
A coven of vile zombies crowds the night, so deeply ensconced, so etched into the very foundation of the city, it's as if they've always been there, feeding on mankind for thousands of years.
On the eve of a fateful celestial event, Zack must have the courage to heed the ancient wisdom he is being shown and reexamine all that he holds to be true in order to stop their onslaught, and put the wretched zombies in the ground where they belong.


Zombie Coven
is a gritty horror novel about an ancient coven of zombies spreading their unholy disease across the city, ensnaring lost women trapped there, and eviscerating the men who corrupted them.
More than a typical monster wreaks havoc story, ZC explores the psyche with all of its dark desires, hidden secrets, and flawed belief systems; as well as its potential for goodness, love and connection.
But don't let all this literary talk fool you, Zombie Coven is definitely a horror story full of dread, creepy happenings, inhuman threats, and insanely evil Zombies!  (See "Zombie Coven Story Synopsis" POST to learn more about ZC)

Perks and Rewards
For your ongoing support you get exclusive collectible items, enjoy my blog and vlog posts, interact with me and other patrons, get jazzed about each month's art, and anxiously await gifts I'll be shipping out to you that month, including lotsa surprise exclusives all year.
You'll receive emails when I post, and you can receive digital rewards in your Patreon feed. Patreon has great help files to guide you.
Billing
Pick the reward level you want
On the next screen, choose level or add a higher pledge amount
You have instant access to Patreon Only posts + downloads
Your credit card is billed once a month on the 1st
I get the funds around the 5th of the month
I ship rewards from the previous month
I start the new month's painting and postings 
I receive about 90% of your pledge after Patreon + card processing fees

$1 Newly Bitten
Gratitude –thanks for supporting Dark Art and Fantasy Art
Thank you so much for taking this journey with me and supporting Dark Fantasy Art. The more we band together to support creators, the more great stuff gets made for us to enjoy! Thanks so much! (Btw, you can move up in tiers at any time if you like what you see)
Access to Patreon exclusive posts
I'll be offering exclusive content for the members of my community. In addition there a lot of great perks for members. (See the 
"Perks" post
)
10% off at BaxaArt .com Store
Everything including: prints, merch and even paintings!
Surprise Gifts Monthly
Each month I will randomly choose one member to receive a surprise collectible like: postcards, bookmarks, exclusive token cards, one of a kind sketch cards, exclusive pins, prints, even an original sketch. By being even a $1 patron, you're eligible for a possible surprise in the mail.
$3 The Risen
Wallpaper Art
Screen resolution jpeg of each month's painting
BaxaArt Vlog posts Access
I'll be vlogging about all kinds of topics including: previewing art, WIPs, demos, the business of art, supplies, fiction writing, you name it. You'll have a chance to ask me questions too. (See the 
"Perks" post
for vlog content examples)
Name in the Thank You page
Special thank you notation on ZombieCoven .com and the forthcoming printed Zombie Coven illustrated novel
Plus all previous rewards
$5 The Rotting
Token Card
Each month I'll create a token card with artwork created for this Patreon.
These signed collector token cards have front and back artwork versions exclusive to patrons.
On occasion I will offer special collector tokens, with alternate art, full bleed art, limited edition runs, or metal tokens. Token cards (standard 2.5" x 3.5") are great for gaming, collecting, as a bookmark, getting sketches on, and more.
Chapter a Month, Fiction Excerpts
Each month you'll get to read a new chapter of the Zombie Coven Novel, in sequence.
(These chapters are 99.9% done, but may need some editing or get changed in the final version.)
FREE shipping
Plus all previous rewards
$15 Festering Pus Bag
Art Postcard Prints 5x7
5" x 7" high quality art postcard print of each month's painting.  Free mini portfolio to collect your cards in, shipped with first card.
20% off BaxaArt .com
Bonus Greeting Card
I will send you a personalized holiday card every Halloween and Christmas!
FREE shipping in the US
International members MUST Add $14 USD for shipping, so enter $29 as your pledge amount on next screen.
Plus all previous rewards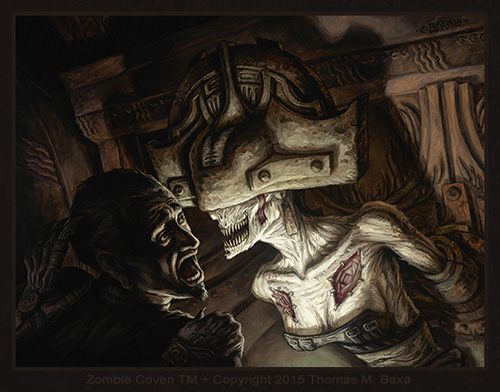 $30 Zombie Rebirther
Zombie Coven Painting with YOUR input
Each month I will paint an 11"x14" paining of a zombie. Everyone in this tier votes on elements of the painting at the start of the month
Variation on Zombie themes is a distinct probability. For example:
Etched Skull Zombie month – zombies with etchings, implants, scarification 
Burned Zombie month – variations on burned up zombies and burning as decoration
Included in the ZC Illustrated Novel
The art based on your suggestions goes in the forthcoming Zombie Coven illustrated novel with your names credited for design input. Who knows, I may even make it a character in the fiction.
Free Print 8x10
Signed, open edition, archival print of each month's $30 tier painting for everyone in this tier and above.
Free Sketch
Free pencil preliminary sketch for the painting we create together will be sent to one randomly selected member of this tier level each month. [Note: Patrons will be selected randomly until everyone in this tier receives a sketch, then we start again, and you will be eligible for a second sketch, etc.]
FREE shipping in the US
International members MUST Add $14 USD for shipping, so enter $44 as your pledge amount on next screen.
Plus all previous rewards
$95 Zombie Initiate
Limited Edition Print 13x19 
Signed and numbered, Beautiful 13x19" print, archival paper and ink
Extremely limited: This size print, with full un-cropped art, is
limited to the number of patrons in this tier and higher
+ only 10 more for sale to the public at higher price. Patrons in this tier get the lowest edition numbers, selected randomly. Every month, one member will get print #1. [Note: Patrons will be selected randomly until everyone in this tier gets a #1 of the edition, then we start again, and you will be eligible for a second #1, etc.]
Certificate of Authenticity
Each limited edition print comes with a Certificate of Authenticity for future validation and valuation
FREE shipping in the US
International members MUST Add $24 USD for shipping, so enter $119 as your pledge amount on the next screen.
Plus all previous rewards
$150 Zombie Lieutenant - Limit 3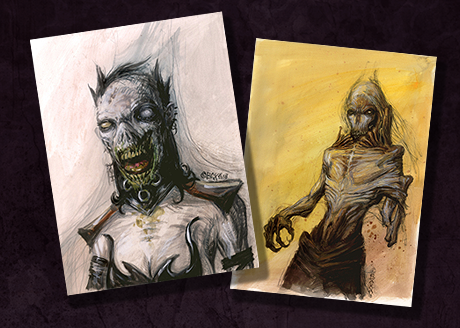 Original Sketch
Each month you will receive a 9"x12" (approximate size) original sketch, drawn/painted with any combination of pencil, ink, watercolor pencil, and gouache paint.
I will randomly send one of the three sketches to each member of this tier each month.
You Vote on Subject Matter
A poll of the members of this level will be held each month to vote on a subject or theme, which has to be related to the horror or dark fantasy genres. Examples: zombies of different types, babes + zombies, demons, nasty beasts, cthulhian horrors, circus clown freaks, the sky's the limit. (No pop culture icons or copyrighted characters)
PLEASE NOTE:
While we will be collaborating on ideas, these are not commissions. I'll be spring-boarding off your inspirations and coming up with cool art images. Remember, these are enhanced sketches, not full blown paintings.
(See POST below for a sample)
30% off BaxaArt .com
FREE shipping in the US
International members MUST Add $24 USD for shipping, so enter $174 as your pledge amount on the next screen.
Plus all previous rewards
All in All the total Rewards are:
Patreon exclusive posts
up to 30% off at BaxaArt .com
Surprise Gifts Monthly eligibility
Artwork for Wallpaper
BaxaArt Vlog posts access
Name in Thank You page
Token card, collectible
Chapter a Month
Art Postcard Print 5x7
Bonus Greeting Card
Zombie Coven Painting vote
ZC Painting Print, 8x10
Limited Edition Print, 13x19
Original Sketch you vote on

Check out my website to learn all about me, see tons of my art, and see all that BaxaArt has to offer.  
PLEASE SPREAD THE WORD about the BaxaArt Patreon to your Social Media and all your Zombie Loving Friends!  Thanks, Tom
Main hub for everything
www.BaxaArt.com
Great art and the main hub for everything
Join my Email newsletter
For updates on my con appearances, other art making endeavors, new merch, and more.
Other ways to support my work:
Visit my online store
Donate art supplies from my wishlist
Commission Me To Do A Painting
Follow me on Facebook
Follow me on Instagram
Baxa Books on Amazon
Baxa on Ebay