Select a membership level
Basic Support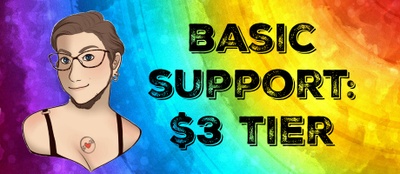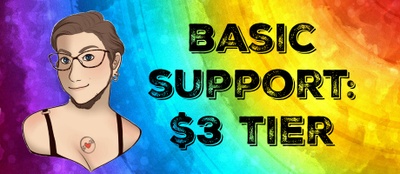 - Be the first to see sneak peeks of my work!
- Have an opportunity to provide feedback.
- Receive an occasional thank you in the mail.

Voter Support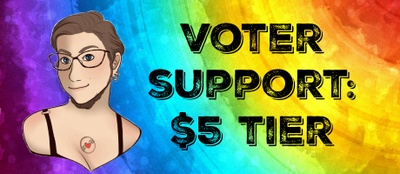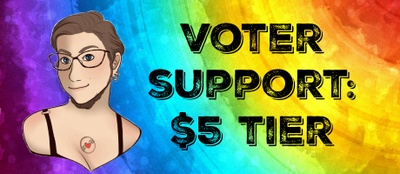 - Receive previous tier benefits.
- Vote on  new sticker, pin and charm designs.
- Get occasional patron-only video updates!
Heart Support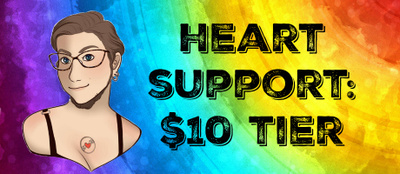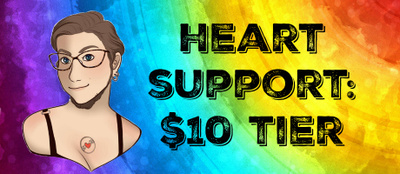 - Receive previous tier benefits.
- Vote on new essay topics.
- Be listed as a supporter when I get my writing website published.
- Gain access to optional monthly group distance Reiki sessions.
About Bri Crofton
Hello, friends! Welcome to my Patreon. I look forward to sharing with you, and getting to know you as well.
My objective here is to find support that will enable me to focus less on selling my 
handmade jewelry
and spend more time working on activism and writing, including a memoir. So far, my activism for normalizing women's facial hair, PCOS awareness and nonbinary visibility has mostly involved writing, connecting with people online, and standing up to bullying and misinformation. The goal of my visibility activism is to be the person that I needed in my life growing up, and to be accessible to those who need my voice.
I have had multiple people suggest that I write a book after reading my recent work, and I'm hoping to be able to find enough support to free up the time to make that happen. With support, I will also be able to spend more time writing unpaid essays without worrying about making my ends meet as a disabled small business owner.
Below are some examples of my writing, including a prose piece written in late 2018 and links to several published essays.
If you'd like to offer one-time support to help me reach my goals without becoming a patron, you may do so 
here
.
Thanks so much for stopping by and taking the time to read!
xo
Bri
[Portrait commissioned from
Mrs. Gendered
. Go check out Auggy's page for awesome comics and art!]
_________________________________
On courage.
Bravery is not an absence of fear.
It's facing your doubts, feeling the pounding of your heart, steeling yourself and doing the difficult thing that you know is right for you.
It's following your moral compass, staying true to your path, and refusing to give up no matter how many times you stumble along the way.
Courage is raw, authentic, and often messy.
You feel the fear, but you act out of love and hope, for yourself, your beloveds, a desire to help create a better world.
You strive to do better and become better than you were before, to leave the people you encounter better loved than you found them.
Radical self acceptance is delicious rebellion.
Both gentle and tough as nails, to truly love yourself with grace and humility is to radiate truth and light.
It is recognition that you are beautifully fragile, strong as fuck, perfect in your imperfection, a perpetual work in progress.
We are living, breathtaking, unique works of art.
I want to live in a world where we all wear our hearts on our sleeves and gaze upon one another with reverent love for our collective humanity, strength and fragility.
I want to have meandering conversations about everything and nothing, to learn all of the ways that you're brave for facing each new day.
_________________________________
3/26/19:
I've wanted to grow up to be a writer since I was five. Following years of dealing with chronic illness and brain fog, I thought I'd lost the opportunity. After much encouragement from my sweet spouse and renewed inspiration, I'm super excited and proud to share my first officially published piece of writing.
Fembot Magazine | Becoming a Bearded Woman
_________________________________
4/1/19:
I got to meet Kate Bornstein on Trans Day of Visibility, and I had a profound experience during her lecture. So I wrote about that and a bunch of my history, which is relative to why the experience was so meaningful. You can read about that here.
Medium | Eloquence: Meeting Kate Bornstein
_________________________________
4/17/19:
I've hit the milestone of becoming a paid writer! This story discusses my beard, queerness and genderqueer identity, as does the Fembot piece. While there is some overlap, each essay has unique features and is told from somewhat different angles.
HuffPost | Why I Stopped Shaving My Face And Embraced Life As A Bearded Woman
At $300 per month, I'll open up the optional monthly distance Reiki sessions to all patron levels and add a second session.
1 of 1
By becoming a patron, you'll instantly unlock access to 28 exclusive posts
By becoming a patron, you'll instantly unlock access to 28 exclusive posts
Recent posts by Bri Crofton
How it works
Get started in 2 minutes