Being Libertarian
is creating Articles, Videos, Podcasts, Memes and developing a Mobile App.
Select a membership level
Get exclusive patron-only merch
NESSIE'S REVENGE
"THE MEMES" (TMBL) Facebook Group access.
Eligible for TMBL meme contest prizes & promotions.
JUST THE MEMES
"THE MEMES" (TMBL) Facebook Group access.
Eligible for TMBL meme contest prizes & promotions.
Pack of Being Libertarian STICKERS.
MEMES PLUS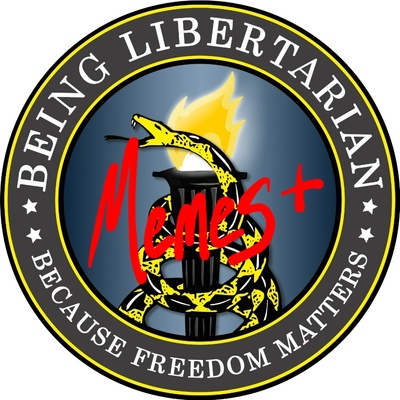 "THE MEMES" (TMBL) Facebook group access.
Eligible for TMBL meme contest prizes & promotions.
DISCOUNTS on merchandise.
Pack of Being Libertarian STICKERS.
Quarterly MEME-BY-MAIL.
About
BEING LIBERTARIAN NEEDS YOUR HELP! After years of publishing news, memes, information and opinions on the Facebook social media platform, the writing is on the wall that our time there could be coming to an end. We instituted policy changes years ago in anticipation of the new "fact-checking" methods and it worked... for awhile. We have survived as a page and continued to grow when other pages have been removed or "purged" for one reason or another.
Now, however, our page in on the verge of being unpublished and we promise that no matter the situation, we will never stop doing what we do and sharing the content we share. As such, please consider joining our Patreon as we navigate the now censored world of social media and attempt to find new avenues of free exchange. We wouldn't ask for your support without offering something in return, however.
We are excited to announce the creation of our new exclusive Facebook meme group for meme dabblers and connoisseurs alike:
THE MEMES of BEING LIBERTARIAN "TMBL"
. The focus of the group will be for sharing only the
HIGHEST
QUALITY MEMES
and discovering otherwise unknown meme creators. We will encourage participants with routine contests and prizes ranging from merchandise to unique opportunities to share your creations with a massive audience.
As mentioned above, this launch comes on the heels of repeated signs that our time on the Facebook platform are numbered with constantly shifting posting standards and seemingly selective enforcement / censoring. We enjoy making you laugh and informing you with real, on-the-ground information corporate media avoids. With your help we can finish development of our own app which will provide us a direct, unfiltered line to deliver you information you can rely on.
SOCIAL MEDIA PAGES:
WEBSITE:
http://www.beinglibertarian.com
NONPROFIT CHARITY:
http://www.VIAction.org
PAYPAL:
https://paypal.me/BeingLibertarian
WHO WE ARE:
Being Libertarian, LLC, is a Virginia-based company comprised of a dedicated team of individuals committed to improving and maintaining a voice for the liberty movement around the world. Through our rapidly-increasing number of outlets, we seek to awaken individual liberty, inspire personal responsibility, and rally the fractured and fragmented liberty movement in every country towards the goal of achieving liberty in our lifetimes.
We seek to move the liberty movement forward through high-quality representation and education, whether it be on the street, in the newspaper, or on the internet. Being Libertarian consists of a network of brands that push the ideas of liberty, individual rights, free markets, and human dignity to billions of people. We accomplish these goals through specialized publications, intense social media activism, and increasingly popular podcasts and videos.
We're well known for
THE MEMES
, but we offer so much more through these channels; with over 1.1 million followers across all platforms.
It is our mission to be the foremost international hub for libertarian media and activism, and we are committed to bringing dignified and exceptional voices for liberty to the world stage. Together, we can create an image for our movement to rival the mainstream and show the world why freedom matters.
This will give us the opportunity to dedicate more time into generating more content. Getting to this goal will allow us to generate custom content just for our Patron's that will qualify for the reward tier. 
3 of 4
Recent posts by Being Libertarian
How it works
Get started in 2 minutes