Bekah Fly
is creating Poems, music, visual art, healing
Select a membership level
Hey there sweetest Halo
You are giving me life, really!!!!! For this you get (access to EP "The earth experiment") +access to raw magic, secret tracks (secret tracks include song downloads as well as audio levitation spells, dream visions), digital art and poetry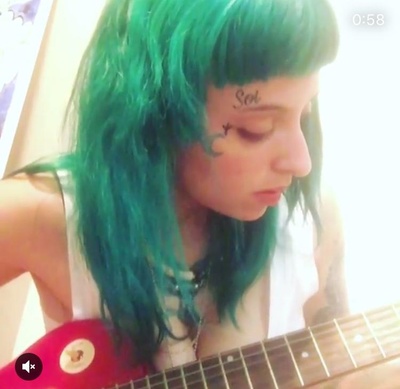 Lifeline 2 the weirdest wonders on wings
You are a lifeline to the weirdest wonders on wings!!!!! For this you get everything in the above tier (EP download, secret songs and spells, digital art and poetry)  plus access to video magic music art and performance 
Levitation dream!!
I had a levitation dream and it was about you!!!!! For this you receive everything in the above tiers as well as a personalize poem or incantation written once a month especially and only for you
About Bekah Fly
Hello fellow earth travelers! Welcome to the honeycomb for 3rd eyes!
I'm so thankful to be here connecting with you on this crazy beautiful and confusing planet
My name is Bekah Fly. I'm a musician, poet, visual artist and witch. I grew up in an artist family and art has always been my church/temple, my way of connecting to source, my way of making sense of things and my reason for being here.  
I'm also disabled, with chronic lyme disease and severe auto immune condition.
I currently live in Los Angeles and require a lot of medical treatment. Prior to this I was homeless in the desert for two years due to auto-immune condition.  I drew constantly and made music to keep my sanity and recorded an album on voice memo.
I've also performed music and poetry in and around New York - at the Nuyorican poets cafe, Joes Pub with Saul Williams and the Brooklyn museum.  As well  I recently released an album called "The Earth Experiment" due to the awesome gracious nature of a producer friend...the album is available on bandcamp with a spotify single and more to come soon. 
https://bekahfly.bandcamp.com/album/the-earth-experiment
What I'm offering here on patreon for monthly subscription is music ,both recorded albums, videos, in progress work, levitation dreams, poetry, visual art: paintings and drawings: both in digital/downloadable form and mailed  copies, and witchy healing work/ spell-work, and everything that spills from my 3rd eye thru my hands....
Turning art into medicine/where you come in 
My Patreon goal:  $2000 a month (every single little bit counts whether its a 5 dollar per month pledge or a billion dollar pledge I assure you it makes a huge difference )
Art=Medicine
The necessary treatments to keep me alive and functioning are not covered by insurance
This money will go to covering 
daily medicine and regular IV treatments with doctors visits
housing and basic needs, complementary medicines like acupuncture
all things to keep me alive, walking talking and able to stick around this planet and make more art/ continue healing and help pay it forward to others who need help
I love you and I thank you for being! Thank you for your support!!!! There are no words to express my gratitude.  I can only tell you that I embrace your wildest and weirdest halo…
I would like to connect  infinities with you, glow up and shape the world into a brighter place for all of us
Aside from my first and top goal of having my basic needs met, housing and health care, which is huge for me, my dream is to affect and expand the mass consciousness with 3rd eye. Let's say this is all a long dream we are having together. We are definitely traveling through space at unimaginable speeds having wild experiences in these space suits, our bodies, and we're here witnessing each other in this sometimes beautiful sometimes terrifying madness.
We've all been put through a crazy system: the imagination hunters, big pharma, the banking system, the conquerors who wrote and continue writing these history books. In my favorite speech, Martin Luther King talks about the children being affected in the worst way, he describes how it damages their "little mental skies."
That's where the honeycomb comes in. I want this to be a place where I can share my gifts with the world, and be able to stay housed, alive and healing but also a lil (or giant) honeycomb hub where other 3rd eyes can come to feel inspired, to feel safe to express their medicine... (thats you!!!!) So come over into my spaceship, you are making this possible!!!! Lets have a beautiful earth experiment
Thank you thank you thank you!!!!!!!!
EMAIL:
[email protected]
www.instagram.com/bekahfly
Recent posts by Bekah Fly
By becoming a patron, you'll instantly unlock access to 28 exclusive posts
By becoming a patron, you'll instantly unlock access to 28 exclusive posts