Benjay24
is creating his universe, Furry Comic & Arts
Select a membership level
Pigeon Feather
Thank you kindly for becoming my patreon to support me. Pigeon feather is enough for a start to make people laugh. >:3
Access to patreon-only posts
You get every sketch from personal artworks. (Not including sketch of comic page.)
You get Patreon Exclusive Art from me.
You get 10 % off discount for commission for that month. (Not including comic.)
You get access to vote for the poll.
Hawk Feather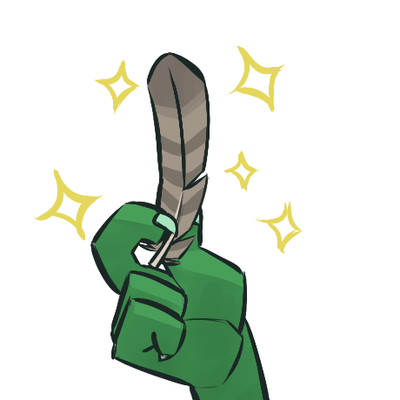 Woo now you have a better tool~ >:3
All Previous Reward.
Have access to the High Resolution version from said art pieces.
Have access to personal artwork and comic pages. Plus, you will get the comic pages at least 5 pages ahead before they get posted in my galleries (furaffinity/ Deviantart).
Bronze Feather
now you can show people what you've got. >:D
All Previous Rewards.
Receive the concept arts for the comic, containing the setting for background, outfit or character ref sheet that will be only posted in patreon only. 
Get the other extra WIPs (Work In Progress) related to the finished art pieces: Clean Outline, Flat Colors and Detailed effect. Also from comic pages too, including comic sketch wip.
About
Welcome To My Patreon !
A Place Fur Tickling.
Are you finding yourself interested in tickling?
Loving and imagining things about tickling all the time?
NO, you're not alone, here's just the right place for you to stay.
Hey Guys, it's Benjay here, you can call me Ben or Benny if you want. :)
Just a freelancer artist who's dedicating himself to create more artwork related to things such as tickling and paws. Also, I thought I should let you know I do both SFW and NSFW content.
Plus, i do mostly */M tickling, either M/M or F/M. So please make sure of it before you support me.
Why am i here ?

Because I want to develop my universe by creating more comics. I'm planning on releasing a comic featuring my cast of characters in an original story.
And you're the one that can help me to do it!
Do it faster.
Do it larger.
In other words: Make it possible.
Through your support (which can be as simple as $1USD) you will be able to see my first personal big story with my characters soon...which of course will be related to tickling XD
If this topic ever rings a bell, or ever interests you, please don't miss it. I need your help to be able to develop a universe where tickling is no longer a rare thing at all!
Help me stabilize my income so that I'm able to make more artwork like this in the future !
How many works will you create a month ?

Let's just say it depends on how much support I get.
Like I said I am a freelance artist. If I get little support then how is it possible for me to support myself ?
I'd just get commissions as much as possible per month instead (as I already do). But just so you know: I'm not going to post commissions here. I'd rather post personal creations here, as that's the meaning of managing this patreon. XD
But I'll try my best to create at least one or two works per week, because I don't want you all support me for nothing after all.
I want to show you the best I've got. :)
What can you get from me for pledging ?
Well, as I said I'll post every personal work here: my creation and my own comic, therefore there won't be any commission works posted here.
By helping me to create said personal artwork and comic pages, here is what you can get from me (Depending on your Patreon level):
As long as you're my patreon, you will get 10% off for the commission, also you will be able to vote for the poll. You get every single sketch from each image I work on, there can even be some exclusive sketches for patreons.
Get the final version in high resolution of every image and comic page. Plus you will get the comic page at least 5 pages ahead before others do. (in sites like Furaffinity or DeviantArt).
You can also have access to extra Work In Progress (such as linearts and flat colors) of each image or comic page, so that you can see how my pictures evolve as I work. Plus, you will be able to get the concept arts, to see how i design all settings with my comic.
Participate in Q&A for what i want to know from you about the suggestions, like what character i should get or what theme you want to see in the future, etc. Also you get to join the "Ask my Character", and they will answer each question.
Request one character sketch (Which can be anyone, not just my characters but your own as well). Plus, you can get a discount! 20% off if you get a commission next month.
Upgrading the sketch to full color and detailed shading.

Where Can I Find Your Art Pages ?
Fanart Goal Marathon
-500 Zangoose Tickling
-550 Dragonite Tickling


-

600 Guilmon, Veemon Tickling


-650 Greymon Tickling

-700 Roadhog Tickling (From Overwatch)
-750 Maui Tickling (From Moana)
-800 Ralph Tickling (From Wreck-it Ralph)
-850 Mario Tickling

-900 TMNT Tickling (You vote for ticklee)
-950 Morenatsu/ Tokyo Afterschool Summoners Tickling (You vote for ticklee)
-1000 TaleSpin Tickling (Group Tickling)

-1100 Smaug Tickling
-1200 Godzilla Tickling
-1300 Zootopia Tickling (Group Tickling)

-1350 Angry Birds Tickle Comic (General)
-1400 Charizard Erotic Tickle Comic
-1500 Bowser & King Koopa Erotic Tickle Comic
$733.63 of $800
per month
I will start to plan and work on new comic. Either The Heel Marsh OR The Featherquill.
4 of 4
By becoming a patron, you'll instantly unlock access to 484 exclusive posts
By becoming a patron, you'll instantly unlock access to 484 exclusive posts