Ben Saint
is creating Comics, Videos, and LEGENDARY Cringeposts
Select a membership level
Early Comics + Exclusive Videos!
You'll get to see new comics here before they're posted anywhere else!  You'll also get exclusive access to speeddraw videos showing the full process of me taking each new page from concept to completion.  In addition, you'll see concept sketches and WIP art that I don't post anywhere else. Finally, you'll also get a sick purple Illuminati role in my Discord server, the Hellfire Hamlet.
Includes Discord benefits
SLIME & PUNISHMENT CAMEO (LIMITED TIME)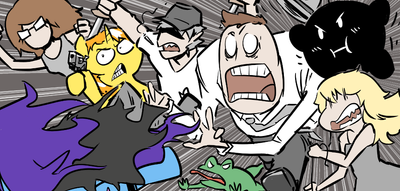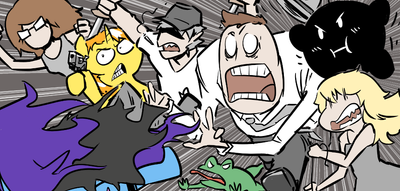 Guarantee your RFCKsona a cameo in Slime and Punishment! This tier will only exist for as long as S&P is still being made and it's for REAL SLIMEBOIS ONLY. YOU KNOW WHO YOU ARE!!

Also... EARLY ACCESS to secret S&P FINALE CONTENT!

Includes Discord benefits
TWENTY-FIVE DOLLAR BOIS
For superfans and those who want to go all-out in helping The Vapors be fully realized. You'll get early access to new comics, access to the Patrons-only gallery, you'll immediately get a thank you on the Credits page, and you'll earn the normal rewards 5x faster.  Finally, you'll also get an even sicker purple Uber-Illuminati role in my Discord server, the Hellfire Hamlet. 
Includes Discord benefits
About Ben Saint
DECEMBER 2nd UPDATE:
SLIME AND PUNISHMENT
EDITION
Yo. So I haven't touched this Patreon profile in a while and it sure does feel out of date now. It doesn't even mention SLIME AND PUNISHMENT, the TBBBAP/RFCK/Sonichu crossover comic I've been working on for the past few months and which is now pushing 350 pages long.
Speaking of Slime and Punishment, the reason I'm making this update is, the comic is filled with background characters who are community members from the RFCK Discord game ENDLESS WAR. It gets hard to pick who to throw in there so I'm gonna let the INVISIBLE HAND OF THE FREE MARKET guide me in this important decision-making process.
Until Slime and Punishment is over once and for all (a month from now? Two? it's hard to say) I'll be prioritizing those Slimebois who are also my patrons here for cameos in S&P. It only seems fair, really. If you pledge $10 or more, in fact, I will GUARANTEE you an appearance in the comic. If I go through all the interested $10+ Patrons, then I'll look at $5 patrons, then $1. You get the idea.
However, I want to stress, this offer is for REAL SLIMEBOIS ONLY. If you've never heard of RFCK and don't know what I'm talking about and just think it'd be cute to get your OC in a comic drawn by the guy who did that Sonichu lecture on YouTube, then get the HECK OUTTA HERE PUNK
-----------------------------------------------------------------------------------------------------


SAINTCOMIX.COM
Hi, I'm Ben Saint.  I'm an artist, animator, voice actor, writer, editor, and guy-who-makes-things generally. My main projects are two longform comic series,
The Vapors
and
The Champion
. You can read both series  
here
.
The Vapors is a jokeless comedy and a farcical drama. It's kind of like... Catcher in the Rye. Or King of the Hill. It's about sad nerds and is either funny or depressing depending on your level of empathy. Two chapters are currently available to read.
The Champion is a fantasy story about a girl stuck in a job she hates. It's been compared to One Punch Man, but personally I think it's more like Watamote. 50 pages of the first chapter are currently available to read, but it's still early so I won't say any more about it.
I did a pokemon comic about a mamoswine called Brunswick that got pretty widely circulated as well. You can read it 
here
.
An experimental MSPA-style webcomic called Beastcapades was started earlier this year. Currently on hold until the completion of Vapors 3. You can read the first 100 pages 
here
.
I do every aspect of my comics myself - writing, sketching, inking, toning, and lettering, making it a pretty long and intensive process. But you can help me commit the time necessary to get it done!
1. Your support will allow me to spend more of my time making comics.

I have a normal boring job that pays the bills, but if I'm getting paid through Patreon I can make drawing comics my job instead. Every 50 bucks I make through Patreon represents one day I can spend drawing instead of working. At 1000 bucks per month, I'll be taking EVERY day off to draw, and will officially be a real-life professional comics-man! That's the dream, my friends.
2. Your support will allow me to hire an assistant artist.

If I made enough to support not just myself but another artist as well, I could pay an assistant to help with lettering, backgrounds, and tones. I could finish pages way, way faster and probably have a whole book's worth of The Vapors done in a matter of months.
~REWARDS~
By becoming my patron, you help me get a little bit closer to living the dream and becoming a full-time professional cartoonist-mangaka-graphic-novelist-type-fellow, and for that, you deserve a reward. I've decided to do things a bit differently than most creators on Patreon, and give rewards based on total, cumulative, lifetime amount given, rather than based on how much you've pledged to give each month. Pledging enough for a higher-tier rewards naturally gets you all lower-tier rewards as well.
If your total amount given equals or exceeds...
$5 -
You'll get exclusive access to speeddraw videos showing the process of drawing each new page, as well as a patrons-only gallery of sketches, concept art, WIP's, and general miscellaneous art junk, as well as status updates on upcoming projects. I'll be updating it semi-regularly with stuff that I don't post anywhere else.
$25 -
Your name will appear on the
Credits
page of my website, thanking you for your support.
$100 -
I'll do a unique sketch of your choice, or if you don't have a preference I'll think something up. If it's drawn traditionally, I'll mail you the original as well.
$250 -
I'll send you a  signed physical copy of The Vapors. I'll even doodle something on the inside cover for you, if you'd like.
$500 -
 I'll do another drawing for you, this time a fully finished piece, with color if desired. If you'd like something you could use as an avatar, a tumblr header, a youtube channel banner, or something like that, let me know and I'll format the image accordingly.
$1000 -
I'll draw you, or a character you own, into the background of a future comic. You'll also be listed separately on the
Credits
Page, along with a picture of you as depicted in the comic.
Note: These rewards apply to donations given by any method, not just through Patreon. If you'd prefer to support me through Paypal, you can use this link to do so. Just include a message, or send me an 
email
, so that I know who made the donation. (The exception is the $5 patrons-only gallery, which is only available through Patreon.
Thank you for considering becoming a patron. Whether you decide to pledge or not, I'm grateful to you just for visiting this page and having a look. I hope you will look forward to my next comic, and enjoy it when it's complete. ~Ben
$343.24 of $500
per month
Rent is taken care of and I can LIVE MAS
4 of 5
Become a patron to
Unlock 130 exclusive posts
Connect via private message
Recent posts by Ben Saint
How it works
Get started in 2 minutes