Ben Wu Loves You
is creating Letters, zines, books, and a little bit of chaos
Select a membership level
Old Turtle's Mudpuppies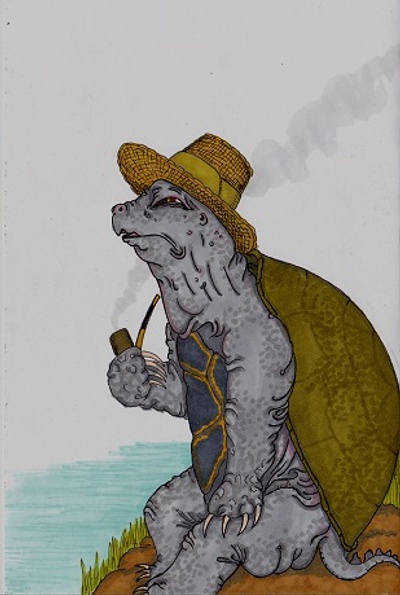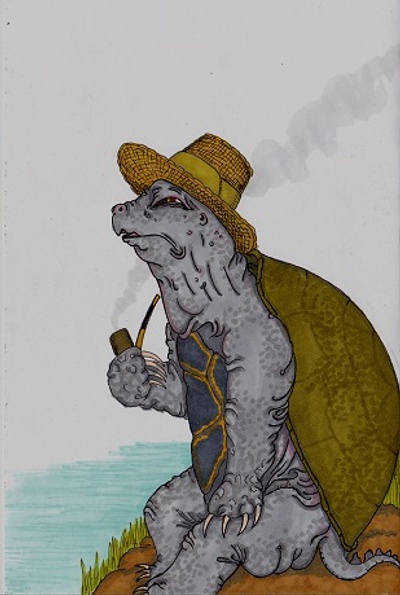 Join Old Turtle down by the pond, or join me on Patreon for exclusive content-- glimpses into my day to day life and insight into my creative process. This donation, though small, makes a huge difference.


Mr Whisker's Tea Society
As a member of the Tea Society you receive an opulently illustrated letter  or zine each month, delivered to your email or your mailbox. Patreon-exclusive content: photos, art, comics, etc. And you will receive at least one of my unique, Wu-designed holiday cards.

Adherents of the Toady Canon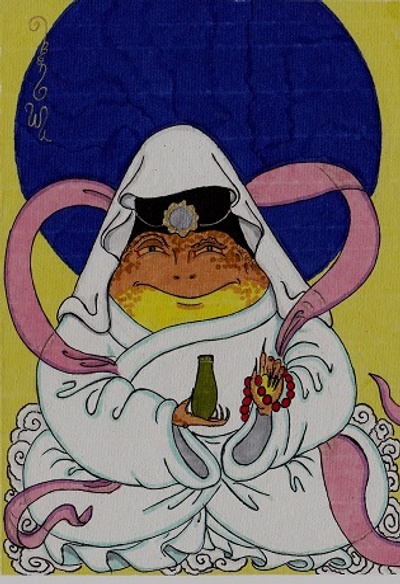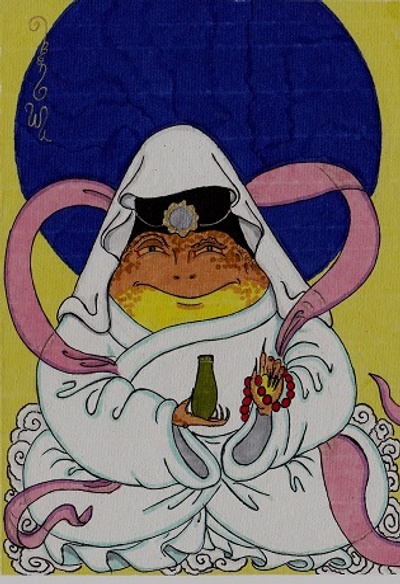 In addition to Patreon-exclusive content and a monthly letter or zine (by mail or email) and a Wu-original holiday card, those blessed by the Toad-Mother of Mossy will recieve, two to three times a year, copies (hard copy  or eBook) of my published works before anyone else. Some of the volumes I produce will never appear anywhere else, they are only for the pleasrue of my dearest adherents. 
About Ben Wu Loves You
Who am I? I'm a character from a Southern Gothic novella; someone Truman Capote might've created in the margins of his notebook while listlessly dreaming and languidly scribbling on some distant, sultry, honeysuckle-soaked evening; a character of questionable morals, impeccable taste, and of uncertain orientation.
When I was young, my mother would ask, "Do you know the difference between the truth and make believe?" I would always answer, "Yes, mama, I do." But, to be honest, the line between reality and my imaginary world has never been distinct. Luckily, I grew up in a rural nook of the U.S. south. Around here a penchant for embellishing the truth combined with a compulsion to delight and befuddle friends and strangers alike with wild tales and meandering thoughts is considered a good thing. Since, I am much too set in my ways to reform (who'd want that anyway), I've decided to organize and illustrate the stories knocking around my head and present them to the world.
Your subscription grants you access to:
Monthly letters and/or zines  and odd piece of art for $6 
Monthly letters, zines, all of my published works, and whatever else I can think to stick in an envelope.
For every one: random bits of writing and illustrations,comics-- you know, stories that must be written, images aching to be drawn, and  ideas that must be shared!
Photographs, little windows into my life and my creative process, snapshots of my expanding organic garden, and my various fermentation projects and brews (heirloom wine and beer recipes)
and any fun, interesting, frivolous, and ponderous things that pop up in my day to day life.
I pour a lot of love into my zines and letters, endeavoring to bring as many of myself into each one. My hope is that you will get to know me and hopefully find a little escape, a lot of entertainment, and some modicum of solace in my words and images.
As, I mentioned above that my work often falls into the category of irreverent or off beat. I am a contrarian, satirist, a misanthrope by nature, and paradoxically, a lover of humankind-- not in spite of, but because of their foibles and frailties. 
I write about myself and the people I know; we who sojourn in obscurity, but contain, as Whitman said, multitudes.  I believe in liberty, personal responsibility, and open societies. I am a lover of nature and of all life. I am a fervent believer in civil discourse, but I avoid arguing at all costs. If my example by deed or by ink does not inspire the better angels of your nature, then a hissy fit, no matter how well-intended, will not make a whit of difference.
In days of old, I published three books, now off the market: The Macabre Alphabet, An Ivory Chopstick, and Very Naughty Figs, each a collection silly, occasionally macabre, tales illustrated, copiously, in my tell-tale pen and ink style (inspired by the like of Beardsley, Clarke, and Gorey). And I will definitely publish again.
$135.86 of $500
per month
When I reach this goal, I will make an orginal set of postcards and randomly select 10 subscribers to recieve them. And at this goal, I will also buy a new fruit tree for the homestead.

1 of 1
By becoming a patron, you'll instantly unlock access to 58 exclusive posts
By becoming a patron, you'll instantly unlock access to 58 exclusive posts
Recent posts by Ben Wu Loves You
How it works
Get started in 2 minutes