Author Bethany Atazadeh
is creating fiction and advice on writing & publishing
Select a membership level
The Writers Club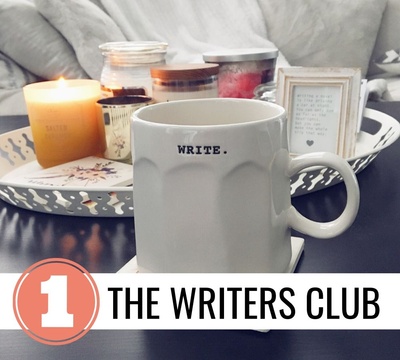 😄 access to our patron-only writing community (a discord channel) where you can chat with myself and other talented writers + get the support you need to FINISH your book.
📚+ all patrons are offered digital early reader copies of my new books before they're published
🎁 Patron-ONLY posts with behind-the-scene info, cover reveals, and other fun secrets!
The Resources Club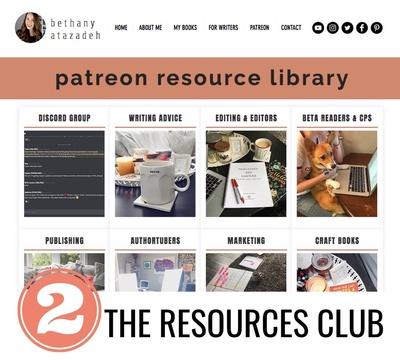 💻 This tier gives you access to my PATREON RESOURCE LIBRARY filled with 400+ helpful resources on writing, editing, betas, CP's, traditional and self-publishing, book marketing, & SO much more!
😄📚🎁 access to the previous tier of course
The Social Media Club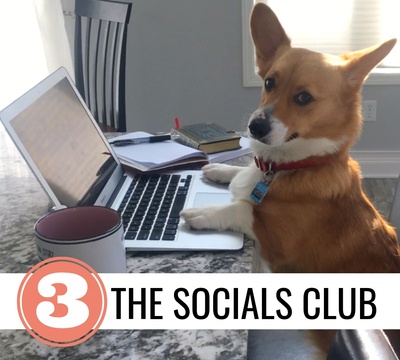 💥 This tier has a library of 30+ posts on how to grow your author platforms (posting templates, growth tips, time saving tips, Instagram tips, YouTube tips, post ideas, newsletter tips, etc)
At least one new post added every month
😄📚💻 + access to the previous tiers!
About
I want to help you write & publish your book,
and your support will help me write & publish mine!

// ABOUT ME \\

I started pursuing writing and publishing in 2016, and have currently written four fantasy novels in a series of fairytale retellings
(The Stolen Kingdom Series)
, a non-fiction series on Marketing for Authors (
How Your Book Sells Itself
), two YA dystopian novels (
Evalene's Number
and
Pearl's Number
), plus a few side projects, such as my children's book (
The Confident Corgi
), and a coffee table booklet for writers (
Penny's Puppy Pack for Writers
).
Patreon is designed for people to support their favorite creators and help them have a more predictable, steady income. That in turn, helps remove stress so we can focus on creating MORE for YOU!

Creating for a living can be wildly unpredictable. Some months do well, others don't. So this kind of support is HUGE. And I love that this platform let's me GIVE BACK to YOU in return.

$2 Writer's Club
includes a patron-only chat room over on discord where you can connect with other writers and myself, talk about all stages of writing, hold writing sprints, encourage each other, and finish our books. The other writers in this group are so inspirational! Writing friends make ALL the difference between a dusty forgotten story or a FINISHED NOVEL. Because they will cheer you on, support you, motivate you, teach you, and keep you going. (Trust me!) <3
+ I always offer Early Reader Copies of all my books to Patrons as GIFTS before they're published (no reviews expected!) - AHH!
+ I LOVE to share sneak peeks and behind the scenes stuff, such as cover reveals, secret projects, YouTube videos coming up, blurb reveals, book trailers, audiobook teasers, etc! Patrons will always get to see my creations before anyone else.
Basically, if you're supporting me in any way, shape, or form, I want to spoil you and let you know how much I appreciate you! ❤️
$3 Resource Club
is focused on equipping you with all the resources I wish I'd had when I first started out. This tier has a Resource Library (hosted on my author website) with over 400 links to helpful resources on writing, editing, publishing, marketing, beta readers, CPs, print on demand companies, author life, imposter syndrome, burn out, writers block, and the list goes on!
$5 Social Media Club
is packed with social media advice ranging from Instagram, to YouTube, to Twitter, to Facebook, to advice that applies to any platform, posting template ideas, posting challenges, tips for growing on social media, and more. This tier is occasionally added to and has a wealth of info (Patreon just introduced "pinned posts" so I'll be gathering up the links to all social media posts and making a comprehensive list soon!)
$10 Video Club
is super spoiled because their support helps me pay for YouTube gear and all the time it takes to film/edit/publish/promote a video. Anyone in this tier (and above) gets early access to all my videos (basically as soon as I finish them, I upload here!), a shout out of their name here on Patron at the end of each video, PLUS patron exclusive videos. I've done exclusives on My Book Sales to Date, BookCon Numbers, How to Work with Editors/Cover Designers/etc, and multiple livestreams. Due to popular request, these monthly exclusives will be a mix of pre-filmed videos and livestreams. (And I'll also add a pinned post with a comprehensive list of exclusive videos soon too!)
$25 Instagram for Authors
is currently my last tier and hosts an intensive training on how to grow on Instagram specifically for authors that's over two hours long. This class covers creating a profile that draws in new followers, how to take quality photos and write engaging captions, how to use hashtags plus a hashtag strategy no one is using,
**this tier used to host Writerly Care Packages, which were a temporary fun project, and after that Signed Copies of my books (which can now be found on my author website:
https://www.bethanyatazadeh.com/buybooks
)
Every single month I re-evaluate what's working and what could be better, so take a look at the tiers on the right and let me know what you're looking for if there's something you'd love to see added. I'm excited to connect with you!
<3 Bethany
// FREQUENTLY ASKED QUESTIONS \\
Q:
How do I find the Resource Library and other topics like the discord group or Social Media Tips?A:
Older posts are pushed down over time (a lot like Facebook), but you can find the top "featured posts" including the Resource Library here on my home page, on the left side, under "featured tags."
Q:
Can I change my tier if I change my mind?A:
Absolutely! Do whatever works for you! I'm grateful for your support at whatever level you can do, so if you decide to change, just make sure to switch
before the new month starts
. You can change your tier up, down, or stop for a month as needed. (Changing mid-month or at the beginning of the month DOES get confusing though as Patreon doesn't let me know if you had rewards once you move, so if you choose a tier with rewards please do NOT change until near the end of the month when rewards have been delivered! :)
Q: How often do you have these early reader ebook copies?A:
I'm so glad you asked! My fantasy series will have three more books coming out in 2019 and 2020, plus I'll have three more non-fiction marketing for authors series coming down the pipe very soon as well! (And who knows what else in the future lol!)
Q: Shouldn't ARCs be free?A:
YES!!! I plan to offer early reader ebook copies of my books in the month before release as GIFTS to my patrons. These are not the same as ARCs, which I will do separately outside of Patreon.
Q: Can I tell my friends about this page?A:
Yes please! If you feel like there is a lot of value here and/or you want to support me as an author then it helps me out a ton if you share with your friends, I would love that! (Thank you in advance!) <3
When we reach 150 patrons, I'll share (yet another) patron-only COVER REVEAL! 🎉🎉🎉

9 of 9
By becoming a patron, you'll instantly unlock access to 312 exclusive posts
By becoming a patron, you'll instantly unlock access to 312 exclusive posts
Recent posts by Author Bethany Atazadeh
How it works
Get started in 2 minutes