Bhakta Bandhav
is creating Bhakti Books, Courses, Prasada, and Events
Select a membership level
Bhakta Sevak
By becoming a patron, you will be giving invaluable help to our mission of serving the Vaisnava world.

It is our pledge to serve the Bhaktas, and thus please Sri Krsna by following His instructions (from the Adi-purana), "If you love and serve My devotees, then you are My real devotee."

In this tier, you can choose to get access to our Whatsapp list and groups where we share hari-katha, kirtan, and behind-the-scenes content.

Grantha Sevak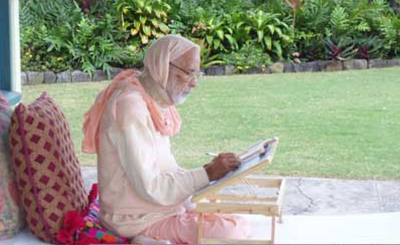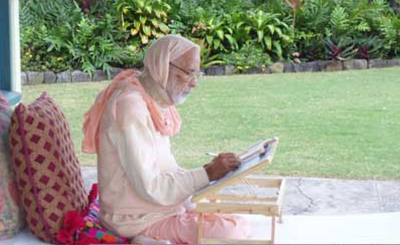 By joining this tier, you will get digital access to all of our Bhakta Bandhav books, as well as Srila Gurudeva's publications. With your support, we will continue to publish and distribute Gaudiya literature throughout the world.

In the last couple of years, we have published 22 original books (and multiple editions of a few) and we are increasing our production, with a highlight being new books scheduled monthly that are compiled from Srila Gurudeva's katha that our team transcribes, as well as many new books of the Vaisnava acaryas. You will also have access to over 80 of Srila Gurudeva's books from the Legacy Drive, a digital collection of Bhakti media.

Bhakta Champion
By joining this tier and becoming a champion of the Bhaktas, you will get access to the full Legacy Drive, a digital collection of Bhakti media, including audiobooks, videos, art, and over 100 English books, as well as digital books in many other languages.

We will also send you two Bhakta Bandhav printed books of your choice. You will also receive all the benefits from the previous tiers.

Your invaluable help will go to advancing our mission of serving the worldwide community of Vaisnavas, through our outreach efforts, books, and distribution of free prasada feasts daily to thousands of Vrajavasis.

About Bhakta Bandhav
Hare Krsna!

Bhakta Bandhav is a Bhakti Movement founded on the principles of love, compassion, and service to the devotees. We are a worldwide community of disciples and followers of Srila Bhaktivedanta Narayana Gosvami Maharaja, Bhakta Bandhav Srila Gurudeva, who was the greatest exponent of Bhakti in the 21st century.

Bhakta Bandhav means one who is the dearmost friend, bandhav, of the devotees. In the Adi Purana, Krishna states:

asmakam bandhava bhakta bhaktanam bandhava vayam

"I am the dearmost friend, bandhav, of the bhaktas, and the bhaktas are My bandhav, dearmost friend."

In this way, Bhakta Bandhav is none other than Sri Krishna Himself, and our beloved Srila Gurudeva, who received this title of Bhakta Bandhav from Param Gurudeva, at the time of his initiation in 1947.

Our purpose in Bhakta Bandhav is to serve the devotees and help them progress to the perfection of life--the attainment of Krishna Prema. To this end, along with attending to their personal spiritual development, our members engage in congregational development, seva, and outreach.

Your contribution goes to the furthering of our mission, including book publications, outreach work, and daily prasadam distribution in Vrndavan to thousands of guests and residents of the dhama.

We do not pursue intellectual prowess, material position, or prestige. Our goal is to help people awaken divine love and transcend the fetters of this mundane existence. Then we can enter the transcendental land of love, Sri Vrindavan, where we can live and play in a sweet, loving relationship with Krsna, uninhibited by any mood of awe and reverence for the Supreme Being. In that land of Vrindavana, we will not even be aware that Krishna is the Supreme Godhead. We will see Him only as our dearmost friend, child, or beloved, and we will abide there in an ever new, ever fresh dance of love.




Our goal is to grow our community of supporters, so that we can increase our service to the Vaisnava world!
1 of 1
Become a patron to
Unlock 108 exclusive posts
Connect via private message
Recent posts by Bhakta Bandhav
How it works
Get started in 2 minutes