Big Punch Studios is the teaming up of four creative people who make comics and games!
Nich Angell
makes 7STRING and Cat & Meringue!
Jon Lock
makes Afterlife Inc.!
Lucy Brown
makes 99 Swords!
And
Alice White
colours our pages, designs our books and makes all our glorious videos!
We hit as many UK comic conventions as we can every year, selling our books and meeting awesome people like you. When we're not at shows we're all busy drawing and writing: designing and crafting awesome stories and games. We also make regular podcasts on a variety of topics and publish a quarterly print magazine called Extraversal! Have you heard of Sandwich Masters? We made that too! It's a game about strategy, sabotage and sandwiches. You can find everything we do on our 
website
.
Supporting us is easy and we're so grateful for your help.
We make a lot of things:
7STRING
,
Afterlife Inc.
and
Cat & Meringue
; games like
Sandwich Masters
; and all the titles contained within
Extraversal
, such as Cuckoos, Orb, 99 Swords and The Wall. To support your favourite, simply pick the appropriate club, and for a tiny $2 a month you can see first-hand how your support is helping your favourite stories come to life! All of our comics are available to read for free online, so your support really helps us to keep building these worlds and characters!
Alternatively, if you just love everything we do, for a still-very-reasonable $5 you can support all our titles! In return we'll send you the monthly rewards for every club. That's a whopper of a monthly package!
To support your favourite Big Punch story, all you have to do is choose the right club! We have a club for each of our stories, and supporting any one of them automatically makes you part of the Big Punch team.
At the most basic level, our
Supporter tier
gets you access to free downloads of all our podcasts, from 
A Show Called Hate
to 
Cuckoos: First Flight
, in addition to the exclusive
Punchcast
, a very special monthly podcast only available on Patreon. You'll also receive access to exclusive podcast extras, such as monthly bonus episodes of A Show Called Hate, and campaign notes from Cuckoos: First Flight.
All our Patrons also receive our regular newsletter, the
Punchbag
, with info on everything we've been up to.
Hi!
Nich
here! Let me tell you all about 7STRING!
7STRING is a sci-fi/fantasy adventure story about a dude with a guitar-sword fighting in a musical world. Can traditional instrumental warriors ever stand a chance against the terrifying new technology DRUM AND BASS?! 
You can read the whole comic for free here
.
7STRING updates once a week, in full colour, and is collected into printed paperback graphic novels in 100-page volumes. I'd love to be able to get to a point where I can sink more time into 7STRING and update multiple times a week, which is why I am seeking monthly funding.
Joining the 7STRING club for just $2 a month will get you access to exclusive artwork of the 7STRING world and characters, EVERY MONTH! From sketches and concepts, to little extra strips and non-story artworks. Like the one below!
Hey gang!
Jon
here!
Afterlife Inc. is the tale of con-artist Jack Fortune, who dies, discovers an afterlife in chaos, and decides to take over and run it like a business. 'Afterlife Inc. A Company You Can Believe In!'
I've been making Afterlife Inc. for several years now. To date, there have been four volumes of Jack and Co.'s adventures - plus a crossover with the world of 7STRING, which gave life to the entire Big Punch multiverse (more on that below). 
You can read the entire story for free here
.
By joining the Afterlife Inc. club for just $2 a month, not only will you help me fund the production of more stories, but you'll also gain access to behind-the-scenes material and exclusive digital downloads of the
Lost Issue
and
Guide to the Afterlife
.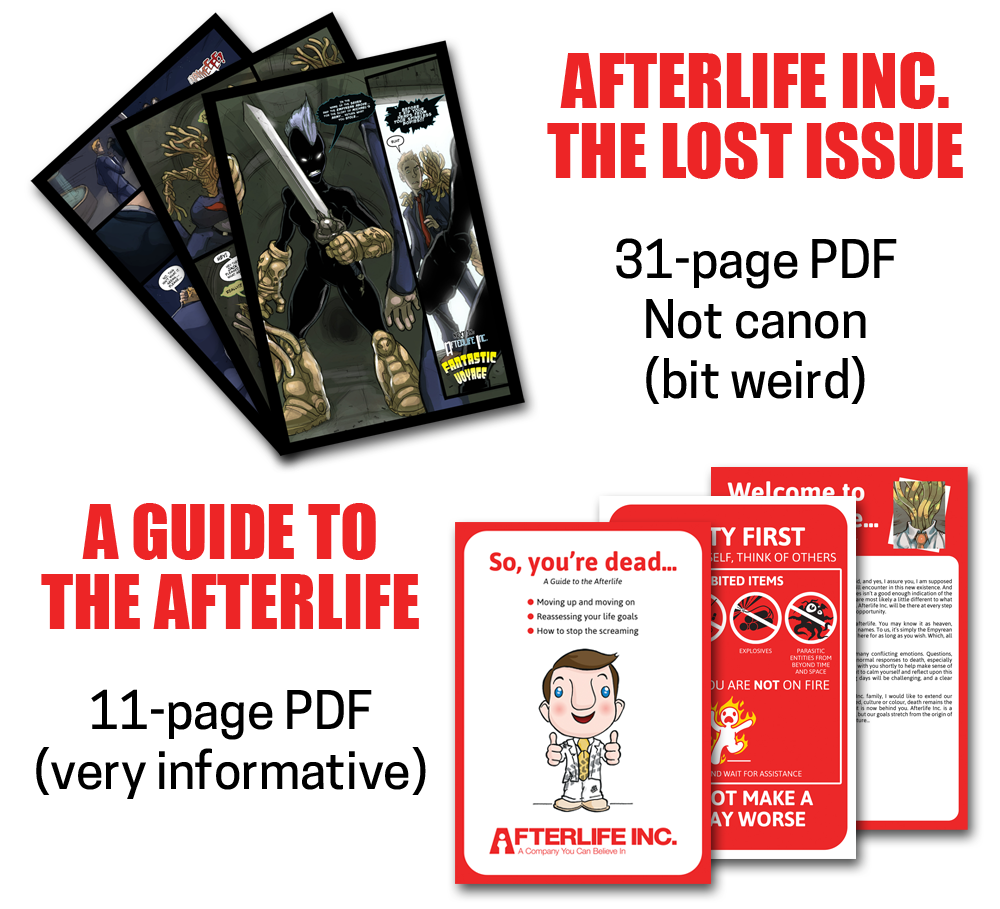 The lost issue of Afterlife Inc. is a non-canon oddity from the early days of the series that casts a light on what might have been if things had gone differently, while the Guide to the Afterlife provides all the info you could possibly need should you suddenly find yourself in the Empyrean. Thanks for the support, gang. It means a lot!
Hello Wonderpeeps,
Lucy
here. Let me tell you all about Extraversal, our epic quarterly story magazine!
Every Big Punch story exists in a shared multiverse, the Extraverse. Afterlife Inc., 7STRING, and even Cat & Meringue all inhabit this incredible, impossible place! But who else is out there, living their lives in the backwaters and between the cracks, and when will they all meet? Is this all one grand story that Big Punch is telling? (HINT: yes!)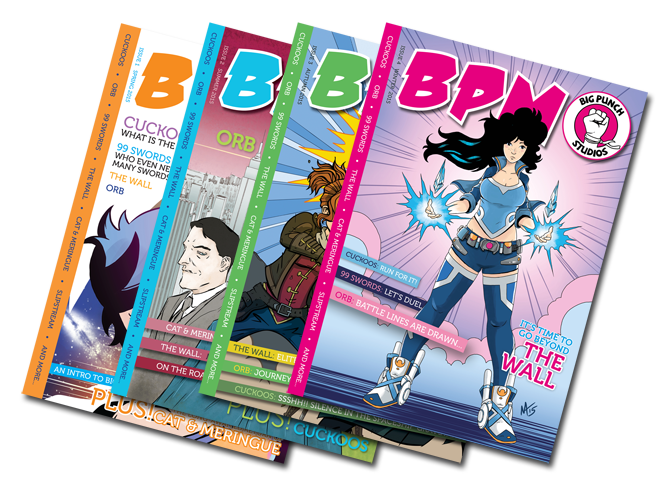 Extraversal tells its tale through the eyes of those from many different worlds. Get lost on a ship that travels between bubble universes in
Cuckoos
... witness an alternate New York threatened by the appearance of a giant stone warship in
Orb
... collect
99 Swords
 of great power and magic to battle an unknown evil... and defend the city of Prizm from falling crystal rain in
The Wall
... all while an even greater threat grows in the shadows, binding these stories and characters together as one!
You can read the comic for free right here
. And then, if you want you can help support Extraversal for just $2 a month! Supporting the comic helps us pay the artists what they deserve for their incredible work and assists with all the costs of bringing out a regular comic. For that you will receive work-in-progress sketches and sneak peeks at upcoming pages of Extraversal EVERY MONTH. You will also receive a download link for the 46-page, full-colour magazine EVERY 3 MONTHS! AMAZING!!
Hello! It's
Nich
again! I draw Cat & Meringue too!
Cat & Meringue started life as a very silly daily webcomic, which you can read some of at 
catandmeringue.com
. That webcomic has since come to an end and you can buy a book that collects all their adventures from the 
Big Punch store
. I have lots of AMAZING plans for the daft duo including an animated show and a video game, and your support in this club goes towards these very exciting projects.
Now, onto what YOU get for your $2 support! Every few months, Cat and Meringue sail to a new island and discover all sorts of adventures and daftness in this new locale. If you're a Patreon supporter at this tier you will be the first to receive a highly limited edition enamel pin badge of that island location AND an original black and white sketch of what the duo get up to there!
With your continued support at this tier, the instant Cat and Meringue move onto their next island location, you will automatically receive the next pin badge and ANOTHER piece of art, and this will continue for as long as you are supporting!! So you can collect all of the islands of their epic adventure! (You can collect any badges you may have missed at 
catandmeringue.com
)
Hey you awesome peoples,
Alice
here!
This club is how you get it all! If you like everything we make and want to support us in everything we do then this $5 reward club is for you. Support at this level is just breathtaking and we would be eternally grateful. In this club, you would receive all the rewards from the Supporter, Afterlife Inc and 7STRING clubs, as well as a full-colour print edition of Extraversal, our quarterly comic, delivered straight to your door every three months.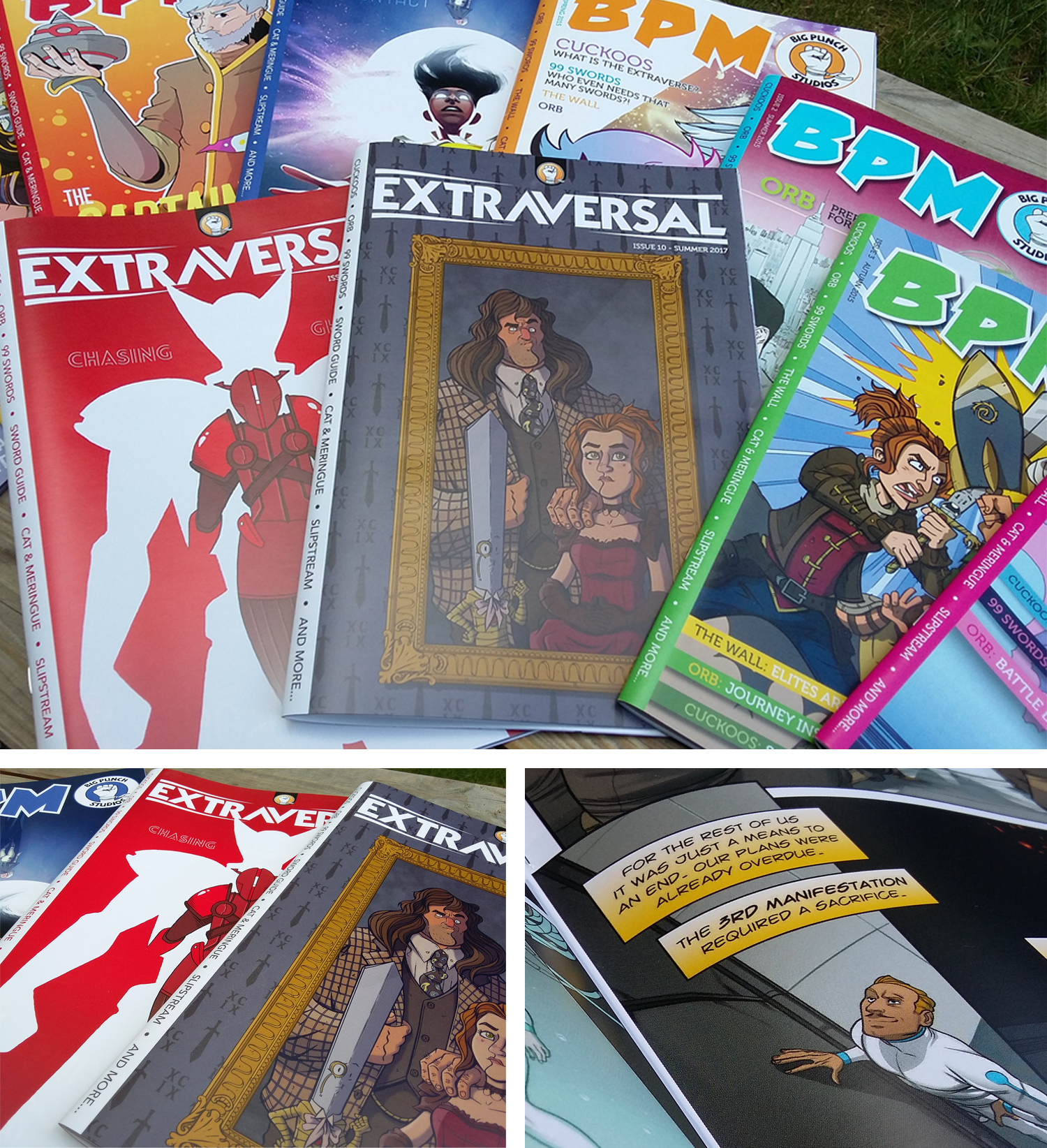 Yes, that's right.
Four 46-page, full-colour issues of Extraversal delivered straight to your door every three months.
That's 184 pages of actual, physical, real-world comic wonder each year! Stunning! Enter the worlds of Big Punch in style.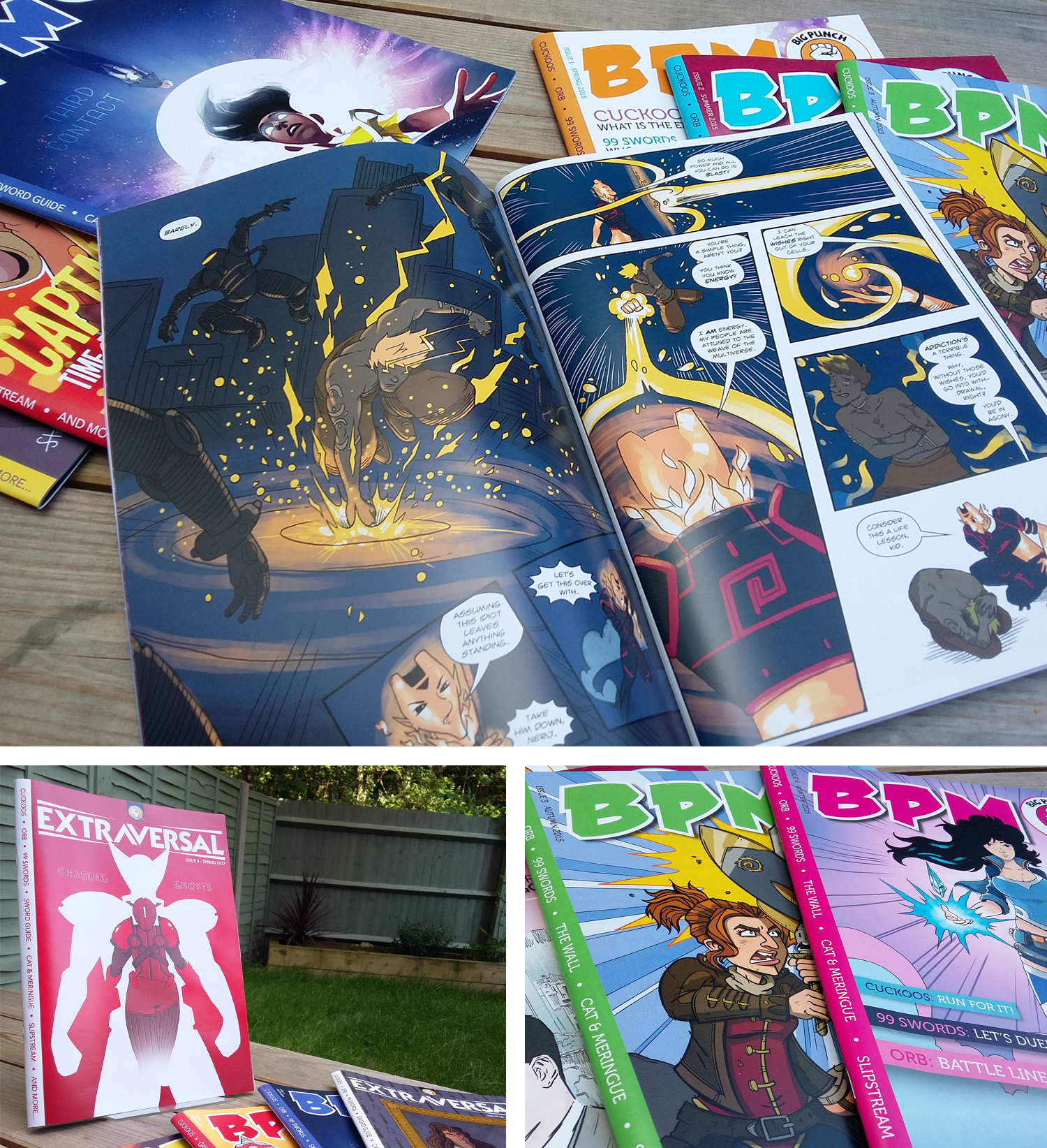 Making comics and games, especially at an indie level, is always going to be a challenge. We have big ideas about what stories should be - why think small just because because you're the little guy? - and we believe in punching well above our weight. We also believe strongly in treating people fairly and doing right by the people we work with. We may not be able to offer Marvel/DC rates, but we
always
 pay our collaborators for their time and effort. Your support will go towards paying our artists, covering print costs and purchasing production materials, allowing us to make the stories we care so passionately about while upholding the high standards we've set ourselves.
With your help, Big Punch Studios can grow and so can our stories and characters, which we have so much love and belief in. But most of all, by supporting us you would become part of the Big Punch family, and an integral part of everything we do. We hope you will consider joining us!
Much love!
Big Punch Studios