BSAM
is creating support for Afrofuturist art/digital media/writing/journalism
Select a membership level
Official Patron
Wow! We want to thank you for choosing to empower us with your donation. These are trying times and in the midst of the current climate, it is imperative we support efforts in securing our collective futures. 

With your contribution, may we continue to build.
Patreon Supporter Mention
Artistic Support Patron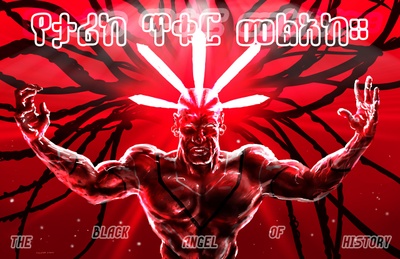 Alright we SEE you! Our platform has connected us with some of the most talented artists in the diaspora. We would like to share our passion for supporting these creatives by gifting you with a 11x7 print of our chosen Artist of the Month, which can be previewed on our website. 

www.bsam-art.com
Patreon Supporter Mention
VIP Patron
NOW were talking! We see you know how to show up for an important cause and we LOVE you for it. From website maintenance, social media ads, digital curator support and more operating costs can pile up significantly. 

With your donation we can withstand these trying times and focus on the bigger picture, the future we are working together to create. 
Patreon Supporter Mention

Personalized Thank You from our Founder

Exclusive Invites and Updates
About
The Black Speculative Arts Movement, or BSAM, emerged in wake of Unveiling Visions: Alchemy of The Black Imagination, the debut exhibition curated by John Jennings and Reynaldo Anderson at the Schomburg Library in New York in 2015.

In the last five years it has grown into an international network of creatives, intellectuals and artists representing different positions or basis of inquiry including: Afrofuturism, Astro Blackness, Afro-Surrealism, Ethno Gothic, Black Digital Humanities, Black (Afro-future female or African Centered) Science Fiction, The Black Fantastic, Magical Realism, and The Esoteric.

Although these positions may seem incompatible, in some instances they overlap around the term speculative and design; and intersect around the nexus of technology and ethics.

Black Speculative Art is a creative, aesthetic practice that integrates African diasporic worldviews with science or technology and seeks to interpret, engage, design or alter reality for the re-imagination of the past, the contested present, and to act as a catalyst for the future.

Afrofuturism, but more modernly called Afrofurturism 2.0. is the 21st century techno-genesis of Black Identity reflecting counter histories, hacking, and or appropriating network software, database logic, cultural analytics, deep remixability, neurosciences, enhancement and augmentation, gender, fluidity, posthuman possibility, the speculative sphere, with transdisciplinary applications, and has grown into an important diasporic technocultural Pan-African movement. It is characterized by five dimensions that include:

-Metaphysics
-Aesthetics
-Theoretical and Applied Science
-Social Science
-Programmatic Space
-Astro-Blackness

All together this is a manifestation of global Black "cultural vibranium" for a geopolitical world, an interstellar child of of 20th century Pan Africanism ,or as Andrew Rollins defines it as "an Afrofuturistic concept in which a person's black state of consciousness, released from the confining crippling slave or colonial mentality, becomes aware of the multitude and varied possibilities and probabilities within the universe."

BSAM L.L.C., founded by Reynaldo Anderson, is a year long traveling afrofuturism, comics, film, and art convention held at but not limited to multiple universities, colleges, domestically and at venues in the US and abroad.

Due to most recent events such as the global Covid 19 pandemic and nationwide protests, our local and international chapters need now more than ever your support.

Now that you understand more about who we are, we hope you also agree with us in making it a priority to help us continue to develop and maintain our movement.


Become a patron to
Connect via private message