Blackspire
is creating Actual-Play Podcasts
Select a membership level
Life Tax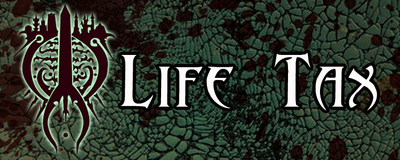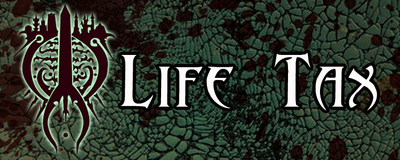 Your obligations to the City of Blackspire have been duly noted by the Black Dragons… you have skirted the scrutiny of the tax collectors for another year.

BOONS:
• Backers at this level will receive an ON AIR THANK YOU during a future episode of Blackspire.

• Remain a supporter at this level for a full year and you will additionally receive a very special thank you on the ANNIVERSARY of your backing.

• You will also be able to SUBMIT YOUR QUESTIONS that will be read and answered during periodic Mailbag episodes released in the main feed. Questions will be answered in a round robin sort of approach, generally in the order that they are received, but with priority given to the more infrequent contributors.

Note: Questions specifically related to campaign world secrets will only be addressed in the Patreon exclusive Behind the Screens Q&A episodes…



Pay the Pinkie
You understand that everyone needs to get their cut… seems you've got the smarts it takes to get along in the wicked city of Blackspire. And we take care of our own. You scratch my back, now I scratch yours…


BOONS:
• Backers at this level will receive access to all the new episodes of Blackspire a WHOLE WEEK EARLY! You can even get our RSS feed directly from Patreon so you'll never miss out on what's brand new.


• Backers will also receive exclusive access to the entirely RAW CUT recordings of our sessions that will be released sometimes many weeks or even months in advance of the final edited versions.


• Supporters at this tier will also be granted access to the WHITE HYDRA SIDE SESSIONS. These continuing adventures will veer away from the main story line... the vast majority of which will only ever be available to listen to on Patreon.


• Additionally, each month backers at this level can submit an idea (up to 144 characters) for PEOPLE, PLACES, or ITEMS in the Blackspire world that will be added to lists that your humble GM shall regularly pull from for inspiration.


Note: Each additional month backers can submit either another 144 characters of nuance to their previous idea, or propose a new concept for an NPC, place, or thing. Obviously, the more interesting and well-fitting the idea, the more likely it is it'll get used (and sooner)… These are things that can influence the game cosmetically, and ideas so chosen will be considered canon throughout the campaign setting.

• CUMULATIVE with all previous backer levels.

The 13th Wing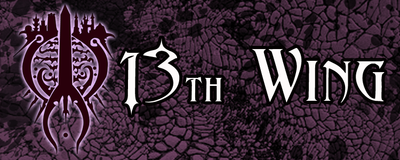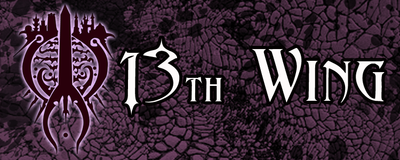 The mysterious Library so jealously guarded by the College of Necromancy is arguably the greatest depository of knowledge in the entirety of the Blackspire world… and only its most trusted students are granted access to the forbidden tomes locked away in its infamous 13th Wing…


Now your education can truly begin…


BOONS:
•Backers at this level will receive access to a host of Patreon EXCLUSIVE EPISODES, including new installments of the SEASON ZERO recaps, in depth CHARACTER BACKGROUNDS and discussions, actual-play SEASON TWO SIDE SESSIONS featuring a vast cast of Player Characters, and finally the coveted BEHIND THE SCREENS Q&A show, where backers can submit any question related to the Blackspire world that they desire, including campaign mysteries, potential story threads, character background secrets, and more! You can even ask stuff that would risk spoiling the campaign… as none of the Blackspire players will be allowed to listen to those Behind the Screens Q&A episodes.


• At this level you'll be GUARANTEED to have at least one of your questions answered per round of Mailbag episodes, whether it is in the main stream or in the Patreon feeds.


• For backers who are interested in being more than just passive listeners, this level allows you to submit an ADDITIONAL IDEA each month to yet another set of lists that will be pulled from for inspiration when crafting future Blackspire adventures… HOOKS, LINES & SINKERS. Hooks are plot hooks designed to start new story arcs, Lines are boons you can award to characters, and Sinkers are obstacles you can suggest be introduced to the story. Again, the more interesting and well-fitting the idea, the more likely it is it'll get used (and sooner)… However, these are things that can influence the game's actual outcome, and ideas so chosen will likely shape the campaign setting in distinctly unique ways.


• CUMULATIVE with all previous backer levels.

About Blackspire
Welcome to the Blackspire RPG Campaign… a dark, baroque, postmodern love letter to Dungeons and Dragons. My name is Robert Randle and I am the creator and Game Master of the D&D inspired campaign world (and now actual-play podcast) called Blackspire… and you've just listened to an excerpt from our inaugural recorded gaming session entitled "Fresh Blood from a Stone".

For upwards of fifteen years now, I have been running everything from one-shot adventures to entire campaigns spanning over several years set in various locations throughout the Blackspire world, but my most current ongoing campaign started back in May of 2013, which I began running for the gaming collective I'd then joined called the Baltimore Role-Players Unite Weekly..

Over the last few years we of the B.R.U.W. Crew had met for nearly eighty separate gaming sessions worth of adventuring before the idea occurred to us to turn our friendly regular Blackspire campaign into an actual-play podcast… and eventually perhaps into something even more…

We've played through the Awakening of a stone golem as he discovers the dark and terrible city of Blackspire that he has just been brought forth into....

We've explored the grounds of a magical mansion... where fey-folk hide around every corner... and where its painted walls come alive to reveal even stranger realms beyond...

We've crossed swords with an infernal Oni on the riotous streets of Jade Town, and discovered the terrifying secrets of his Charnel House home...

And that was just in our first few recorded sessions...

My players love playing in the Blackspire world almost as much as I love running games in it… but we love sharing our adventures with the rest of the gaming community even more. More than anything else, we just want to keep this going because we have so much more of this story in us left to tell… and I've even got a potential ending to this campaign which (if I somehow manage to get us there one day) threatens to be the most epic D&D story that I (or anyone I've heard of) has ever tried to tell before.

If it is also your wish for us to reach that epic ending someday, we'd be honored if you would help us along the way to get there...

Creating Blackspire takes resources. Time, supplies, equipment, data, money… all these things and more are needed to bring a show like this about. And relax, please do not worry… while the majority of new Blackspire content is Patreon-exclusive, we are committed to always releasing a version of our core show for free (eventually anyway). That you've even stuck with us this long means a great deal to us. We are incredibly grateful for your support… so we want to do more for our listeners… and by also becoming our backer on Patreon… we can start to give back to you that much more.

Below on this page you'll find everything you need to know about our Patreon campaign… We have various tiers of support, and each level provide backers with a deeper and deeper level of engagement with the Blackspire world.

By supporting us here you can help cover our costs, motivate us to keep going, and help make it possible for us to release more content, more frequently. Patreon backers will receive everything from various personalized communications on the program, access to early, exclusive, and unique show content, and (for only the most brave or foolish) even find their way into taking on the role of an actual player character... and joining us on one of the many spin-off episodes we'll be creating as the Blackspire RPG Campaign progresses.

So… please check out our page and donate or support us at a level that excites you. Even if you're not interested in giving us monetary support today, please still be sure to spread the word about Blackspire to all your adventuring buddies out there. Please also be sure to Like, Rate, Subscribe, and Share our program on whatever media platforms you prefer to use. Letting other people know about our show is simply the best way for it to find a new and wider audience… and just a few simple clicks on your end seriously helps in that regard.

So, thank you in advance for your support, and we'll talk to you again on the next exciting episode of… Blackspire!

PIZZA! Once we hit this level of support, it'll pay for the pizza, snacks, and other fuel the Blackspire PCs need to make it through another gaming session.
1 of 8
Become a patron to
Unlock 94 exclusive posts
Connect via private message
Recent posts by Blackspire
How it works
Get started in 2 minutes