The Bloop Museum
Electronic Entertainment Educational Exhibits
Select a membership level
Helping Hand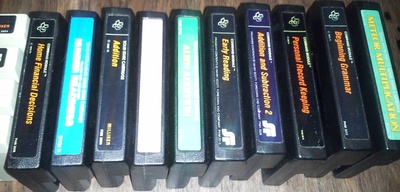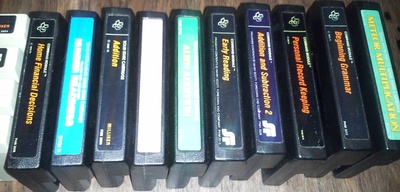 Even if you can afford only $1 per month -- that's basically two fancy lattes per YEAR -- that will really get us moving in the direction we need to go. Plus, you'll get access to behind-the-scenes posts about the museum!
You can pledge higher than $1 by changing the price as you pledge. We'll be adding more tiers in the future as we're able to serve you more. Rewards and things like collection access (even before the museum actually exists) are planned.
About The Bloop Museum
Greetings, programs! 
We're The Bloop Museum. 
Here is a short FAQ:
Who are you?
We're a group of friends who have worked IT and coding jobs. We're totally obsessed with old tech. We remember what it was like to go online before the Internet. We remember what it was like to use 3D before computers had 3D hardware. We like games, media, computers, and being entertained. And we want to entertain
you
, as well!
That guy in the video (once it exists anyway) is Brendan, who, among other things, earned the title "Mr. MAGFest" after running MAGFest for ten years. His innate curiosity of consoles, computers, and more have led to a near-encyclopedic knowledge which leads to detailed technical writeups and exhibit ideas. He wants to instill that same curiosity in viewers like you. He has some cool stuff, and cool ideas of what to do with it so that the museum will stay fresh and interesting.
Also on-board is James, our excellent logistics fanatic with a wealth of tech knowledge, who has built datacenters around the world.
We've got Patrick, who got his start on a lowly Apple II, and moved on to build supercomputers for NASA, MIT, and Harvard. He's really excited to showcase the art created throughout the years with retro technology. 
Scott is a Doctor and Chemist who will help us make sure things explode if they do not do it on their own from old age. He also works in Academia, and has a keen ability for teaching others.
Last but not least, Andrew is a sysadmin with a penchant for graphics advancements and all things Doom & Quake. 
We
all
have a lot of experiences that we are eager to share the stories of, and we plan to recreate some of that in the museum for you to witness, just as we did. We want to show you what was exciting about growing up during the beginning of the home computer and game console revolution.
Just what kind of shenanigans are you trying to pull?
Uh, so our collections are getting
slightly
out of hand. Computers and consoles and really rare items are being stored in storage units, closets, and on top of loft beds. It's time for us to get butt in gear. Or our gear in gear. Whatever. We want to have a single, brick-and-mortar, year-round location that is open to the public.
We're gonna have stuff you know about. We're gonna have stuff you've never seen before. It's gonna be interactive. Not only will you be able to point at our cool stuff and say "Ooh!" and maybe "Aah!" but we can also hang out and play around with it together. 
Aren't other people already doing this?
There are a handful of other game and computer museums, sure! We have a lot of respect for them, and hope to partner with them, even. That said, it's our opinion that we have a different, unique approach that you will appreciate. To boot, we intend to put our facility somewhere that does not compete with other museums so everyone has access to cool tech history and can learn about it.
My city needs a museum like this!
That's not a question, but we definitely care about location. We need something easy to get to, big enough to hold our stuff, and hopefully near lots of people that would enjoy it. Anyway, you are welcome to drop ideas on us! We would definitely listen, especially if you were a Patron (hint, hint). 
Seriously? Stop the presses!
No, please don't! No matter where your feelings on ethical journalism lie (too soon?), we need you, and all your friends, and anyone that is willing to spread the word to the world. You can like and retweet
our pinned tweet
or invite people to
our facebook page
.
Don't play games with my heart!
This isn't a dating site, this is Patreon. No games except for the stuff we're putting in the museum. Maybe you're looking for Datereon? (PS. if you start that site, please become a Patron to license the name)
What's your plan?
In 2018 we'll file for 501c3 educational non-profit status. While we're waiting, we plan to fix up some of our cool old and obscure stuff. We'll show things off and educate you about them, and even bring stuff to events for everyone to enjoy if we can! Once enough money is coming in, we'll rent out a small space, and if the response is excellent enough we can pay mortgage on our own place instead of renting!
Ultimately, a permanent, owned building that we can show off all of our collection to the public is what we really want. We want to serve the community in our own special way, providing a hangout and meeting spot for creatives, intellectuals, fans, dreamers, and anyone interested in what we have going on.
Right, but where is my money going?
Our current goals can be clicked through in the upper left. Because we're in a formative period, lots of things are up in the air, which can be frustrating to hear if you want to know how you're helping us. Like we mentioned, we have things stored all over the place. Some locations cost us very directly (for example, our current storage unit is $330 per month) but other things (dumb stuff like "a pile of things in a bedroom in a house") don't have a specific dollar amount assigned to them. Another concrete number: It looks like it could cost us $300 per month to retain an accountant. 
Until we're more established, it's safe to assume our funds will go towards three primary things:
paperwork type things (for example, we have not yet filed for nonprofit status, and that costs roughly a grand)
storage (we're already storing many things that can go in the museum)
building (hopefully-portable) exhibits, so we can spread the word by sharing what we already have
Why Patreon?
We think there are a lot of people here that support our mission, and we think Patreon is an easy way to jump on board. Also, it gives us a way to offload the logistics of taking and tracking donations so we have more mental bandwidth to focus on what really matters: Making this museum
happen
.
Really? That's it?
There's so much we have to say. There are going to be a lot of questions. We want to know what you want to know so we can make sure you're in the know. You know? So ask us stuff and we'll update this description.
$194.53 of $500
per month
Let's not sweat the small stuff
We've got a lot of little things to take care of. Some fee for this thing, some charge for that thing. Webhosting. Paperwork. Hiring someone part time (or retaining them if possible) to manage that will also take some money. It would be awesome if we could just have that taken care of. We really appreciate your help trying to achieve this goal!
1 of 3
By becoming a patron, you'll instantly unlock access to 1 exclusive post
By becoming a patron, you'll instantly unlock access to 1 exclusive post
Recent posts by The Bloop Museum
How it works
Get started in 2 minutes