Preferably, the main reason people would donate to me is that they enjoy my work, or share my tastes. That would be great. I like girls and girl fights(Preferably wrestling, but I'm open).
Update:5/04/2016
Limited Time:
Patrons can bring aboard any number of new patrons, donating any amount. That patron, along with the new patrons referring to that patron, will receive the current alpha for the currently featured game.
Offer Expired: 6/15/2016
Update:12/19/2015

I'll at least say that the animation library idea was a unique one. Doesn't look like it really took too well however. So with that, I'm reformatting my patreon to be a tad more enticing.
First, some definitions of content found here, just to clear up any misunderstandings:

Featured Games:

These games hail from my website and are usually shown on my patreon,
mainly for garnering attention
. A featured game will most likely be released at some point in the future(though it can take longer than you might like) regardless of the patreon campaign, thus it is not a direct result of the patreon campaign or it's workings. A featured game may however, be used for patron rewards.
Tentative Games:

Full blown games that are to be developed in tandem with the patreon campaign. These games rely on patron input and feedback, and are released when a benchmark is reached.
Mini Games:
This is an idea that I'm newly introducing to my patreon campaign. Mini games are small games that have a very limited scope when compared to tentative or featured games, hence they can be created and updated very quickly. If you see a preview or a screenshot posted, chances are it was ready to play yesterday. Hopefully, I'll be able to make a bunch of these. Like tentative games, these are also released when a benchmark is reached, and are influenced by patron input and feedback.
$ 50 Donators can now request that a character or character's likeness be incorporated into "Queen of All-Stars". Guidelines are as follows:
Requested characters must be female
Requested characters must be humanoid beings
Incorporated characters may not completely fit design specs for sake of keeping with developmental limitations(Although I'll try my best)

Currently Featured Game: Monster Beater Reki

Previously Featured Game: Mighty Matsume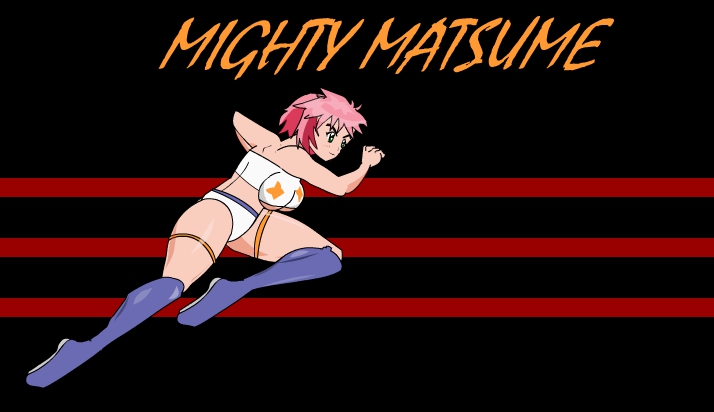 Credit to patron XodusZ for Yuki, the final boss featured in the game.

You play as idol wrestler Matsume, who must go through several stages that will currently feature 4 enemies. Each enemy will have unique attacks, unique patterns, and will do different things to Matsume.
You can try/buy the game here:
http://bombtehsite.net/truewrestle/CG.shtml
Tentative/Mini games will be released at the start of a month once the respective milestone has been reached. No more than one tentative/mini game will be released in a month. All tentative/mini games will be showcased beforehand.
IMPORTANT:
Keep in mind, that tentative/mini games will only be released if a milestone has been reached! However, you won't be charged for anything unless a build is being released.
Tentative Games Under Development:
Queen of All-Stars
Domina Party
Mini Games Under Development:
Mini Game B
Mini Games Currently Playable:
Phoenix vs. Pantera
Double D: Nexus
Armored Arena
Featured Games Completed:
Mighty Matsume