BoodleBobs
is creating Animated Music & Stories
Select a membership level
Samuel Book Patrons
Limited (26 of 26 remaining)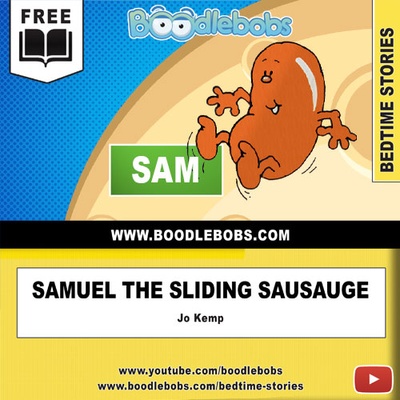 How does one write a story about a sausage that's funny? Falling off a plate is funny. And a sausage bouncing is funny but there has to be more to it than that.
Bring in a cat
'who really loves sausages – to eat!'
and you may not have a best seller on your hands but you'll have a child who'll laugh and want the story over and over again.
Samuel the Sliding Sausage is one of the principal characters featured in the original (1980) first six books published by Thurman Publishing (Mr Men).
He was one of the first of dozens of characters devised to amuse the local children in Radcliff, Manchester (1979).
Become one of Samuel's 26 special patrons and get your image/name/link in the following places
Samuel's book page on the BoodleBobs.com website
Samuel's podcast page.
In the English version of Samuel's Book
www.boodlebobs.com/sam
Raj's Book Patrons
Limited (26 of 26 remaining)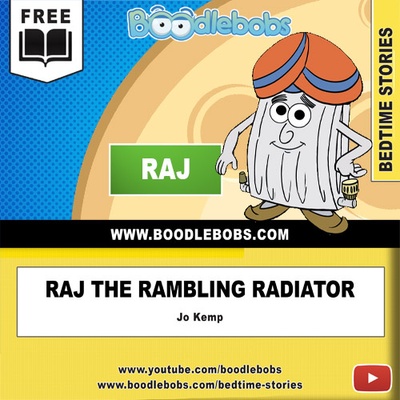 "Bring me damp towels!" he called from across the hall, "Bring me wet washing and socks!"  Anything that was cold.. or damp… or just plain soaking wet.. loved Raj. And there was always room for one more on top.
Raj, a name meaning king, is kind, generous, thoughtful and caring.
Raj's cartoon was the very first we made.  Although a little basic, we still love its charm.
Become one of Raj's 26 special patrons and get your image/name/link in the following places
Raj's book page on the BoodleBobs.com website
Raj's podcast page.
In the English version of Raj's free to download book
www.boodlebobs.com/raj
Eva's Book Patrons
Limited (26 of 26 remaining)
Because timing eggs only takes minutes, Eva had a lot of time on her hands. It gave her time to think so she thought a lot about chocolate.
Bars of chocolate, boxes of chocolates, chocolate biscuits, chocolate cake, anything so long as it was chocolate.

But there had to be more to life than chocolate?

Eva (A female given name.meaning "life" ) – being an egg timer – found she had a lot of time on her hands so after exasperating her friends with excessive counting, she ventured outside to count how long it took for a hen to lay an egg.
There are children who don't really know where eggs come from, or the dangers hens are faced with, and they'll find this story 'Eva the Energetic Egg Timer' is enlightening in more ways than one.
Become one of Eva's 26 Special patrons and get your image/name/link in the following places
Eva's book page on the BoodleBobs.com website
Eva's podcast page.
In the English version of Eva's Book
www.boodlesbobs.com/eva
About
Bringing to the screen a series of 26 stories called
the BoodleBobs,
which were originally published in the crazy '80s.
Our animation consists
STORIES (Children 3yrs to 9yrs) - All stories will be available as free downloads in multiple languages
SKETCHES (8yrs and up) - Comedy sketches, announcements, reviews. Sketches for us an opportunity to engage with the community, collaborate, explore interesting topics and develop characters further.
SONGS (All) - Following Roger's decision to break up the BoodleBob band and his threat to follow a solo career with an independent label, we have reluctantly agreed to his terms of producing music mostly for adults.
SONGS
Are songs are the perfect vehicle to promote the BoodleBobs and have a lot more lined up and in production.
Back us for our next project. Invisible ft Dorothy. The follow up song to Rogers #PLIM Perfect Love Is Me
Roger is now doing dedications - Check out our Patrons packages.
STORIES
The first set of Boodle Books was originally published in 1980 and is now receiving an animation video facelift for social media.
(Surviving originals)
The stories are written and narrated by Jo Kemp, who also wrote the cult fist series of
'Jamie and the Magic Torch
' and
'Chorlton and the Wheelies'
. Jo also produced over 100 episodes of
'The Raggy Dolls'
.
Download the stories here
www.boodlebobs.com/books
(Direct download - No form needed)
Never miss an update by subscribing to our YouTube Channel here
https://www.youtube.com/boodlebobs?sub_confirmation=1


Full list of stories


Book Testimonial - Danielle Bruckert - www.freekidsbooks.org
Thank you! I am amazed at your collection and your willingness to make them free. I just read the first two and the whole story, and I am honored to have such a collection of great quality work, please send my regards and thanks to the author for all her wonderful work and her philanthropy. Danielle







SKETCHES
The stories are the backbone of our content, but as we complete more of the book conversions to video, these will form the basis of long-form modular content. Sketches will be used along with live feed animation to produce a weekly show consisting of stories, songs, QnA, travel-blog, how too and sketches. They work really well in joining the content together.

Our sketches are targeted at an older audience (yet remaining family-friendly). And allows us to have fun, promote and develop/introduce new characters.

Over the Christmas period, we decided to use Turkey as our promotional mouthpiece to gain us, Subscribers. In short, he had to hit 1000 subs or he was invited to Christmas lunch. Here is the final video in this set of 6 Turkey shorts.


By becoming a patron, you'll instantly unlock access to 5 exclusive posts
By becoming a patron, you'll instantly unlock access to 5 exclusive posts
Recent posts by BoodleBobs