Borderlands
is creating a Northern Territory literary journal
Select a membership level
Contributor
Thanks for supporting NT storytelling! To show our gratitude, you get: 
● Your name listed on the supporters page on our website
● Shout out on our Facebook page
● Access to exclusive bimonthly behind-the-scenes content about the process of creating and publishing the journal  
Supporter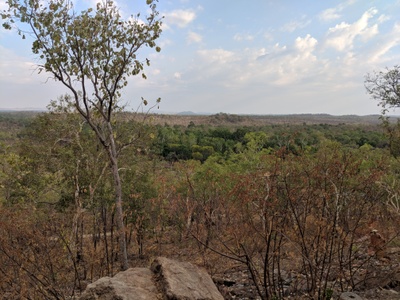 Thanks for supporting NT storytelling! To show our gratitude, you get: 
● Rewards from $3 tier
● A copy of our print pilot edition to be published in the first half of 2020
Supporter Plus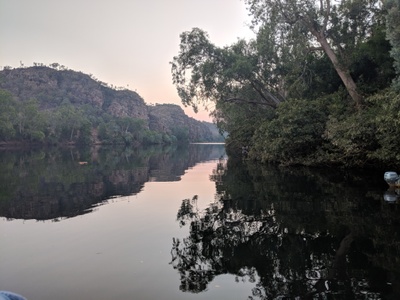 Thanks for your support of NT voices! To show our gratitude, you get:
● Rewards from $6 tier
● A handwritten, snail-mail thank you postcard
 ● A copy of Westerly journal's November 2019 print issue, inclusive of an NT feature curated by Borderlands
About
Borderlands is a project to create and publish a dedicated Northern Territory literary journal that showcases Territory stories by Territory writers and storytellers, and those with a legacy connection to the Territory. The first online edition of the journal will be published in September 2019. We aim to create a sustainable publication that pays such writers and editors fairly for their work.

Until May 31st 2019, all pledges made to the project up to $10,000 will be multiplied by 12 and matched by Creative Partnerships Australia through their MATCHLab program.

Who are we?

We are three Northern Territory writers and literary scholars dedicated to creating space for NT storytellers within Australian literature.

Glenn Morrison is an award-winning author and journalist, and a researcher of NT literature and media. He is the author of MUP bestseller Songlines and Fault Lines (2017) and the highly-praised academic title Writing Home: Walking, Literature and Belonging in Australia's Red Centre (MUP Academic, 2017).

Raelke Grimmer is a writer in her final year of a creative writing PhD. Her creative work has been published in Griffith Review, Westerly. Meniscus and Dubnium. She lectures at Charles Darwin University.

Adelle Sefton-Rowston is a writer, literary scholar and critic, and has a PhD in Literary Studies. She is President of the NT Writers' Centre, and three times consecutive winner of the NT Literary Awards Essay prize. Adelle has a forthcoming book with Peter Lang, exploring Australian literature and paradigms of reconciliation. She lectures at Charles Darwin University.

What is a literary journal?

Literary journals publish essays, memoir, short stories, poetry and other writing. Some examples include Westerly, The Lifted Brow, Kill Your Darlings and Griffith Review. They are spaces for ideas, where emerging and established writers can publish and find an audience for their work and contribute to local, national and international conversations.

Why does the Northern Territory need a literary journal?

Australian literature is largely created and published on the eastern seaboard or in metropolitan centres. Yet Australia is a vast and multicultural nation. In the Northern Territory, a fifth of the population was born overseas, and a quarter is Indigenous. Indigenous voices are becoming more prominent across Australia, but need the added weight of those from the Northern Territory, the Australian jurisdiction with the highest percentage of Indigenous people. The Territory's isolation from the rest of the nation and proximity to Asia also contributes to the Territory's unique lifestyle. These are stories that need space within Australian literature.

Writing about the Northern Territory is too-often undertaken by non-Northern Territory writers, who cannot bring the often-necessary insider perspective to such stories and ideas. A dedicated Northern Territory journal will benefit the local community by creating a dedicated platform to showcase Territory storytellers and the Territory to a national audience. Furthermore, on a national scale the project will elevate those voices to be more frequently included as part of Australian literature. The journal aims to publish storytelling not only in text, but through photojournalism, oral storytelling, images and video.

What will my pledge be used for?

To support Northern Territory writers and in turn the Northern Territory's arts industry, writers need to be paid for their work. Currently, writers are often paid little, if at all, for their work, yet researching, writing and editing a piece can take months. All pledges will be used to pay writers and editors for their contributions to the online pilot edition of the journal. The Australian Society of Authors sets the average industry rate for writers at $0.71 per word. Our goal is to pay our contributors this rate for their work.

Why Patreon?

We are dedicated to securing the longevity of the journal. In 2018, we undertook research to scope the viability of an NT literary journal, supported by an ArtsNT grant and seed funding from Charles Darwin University. We found that while government grants have a role to play in funding literary journals, they are not a reliable funding source. Patronage and philanthropy are key to creating a sustainable journal and crowdfunding is a key part of that.

We chose Patreon specifically because the online journal will be open access. We do not wish to exclude anyone from accessing the content. In lieu of a subscription fee for accessing the online journal, we are asking those who can to support Northern Territory storytelling and Northern Territory storytellers through our Patreon page.

In 2018, the project was chosen as a participant in Creative Partnerships Australia's MATCHLab program. As part of this program, for all donations made until May 31st 2019, we will be matched dollar for dollar up to $10,000. For monthly pledges through Patreon, all pledges will be multiplied by 12 and matched. If you pledge $3 per month, Creative Partnerships Australia will give us $36. $12 a month, and we will get $144 in matched funding.

Please note that all pledges made through Patreon are in US dollars.

Pledge and support the creation of a space where Territory storytellers can be heard, and also be paid for their work.

$101.70 of $1,000
per month
Reaching our first goal will allow us to publish 1-2 storytellers each month (depending on length and type of piece), and is the bare minimum we need per month to consistently publish the journal and pay industry average rates. Help us get there by May 31st, and all pledges will be multiplied by 12 and matched through Creative Partnerships Australia's MATCHLab program! 
1 of 2
By becoming a patron, you'll instantly unlock access to 6 exclusive posts
By becoming a patron, you'll instantly unlock access to 6 exclusive posts
Recent posts by Borderlands
How it works
Get started in 2 minutes