Brenda Kahn
is creating music downloads, spoken word, poetry, videos
Select a membership level
Join the Mission!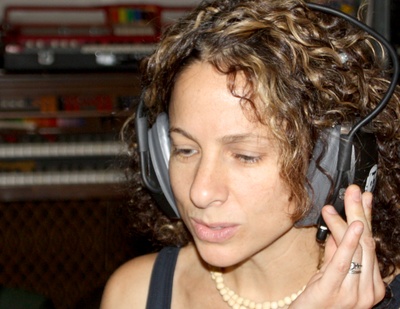 Thank You!  This is the stuff we'll be doing on the mission!!
Receive an update every two weeks with Brenda Kahn Happenings!  Weigh in on what cover songs I should record or topics I should write about.
Access to patron-only content
Connect with other patrons
Downloads and Gratitude
Every month you donate $5, get early downloads of releases and written work before cyber/street date. 
I will add your name to the credits of videos and the website Wall of Gratitude. 
And all previous rewards!
DEMOs
Every month you donate $15 or more, you'll get an mp3 demo of something I'm working on, or possibly something from the archives. This could be a song or a spoken word piece sent only to my Patreon supporters!!
About
HELLO!

So glad you made it to my Patreon page. THANK YOU for all the support from friends, fans, and family who have helped all along the way! I am truly inspired by every email, Facebook post, and tweet that lets me know how much my music means to you!! 
My goal from the beginning of my career was to connect with people and make great art. Patreon is the perfect place to make that happen. I've just released a book of poetry, 
Ode to Chores: the Good, the Bad, and the Laundry
, and working on new recordings, writings, and other creative things!  With your collaboration, I can get all these cool things into the world by publishing, releasing and sending directly to you. 
The way Patreon works is - a supporter can donate whatever they want per month and the donation is recurring each month after that. There are gifts of music, writing, and song that go with different levels of patronage. Anything, from $1/month up, is hugely helpful to the cause. You can check out the levels on this page as well.
WHAT'S NEXT?
My initial goal is $500/month.  Enough to support music equipment and studio time.  There are so many moving parts; investing in equipment for recording and live shows, tour costs, studio time, video editing, musicians, and promotion of books and music. My next-level Patreon goal is to focus FULL TIME on creating work 100% supported by YOU.
THANK YOU!!!  for joining this project at ANY level. 
LET'S MAKE SOMETHING.
Bren
MY STORY
For those who
don't
know me, I'm Brenda Kahn, singer/songwriter, poet, and writer. My career started in the early nineties when I signed a record deal with a Brooklyn indie label (Community 3 Records) and released my first album,
Goldfish Don't Talk Back
. After the release of
Goldfish
, I moved to Minneapolis and toured all over the Midwest and the East Coast. My songs BLEW UP (
Ka-POW!
) on College Radio, and I started playing to bigger and bigger audiences.
In 1992, I returned to NYC, and worked as a waitress at CBGBs. But then (
BAM!
) I was signed to Columbia Records, and released my best-known album,
Epiphany In Brooklyn
. I continued to tour – but now instead of sleeping on couches and floors, I was sleeping in hotel rooms. I opened for Bob Dylan, and the Kinks, and David Byrne, and became friends with - and toured with - Jeff Buckley who was also signed to Columbia.
In 1995, my third album (
Destination Anywhere
) was dropped
2 weeks before the release date. (
OUCH!
).
Shanachie Records stepped in and released it a few months later. I continued to tour, and to make records (Hunger, Seven Laws of Gravity and Rocket to the Moon) and videos through the mid 2000's.
Over the next ten years, I started a family (two boys), and started teaching kids guitar, voice and writing. Life with kids took over, but in the background, I continued to write songs and poetry, digging into the beautiful chaos of life as a mom. I started chronicling my mom thoughts in verse and I'm working on the release of my first book of poetry entitled
Ode To Chores: The Good, The Bad, and the Laundry.
I'm back playing live shows, writing songs and still driving kids to flag football and art class. Patreon is making it all possible. 
Thank you to the early adopters who jumped on board to get this community going.  Immediate projects launching in the next two months include: a poetry book on Kindle about the real life of being a mom (Ode to Chores the good the bad and the laundry), the re-release of 1999 album Hunger through the Orchard, and recording two new songs for release this summer.  So thanks for pitching in and building this community.  You are amazing!
1 of 3
By becoming a patron, you'll instantly unlock access to 17 exclusive posts
By becoming a patron, you'll instantly unlock access to 17 exclusive posts
Recent posts by Brenda Kahn