Brewhoppin
is creating stories about good food and craft beer.
Select a membership level
Begrudging Supporter
You beautiful soul.  Thank you for
begrudgingly
supporting beer journalism!
Now for the goodies:  
Access to Patreon only posts that share behind the scenes stories, first looks, and special sales and giveaways.
A not-exactly-monthly supporter e-mail for a first look at what's going on with Brewhoppin
One entry to the Patreon only special Summer Giveaway!
A Special Brewhoppin Gift from us to you on your Patreon anniversary!
Supporter. Officially.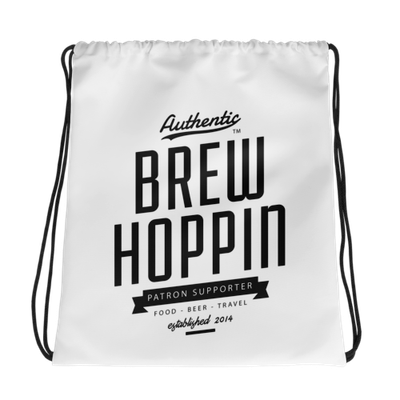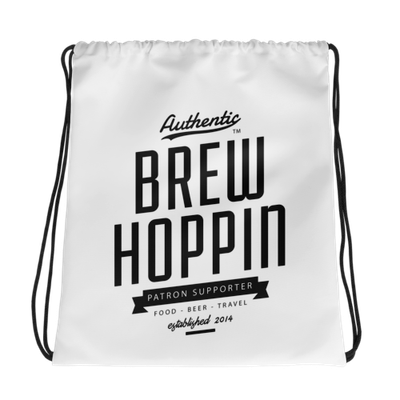 For the cost of a pint a month, you good Patreons truly want to see us succeed!  And for that we thank you.  With STUFF.
Like:
A Brewhop Shop coupon only for you.
A Brewhoppin "Swag Bag".  A tote bag full of beer novelties and Brewhoppin goodies.
Your name on the website's Supporter Page
And a Special Brewhoppin Gift on your Patreon anniversary!
The Committed Relationship
Whoa.  
We are humbled by Patreons like you.  So we made a shirt for you!
Patreons get:
A Patreon only t-shirt.
Free Shipping from the Brewhop Shop
Access to the Brewhoppin Advisory Board, a special Trello board so you can give us input on future content and stories!  Your voice matters.
That sweet Swag Bag from the previous tier.
A little somethin' special from us every six months!  We like you a lot.
About Brewhoppin
For nearly four years Brewhoppin has only wanted to do legit journalism about food and beer.  Because why not?


And nothing ever came of it.  Until now.
This year we decided to do legit journalism about food and beer.  And start a patreon.  And sell merchandise.  And do it with snark.  
As you can see, we have a theme. 
Legit journalism.
  Yup, we know there are great stories out there.  We want the stories behind the best food and drink and beer across the country.  We want to teach our audience how to brew their own beer at home.  We want to help people find affordable meals in obscure places. 
Most of all we want to entertain you with good stories, mouth watering pictures and a good time.
To do all this entertaining and mouth watering we go far and wide in our spare time.  We talk to strangers and eat weird food.  We somehow convince starving artists to take beautiful photos for us.  We feel the way of life is to experience everything.  All of it.
Why this Patreon thing?

We discovered Patreon from a few of our favorite
online entities
and 
blogs
and 
podcasts
.  They have generous fans (fans like ourselves) who contribute as little as the price of a pint a month to help them create amazing things. 
And they don't advertise.  We
despise
 advertising.  Popup ads.
Shudder.
 Banner ads.
Tremble.
 Auto-playing videos that scream loud noises. 
Getoutofhererightnow. 
With Patreon we will never have to resort to shady advertising techniques to pay our underpaid writers.  
With Patreon we can also grow.  We can hire editors, and writers and more starving artists that want to share their work with for us.  
But the best part about using Patreon to support us? 
You can quit at any time.
Yup, that's right.  We don't do it for you anymore?  Stop it.  Can't swing it this month?  Cancel it.  We will still be here for you when you come back.  But wait... there's more!
Gifts for our Patreons!

Each membership tier gives you more and more stuff.  And we love giving away stuff.  All patreons regardless of level or generosity will get early access to important dates or giveaways or features.  
We will also have Patreon only gifts at random moments in time and regardless of patronage level
everyone gets a gift on the Brewhoppin' Anniversary. 
It's January 1st.  Officially.  It's a holiday.
So without further ado... back to the show and we are so grateful you're with us.
We start with a humble goal.  

We just want to keep on keepin' on.  

At this level, all the basic costs of running Brewhoppin's online presence are covered. 

From hosting to behind the scenes and even the programs running our editorial pipeline, our editor and staff writers no longer have to share meals and beers to help pay for the website.

It's a bright new day thanks to you.

1 of 2
By becoming a patron, you'll instantly unlock access to 7 exclusive posts
By becoming a patron, you'll instantly unlock access to 7 exclusive posts
Recent posts by Brewhoppin
How it works
Get started in 2 minutes