BubbaWorld
is creating Comics & videos .... but mostly comics
Select a membership level
EVERYONE READS A COMIC!!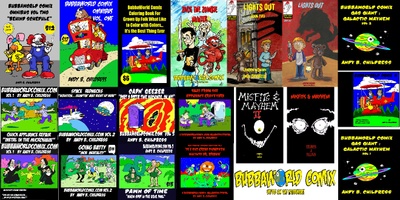 For $1 a month you get to read anything that gets put up. My original six humor comics will appear here on the patreon site for patreons.   I will be working a comic called FILTHY BARGAINS that will appear to patreons first before printing anywhere. I will also be making a fantasy sci fi strip that will appear here first before publishing. If I get a short story written it will appear here before collected into a book.  You'll get behind the scenes of the books and podcasts I make.

READING COMICS AND SOME EXTRA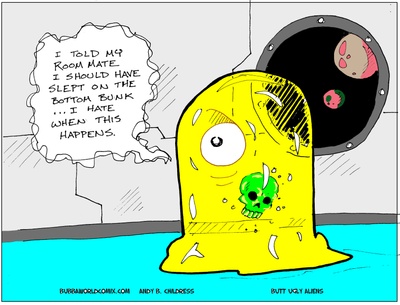 Each month read comics that are in tier one and also when you pledge for multiple months in a row you may get something in the mail occasionally.  
On this tier you get an advertisement on the BubbaWorld Comix homepage.  This is for restaurants and places to dine.  I'm starting a dining guide on my comics website.  At this price you have to provide the ad ready artwork.  The ad will be linked to your site or facebook, whichever you choose.  
About
I'm a cartoonist. I write and draw the humor comic strips and some horror and some sci fi.  My tiers are simple, $1 and $5 and $11 .  All tiers get access to anything posted on this site.  The $5 tiers will occasionally get extras sent to them by mail such as art and such if they are here for multiple months.  The $11 tiers are for those who want to advertise on my website.  This tier has a limit and I reserve the right to decline advertising if I deem it inappropriate for family viewing. Basically if you support me here you're supporting me to make more comics and creative content.  You may get some behind the scenes tid bits here and some early viewing of comics and book content.  I'm just playing it by ear at the moment due to my full time Job.
           The stuff I do:
Humor Comics:
QUICK APPLIANCE REPAIR
MISSISSIPPI SWAMP DRAGONS
DAWN OF TIME
CAPN' GEEZER
SPACE REDNECKS
GOING BATTY 
an assortment of one shot gag comics
---- These will be appearing here on the patreon site now. -----
     I'm working on a horror comic 3 part series called LIGHTS OUT with my friend Landon McMinn who wrote this horror series that I'm drawing.  Book 1 and 2 are already out.
     I'm working on a new humor comic called FILTHY BARGAINS about a thrift store chain and it's employees.  As I get pages done they will appear here first before using them elsewhere or making them into a book.
     I'm working on a new comic story I'm calling OUBLIETTE which is more of a sci fi fantasy type of comic.  Pages will appear here as I get them done for the book.
     I'm working on doing a BWC podcast that will be on my youtube channel.
     I am now making short films with my buddy Landon McMinn about a crossroads demon that loses his job and has to crash at his buddy, Landon, at his house with Landon's wife and newborn child.  It's called "Rosco" after the puppet that plays the crossroads demon.  I'm also the puppeteer.
     I'm planning on writing more short stories and collecting them.  The stories will appear here as I finish them before I publish them.  They will be a mix of humor , horror and sci fi.

     There's probably more I'm working on that I can't think of right now..... absent minded artist and such.  If you support me here then you're the type of person that likes to support someone just so they can make more creative content.  

By becoming a patron, you'll instantly unlock access to 65 exclusive posts
By becoming a patron, you'll instantly unlock access to 65 exclusive posts
Recent posts by BubbaWorld