Io Ascarium
is creating propaganda & funny pictures
Select a membership level
BUH!?
This tier grants you access to PDFs of all my projects as well as links to my in progress things. You also gain the ability to, when encountering me in person, demanding a handshake where I will say "thank you for your service" with some, but not too much, eye contact.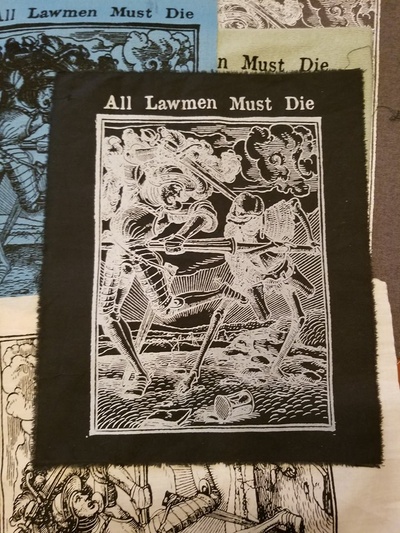 DUH!?
I mail you a random print every month. Both prints from my shop and new prints that only i and maybe twitter have seen.
DUH 2!?
Every season I mail you a new zine, comic, or weird manifesto. These could be auto-bio comics about squatting and homelessness, tales from mage's guilds squatting underneath major cities, fragmented anthropologies about modern hobo culture, short stories about cop-hating private detective's on a sinking continent, Space Ghost: Coast to Coast fanzines, ect.
About Io Ascarium
Hello! Hey! I'm io, a genderless goblin who recently left their mobile hobo fortress to live the stationary life in an underground bunker in the Northern "United States". During my tenure as oogle queen I wrote No Gods No Dungeon Masters, Here at the End of all Things, and Synestesiate Incorporeum. I organized the Monster Mash zine fest to benefit 
St. James Infirmary
, Spoke at San Diego Comic-Con, Gaymer X, and the South Bay Conference on Gender, Worked creatively and "artistically" on many anti - fascist causes across the country and Europe. And also other stuff, don't ask.
My new status as a still-stander has given me the space and resources to go harder at projects I've pined over for years. My work generally deals with anti-capitalist criminality, the end of the world, irony-bitch absurdism, homelessness, guilt and self-obsession, sci-fi/fantasy as an ideological forge, accountability and coercion, and regular ol' queer shit. 
I try to fundraise and make objects specifically to provide material aid to trans folx fleeing crisis, sex worker advocacy, anti-fascists in trouble, and prisoners. I co-founded a collective that publishes art and comics done by queer prisoners to fundraise for inmates commissary funds, 
its called ABO
, its good. 
By donating to my patreon not only will you be helping me continue to make what I already do and offset costs I eat doing more explicitly "activist" things, but you will help expand the mediums I work in & help motivate my ass towards projects left moldering in the to-do pile for lack of resources. You will help afford me the time to work on projects such as an anti-nostalgia look at leftist history, some totally not real -
just for laughs
- criminal lifehacks, guides to urban cryptids & ghoulies, and self contained mini-RPG adventures.
Funds will go towards membership at a printing shop, better materials, transportation to the crypt that I draw my power from, and a shirt with flames on it. 
Solidarity for always,
io
Recent posts by Io Ascarium