bybyblue
is creating Video Games
About bybyblue
 Yo!
I am a self taught 2D Artist/Animator, Pixel Artist, and Programmer just trying to make cool stuff. I love all things
Jet Set Radio
, and pretty much anything with a similar aesthetic!. I'm usually busy working on my current project
Project Fantasy
, but I occasionally create fan art, and other small projects as well.
 What is Project Fantasy? 


Project Fantasy
is a
LowRez
platform fighter with an emphasis on fast paced weapon combat mixed with elemental powers and very unique character gimmicks.  This small game started out as an entry for a LowRez GameJam but I was unable to finish in time for the deadline.  After some feedback, we decided to continue with development and turn it into a full fledged game.
What's the Goal? 

The current goal is for us to have a nearly complete game a year from now  (So by June 2020).  The game will have 20+ Characters, 25+ Stages (not including variants), 1v1 online matchmaking, and a Story Mode.  
Extra! 
Additionally, In my spare time I like to make really jank party games for me and my friends, and I want to start sharing them around. Supporting me on Patreon will grant you access to some of these games as I  create them.  Just don't expect these smaller experiments to be polished lol

I'm usually pretty awkward, but I appreciate all who support  (  ̄▽ ̄)ノ THANK YOU!
Select a membership level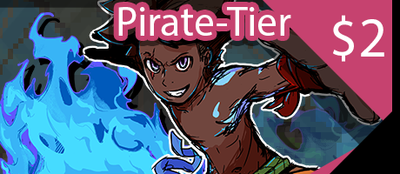 Pirate Tier
•Gain access to behind the scenes concept art, sketches, and posts about development.
•Gain Access to Character Art Polls.
•Gain Access to the Project Fantasy Discord.
Includes All previous Rewards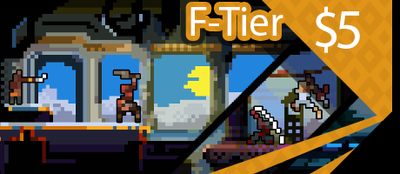 F Tier
•Gain access to the most recent Demo from the Show Floor.
•Gain Access to the Project Fantasy Discord. 
•Participate in Behind the Scenes polls.
•Have your name read by the game's Announcer (Name must be appropriate via our discretion).
Includes All previous Rewards
If we reach this.  Once a month one of the Artists on the Team will create unique art for a revealed character from the game that will be decided on via a poll.
1 of 2