bysarlo.com
is creating Podcasts
Select a membership level
I Drink Tea...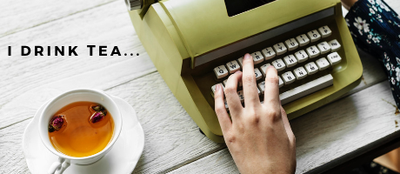 You drink tea. You know which ones have caffeine and which ones don't. Ordering Starbucks sized drinks makes you anxious because what was so wrong with Small, Medium and Large?
You're excited to support two women in small businesses who just want to help people become healthier adults. 
A personalized Welcome Video from both of us (and maybe Parker)!
Vote monthly on the topics you want to hear us cover next
Instant Coffee
Is powdered coffee really coffee? You're not sure, but you're certain you don't care. The caffeine kick lets you focus for a few hours and a buzz is a buzz. 
You're excited to hear and read about inspiring client stories and the many ways that Karen and Kelly are using their intuitive gifts. You might grab a pen and paper just in case, but you're also content to just sit back and hear a fun twist.
All previous rewards, plus...
Monthly personal blog by Karen 
Early access to Coffee with the Sarlos in video format
Light Roast
No one ever told you that light roast coffee has the most caffeine in it, but it makes sense now, why you listen with so much anxiety. 
You're interested in good "food for thought"- concepts that will make you go "huh" with an exclamation point instead of a question mark. You're inspired to test out some new lifestyle changes and excited about the possibilities of feeling more ease. 
All previous rewards, plus...
Complete monthly episodes of the podcast series Sips of Sanity
Monthly Habit Tracker
About
About Karen & Kelly
We're Karen & Kelly Sarlo of bysarlo.com, a mother-daughter duo who are Mediums, Medical Intuitives, Psychics, Energy Healers and Mirror-Touch Synaesthetes.
We've got our own personal practices seeing clients one-on-one and if that's not enough, we also write, host and produce two podcast shows called
Coffee with the Sarlos
and
Sips of Sanity.
We basically want to save the world. And we're trying to do that by educating listeners about what healthy adulting looks like. 
About the Podcast Shows
Coffee with the Sarlos
 is a full-length podcast show that gives an inside look at the beautiful, heartwarming (and sometimes heart wrenching) messages that are channelled during personal sessions. You will also hear about the remarkable intuitive gifts that we live with day in and day out as mother and daughter. 
Sips of Sanity
is our mini-series that focuses on giving listeners a practical and step-by-step toolkit for understanding and growing in your emotional intelligence.
Sips of Sanity
airs the first week of every month, Monday to Friday.
About our mission- and how you can help
We want to provide quality content, free of sponsored ads of any kind.
 We want listeners to know that the resources we are excited to connect you to have nothing to do with kickbacks or under-the-table deals. We just want listeners to have access to the tools they need to have healthier, happier, more fun lives. And we want to do it all for you without hitting burnout. 
We are extremely grateful for donations of any size. And we can't thank you enough for your word of mouth referrals. Help us keep running so we can continue to teach and entertain you while you navigate your way to a healthier, happier you.
When we reach $1,000.00 our professional podcasting microphones and preamps will be paid off! We're committed to quality equipment. No tinny sounds or static that make you want to rip your earbuds out!
1 of 3
Recent posts by bysarlo.com
By becoming a patron, you'll instantly unlock access to 122 exclusive posts
By becoming a patron, you'll instantly unlock access to 122 exclusive posts