Caitlyn Sway
is creating SWAYMAG
Select a membership level
FRIENDS WITH BENEFITS
We are friends, aren't we?
Your pledge unlocks not only my ENTIRE archive of premium content, it also gives you UNLIMITED ACCESS to SWAYMAG with ALL exclusive & uncensored content featuring new models every month, upcoming artists, entrepreneurs, and MUCH more.
SCHOLARSHIP DONOR WITH BENEFITS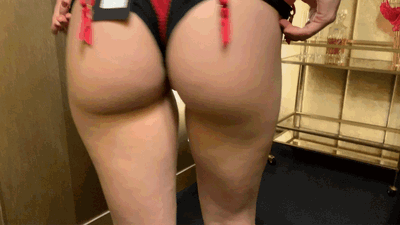 Feeling generous? Make a donation to support my return to graduate school! 
Your pledge unlocks my ENTIRE archive of premium content and gives you UNLIMITED ACCESS to SWAYMAG with ALL exclusive & uncensored content featuring new models every month, upcoming artists, entrepreneurs, and MUCH more.
About
She's risqué but never explicit. She's flirtatious but fiercely independent. She's the pin-up girl, an all-natural American sweetheart created to win the adoration of men and women across the country.

What is SWAYMAG?
SWAYMAG has everything you want without the censorship of social media or the burdens of circulating a printed magazine (but like, maybe one day!?)
Join now to see exclusive and uncensored content of Caitlyn Sway
with other real IG models and Patreon models, find out what women REALLY want, access exclusive interviews with entrepreneurs on the rise, art, video games, and alllll that shit.
(Yes, there will be some cute butts and funny nip slips!)
HOW DOES IT WORK?
Joining SWAYMAG is an ongoing monthly commitment to the high-quality production of curated content and spotlighting who these Instagram and Patreon models REALLY are! Anyone can join in on the fun on
Twitch
for our livestreams, send us a gift from our
Amazon wishlist
, or become a member here for ELITE STATUS and FULL ACCESS TO NSFW CONTENT!!!
*Please note that PATREON bills patrons at the time of sign-up AND moving forward ON THE 1ST OF EACH MONTH. This means you'll see a charge on the date you sign up, and again on the 1st of the following month (and each month thereafter you choose to remain pledged.) YOU CAN CANCEL AT ANY TIME, but I recommend you create a reminder for yourself to cancel on the last day of the month to get the maximum value out of your pledge and avoid being charged again unexpectedly. It takes 2 minutes to make a reminder in your phone at the time of signup. And you are of course welcome to re-activate your pledge at any time!*


**Q: Is content on Patreon different than on Onlyfans?
A: Yes, they are different. Patreon is the ONLY place to access long-form try-on videos (5-15 min each) and complete professional photo sets. 

Onlyfans features gifs, select photos, personal content, and short-form videos 5 minutes or less posted more frequently.**
Join my Onlyfans here
WHO IS CAITLYN?
I'm a model, writer, and creative entrepreneur based in Los Angeles.
I began modeling in 2009 while pursuing an education in Digital Marketing. Shortly after earning my Bachelor's, I bleached my hair platinum blonde, moved to Miami Beach, ran an illegal Airbnb, helped build an online beauty company, continued modeling on the side, and started alt-fashion & lifestyle blog
Creation Despite
.
In 2016 I moved to Los Angeles and fell in love with the hustle of the city. I gave the corporate world one more chance before realizing that I was destined for something more adventurous...
Now, I'm bringing together everything I've learned to bring joy and value to fans like you. I'm a firm believer in following your dreams and doing what you love for a living. That's what you're a part of when you pledge here.
😍I APPRECIATE YOUR SUPPORT😍
One way or the other, I am preparing to return to school and pursue my Masters in Psychology.
Supporting SWAYMAG will be instrumental in helping me sharpen my mind and achieve a higher level of education in a field where I can make a difference. I hope to do some meaningful research in mental illness, personality disorders, and mood disorders just to name a few. I see myself as a research-oriented academic as opposed to a future shrink - but who's to say?
Anyway, I love creating and sharing sexy pin-up content! No one's twisting my arm here, there's no production company behind the scenes pocketing the lion's share. Just me, you, and Patreon (for now) and I have no end-date in mind for my modeling and my content creation.
And remember this is NOT digital panhandling. If what I do speaks to you, turns you on, sparks insight, inspires you, or makes your day better IN ANY WAY, just following and sharing my content still makes a HUGE DIFFERENCE and I LOVE YOU FOR IT!!!
SWAYMAG is aimed at my
ELITE FOLLOWERS
(cue the crickets?) and those who want access to SWAYMAG exclusives like:
*FEATURED GUEST MODELS
*SEX TIPS & REAL ADVICE FOR MEETING WOMEN
*INTERVIEWS WITH COOL MODELS, ARTISTS, & ENTREPRENEURS
*EROTIC STORIES
*GAMING NEWS
*WHO KNOWS WHAT ELSE??
If you want access to some super exclusive stuff and to get in on the ground floor with the best possible value for SWAYMAG, THIS IS YOUR SIGN. And as a bonus you will be helping me and my friends create more sultry, fabulous fantasy content and adventurous videos for you and everyone else (so we can pay those LA rent prices in a timely manner!)
AS A PATRON, you will be helping me make THE LIFE I WANT, THE FUTURE WE SHARE, AND THE CONTENT YOU DESERVE.

Thank you for reading xx


*DISCLAIMER: All media is the private property of Caitlyn Sway LLC. It is copyrighted and any redistribution or plagiarization of this media will be subject to legal ramifications. By pledging to Patreon, you are hereby agreeing to these terms against illegal distribution of all media posted on Patreon and Snapchat. Any institutions or individuals using this site for studies or articles - You DO NOT have permission to use any of my profile or pictures in any form or forum both current and future. If you have or do, it will be considered a violation of my privacy and will be subject to legal ramifications.
Once we reach 250 patrons here, we'll make new videos even longer.
1 of 6
By becoming a patron, you'll instantly unlock access to 96 exclusive posts
By becoming a patron, you'll instantly unlock access to 96 exclusive posts
Recent posts by Caitlyn Sway