Alyse Kizia
is creating Art
Select a membership level
Sparkly level
You have my thanks and access to WIP posts, live streams, doodles, and commissioned work only available here on Patreon.
You really like me level
Limited (4 of 10 remaining)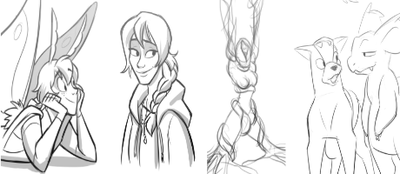 Access to art listed above, and it makes you eligible for a sketch raffle of any one character you'd like!
About
Welcome! I'm sure you're here because you liked what you saw on my Twitter or my Deviantart or any of the art sites I'm on! I appreciate your interest. But I don't post everything I do to the public

What I'm usually known for are:

- Dungeons and Dragons character designs
- Pokemon
- Women-loving-women
- A1313
- NSFW (lesbians, for the $5 tier and up)

Other things you can expect to see are:

- She-Ra
- Werewolves
- Fairy tales
- Watership Down
- Bojack Horseman
- Tuca & Bertie
- Isle of Dogs
- Cats
- Dibs on adoptables

I'm also working on a few personal projects at once! Including but not limited to:

A1313 - An action/comedy comic about the city's local heroine, Torpedo, and the city's local villain, Robin hood, becoming roommates oblivious to each other's secret lives. Basic concept, so what's it got to offer? Lesbians, a dominatrix, goo girls, and plenty of other goodies I think y'all will really enjoy.

Lesbian Fairy Tales - A series of short comics.

Anyway, I would love to just have my work focused entirely on art. Drawing and designing characters is a big passion of mine. Unfortunately, it doesn't pay enough for me to live. I'm sure everyone is aware of the economy at this point, so simple day jobs simply don't pay enough for the effort.

I'm currently using my Patreon funds to move, and after that it will be used to help pay for rent. 

If you become a monthly patron it helps me keep from struggling to pay the rent and feed myself, while at the same time allowing me to do what I love, stress-free. Eventually prints will become a thing, but for now only digital work will be done. All patrons will get to see work in progress images that I won't post anywhere else but here.

Patreons also have access to my personal Discord server.

If y'all are interested in Patreon exclusives, you'll be able to see more of my own personal works, as opposed to just fanart and commissions.

You can choose from any of the rewards below or donate whatever you feel like! Any little bit is appreciated and goes a long way.

Thanks for the love and support!
$507.71 of $800
per month
I've reached my first milestone! That means I can afford to help my friends pay rent when I move! Unfortunately other expenses do need to be covered. While I will be taking commissions on top of this, even art has its off-seasons. This will help me keep a steady flow of money, should an emergency happen. OR if I get a place on my own, I'll be able to pay rent by myself!
2 of 2
By becoming a patron, you'll instantly unlock access to 1,682 exclusive posts
By becoming a patron, you'll instantly unlock access to 1,682 exclusive posts
Recent posts by Alyse Kizia