Tales from the Canyons of the Damned (
canyonsofthedamned.com
)
is a dark science fiction, horror, & slipstream magazine we've been working on since 2015. What is Dark Science Fiction and Horror? Think of it as a literary Twilight Zone, Night Gallery, or Outer Limits, it's Netflix's Black Mirror in the short story format. And it's a bargain. Each monthly issue has three-to-five sharp, suspenseful, satirical tales from today's top speculative fiction writers.
These are Dark Sci Fi Slipstream Tales like you've never read before.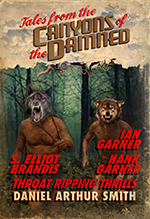 Tales from the Canyons of the Damned
is a labor of love and our staff makes little to none after all costs are covered. We've had requests for more stories, themed editions, and features- and we'd be happy to add more content-but we pay our authors and poets professional rates, so we're limited. 
With your subscription, we'll aim at adding even more high quality content, a website, and a maybe even a monthly podcast, so you can listen to the stories.
Enjoy the Canyons.